Ex banker, ex socialist and political outsider Emmanuel Macron won the first round of presidential elections in France on Sunday. French elections results have been perceived with a sign of relief in the European Union. A fine day for Europe and Greece, where creditors are expected to return to Athens on Tuesday. The cold weather front of the weekend moved away and April has finally set in?
Monday morning, 8:45 a.m. and the weather is fine.  April 24th 2017: Temperature is 13 degrees Celsius, sunny, wind 2 Beaufort.  I could jump into a small wooden dinghy and sail away…
In the heat of the French elections on Sunday, we forgot a sad anniversary. Prime Minister George Papandreou announcing from the remote island of Kastelorizo that the country is officially bankrupt and that he takes Greece to the International Monetary Fund. It was 23. April 2010.
I don't want to bow to the temptation and make a review of the seven years of austerity. What have we achieved until now? Four governments, three bailout program, one thousand and one measures that smashed our wallets and our lives, created mountains of unpaid bills and private debts. This is the Internal Devaluation in a debt-ridden country that cannot devalue its own currency. "Reforms" is just a pretext. The reality is hard finances and economics.
One thing we learned in these seven years of crisis is that political ideologies are dead. Socialists? Conservatives? Left-wing? Nationalists? Appointed prime ministers? Everyone and everything ended up at the same wall: austerity packages that lead to nowhere.
What we also learned in these seven years of crisis is that the European Union proved to be a fragile house of cards with a dough-soft and weak leadership that allowed one of its member states to rule over the rest. It proved that the EU is a union on the papers, a master in expenditure and bureaucracy that imposes rules and directives thus blatantly ignoring the people's will.
Macron 23.7  Le Pen 21.5  Fillon 19.9%. Melenchon 19.6%  Hamon (Socialists) 6.3%
Presidential elections results published by French Interior Ministry at 4:00 am, 24. April 2017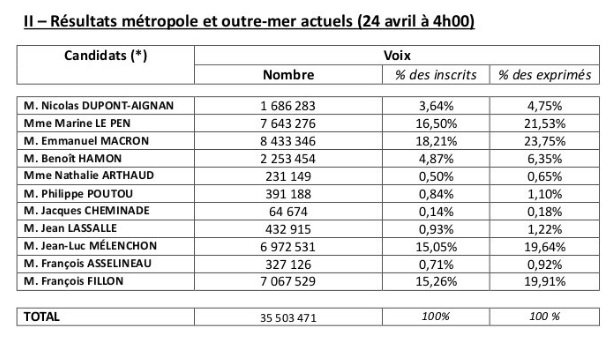 That Marine Le Pen will -most likely- not win the second round in France does not mean much. The message the French voters sent is clear: they knocked out the mainstream parties. Almost 50% of the votes went to candidates with a strong euroskepticism. This happened in a country that together with Germany is the founder of the European Union and the locomotive that pulls the train. Alas! The rail tracks are rusty, the wagons need maintenance, they tremble to soon fall apart.
The second round of presidential elections will be between pro-Europe Macron and anti-Europe Le Pen.  Germany, the EU and many European leaders rushed to congratulate Macron for his victory. He is one of them because he is not anti-European, far-right LePen.
Will the EU and German support to Macron convince the French euroskeptics to vote for him in the second round on May 7? That's odd and self-righteous calculation done by people sitting in huge bubbles.
The French voters' message is clear.
Alternatives are needed to the old, established and meanwhile worn out systems that have repeatedly proven in the years after the global crisis of 2008 that they can not find solutions to the people's problems. People across Europe still pay the price for the crisis. They are massively hit by unemployment and economic problems without a safety net.
The mantra of the European leadership is "reforms" – an euphemism that in real life translates into income cuts, dumping wages and poverty.
The EU must understand the messages the people send and implement reforms first of all in its own house.
Who do you think will win the Presidential elections on May 7?
Macron (54%, 7 Votes)
LePen (46%, 6 Votes)
Total Voters: 13
Loading ...