Anti-Albanian protesters stormed into Macedonia's parliament on Thursday after a vote to elect ethnic Albanian Talat Xhaferi as parliamentary speaker. Social Democrat leader Zoran Zaev was left with blood pouring down his face after fights broke out. Injured have been also four MPs and ten policemen.
Demonstrators from the initiative United Macedonia forced entry into the building in Skopje.
The protesters, supporters of ex-prime minister Nikola Gruevski's VMRO party, are demanding new elections.
The mop attacked and injured Albanian MP Zijadin Sela who reportedly is hospitalized struggling for his life.
Macedonia has been without a functioning government since 2015 when the country sank into political turmoil over a wiretapping scandal that brought down the ruling nationalist VMRO-DPMNE party bloc.
Elections in the former Yugoslav republic were held in December 2016 but no government has been formed yet, though Zaev forged a majority coalition in parliament together with ethnic Albanians. However, his attempt to form a government failed.
The parliamentary alliance has triggered daily street protests by Macedonian nationalists in Skopje. Ethnic Albanians comprise a third of the country's population.
Some of the 200 protesters were masked. Witnesses saw broken glass on the floor and traces of blood in hallways.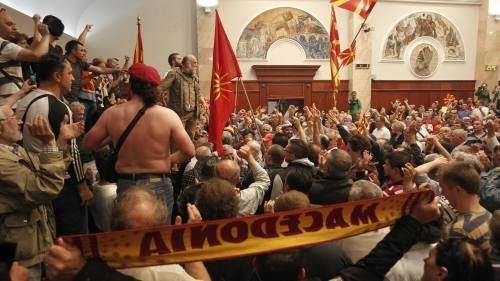 Police entered parliament after the disturbances erupted but did not immediately seek to quell the protesters, witnesses told reuters.
Skopje has also seen regular protests against the coalition by demonstrators who believe it will damage the country's national unity.
Macedonia came close to civil war in 2001 after an Albanian uprising.
Shortly before protesters charged into parliament, Zaev told reporters, "With 67 votes we have elected a new parliament speaker. I want to congratulate Talat Xhaferi and good luck to all of us."
Xhaferi became the first ethnic Albanian parliament speaker in Macedonia since the small, economically troubled Balkan country won independence from then-Yugoslavia in 1991.
Several hours after the parliament storm, tension remained high still late Thursday night.
Police fired flash grenades and clashed with protesters gathered in front of the country's parliament, leaving several people injured.
Police officers inside the building had appeared to be overwhelmed by the protesters, who broke through a cordon and a refused to leave.
 Several hundred protesters remain outside the building. Authorities did not immediately confirm local television reports that more than a dozen people had been hurt, including protesters and police officers
@muratcanisildak
8 minutes ago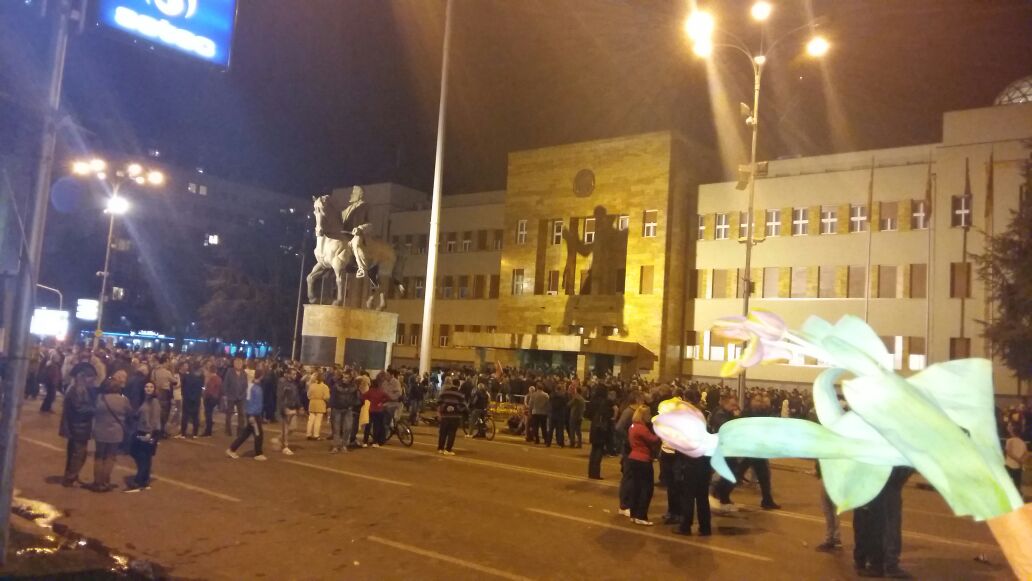 EU, US reactions
"I condemn the attacks on MPs in Skopje in the strongest terms. Violence has NO place in Parliament. Democracy must run its course," the EU commissioner in charge of enlargement, Johannes Hahn, said in a tweet.

Also EU Foreign Affairs Commissioner  Mogherini, NATO General Secretary Jens Stoltenbeg and the OSCE urged for calm.
Macedonia is neither member of NATO nor the EU.
The U.S. Embassy in Macedonia has condemned the violence in the parliament. The Embassy said in a statement Thursday night said the assault "is not consistent with democracy and is not an acceptable way to resolve differences." the US embassy said it is ready to work with Xhaferi "to support democracy and to advance the interests of Macedonia."
The political crisis breaks out, just two months after a senior US Republican said that Macedonia was not a country. Dana Rohrabacher suggested beginning of February that the landlocked nation should be divided between neighbouring states.
Dana Rohrabacher, who chairs the US Foreign Affairs Subcommittee on Europe, Eurasia and emerging threats,  said that "division" in Macedonia meant "they will never be able to live together in future".
"Kosovars and Albanians from Macedonia should be part of Kosovo and the rest of Macedonia should be part of Bulgaria or any other country to which they believe they are related," the 70-year-old he told Albanian TV channel, Vizion Plus. "The idea is to keep Macedonia alive because someone 30 years ago decided it is a configuration that should come out of the dismantling of Yugoslavia, does not lead to an explanation that this idea is still held."
Rohrabacher's comments provoked a furious response from the Macedonian foreign ministry which accused him of inflaming "nationalistic rhetoric".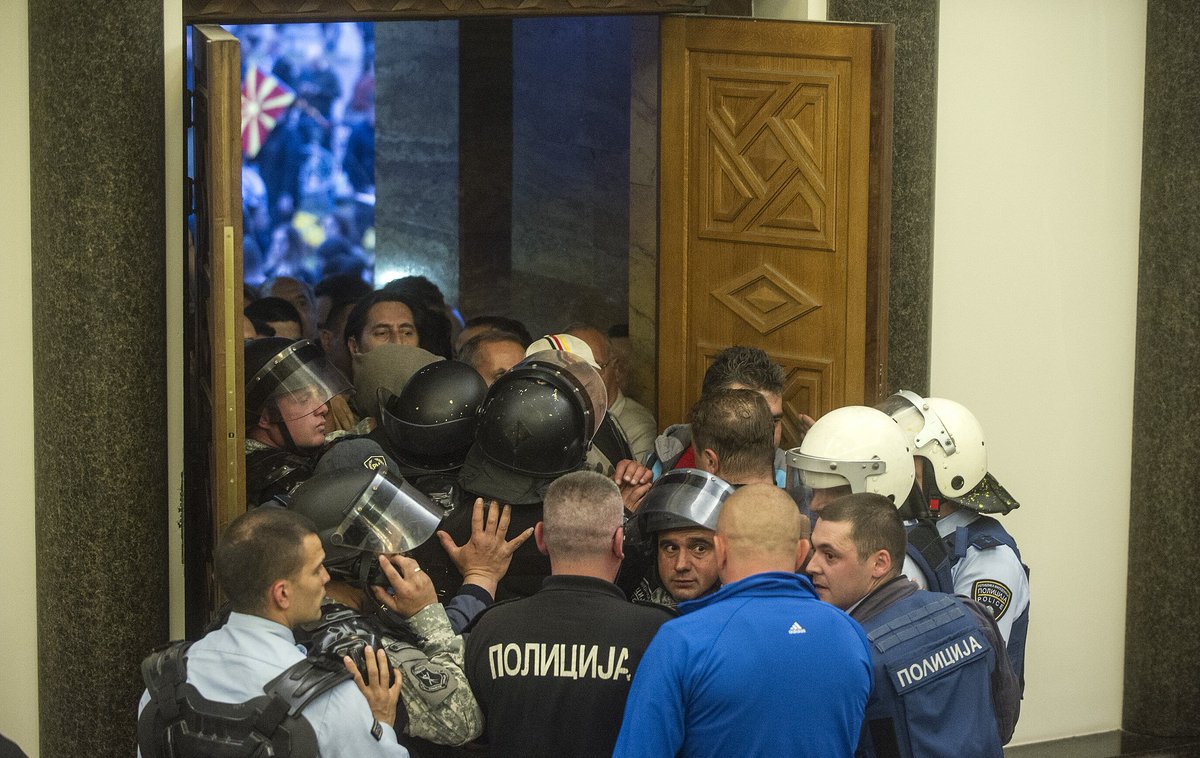 According to latest information from Skopje 13 MPs and 15 policemen were injured. Number of injured protesters is unknown. The MPs have been evacuated from the Parliament.
PS "Madeconia" is the name the international community uses for FYROM although the name dispute with Greece is still open.