Deal or half deal? Success or partial success? The Greek government reported of a deal with creditors on Thursday morning, of a preliminary technical deal and stressed that negotiations on debt relief could start. A few hours later, the German finance ministry forced Greeks back to earth, to an emergency landing. Wolfgang Schaeuble has not solved his dispute with the International Monetary Fund on Greece's primary surpluses yet. Therefore, the German finance minister thought he doesn't owe a good word about the deal.
"The second review has not concluded yet," a spokesman of the German finance ministry said adding there is still clarification for the primary surplus.
The House of Schaeuble are against Tsakalotos statement but also statements issued by the European Commission and the European rescue fund ESM.
Statement by ESM posted on Twitter by @ESM_Press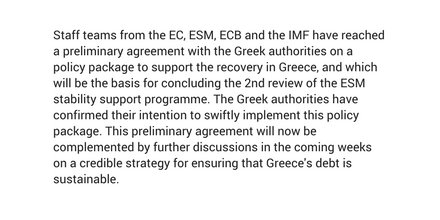 Schaeuble's restrain is apparently connected with the question on how to deal with the Greek debt in the long term.
The Greek government hopes that an agreement paves the way for talks on debt relief. "Schaeuble, on the other hand, apparently does not expect such talks in the near future and considers the existing reliefs to be sufficient," writes German state broadcaster ARD on its news website.
This assessment is based on a different attitude to the question of how much the primary surplus, ie the budget surplus without interest payments, should be for as long as possible.
The 3. bailout agreement of 2015, signed between Greece and the European creditors, "only  stated that the primary surplus should be over 3.5% in "medium term", after the bailout program expires in summer of 2018.
According to the German finance ministry, how long "the medium term" must be is, however, yet to be clarified. Schaeuble had made it clear that an excess of 3.5 percent should be maintained over a longer period. Maybe ten years?
On its part, the IMF urges for lower primary surplus and a quick debt relief. for IMF the PS should look like 2.2% in 2018, 3.% for each year 2019-2021.
The House of Schaeuble is, however, not as bitter as it seems to be. The spokesman expressed the House confidence, the negotiations with Athens would be completed by 22 May, on the next Euroroup meeting day.
"Work continues. Aim is the second review to be able to conclude by May 22," the spokesman said.

Greece and creditors agreed on a package of additional austerity measures for 2019-2020, that is beyond the current bailout program. The measures include further pension cuts, taxing the poor, break the vulnerable and very few structural reforms. The counter-measures, that is social measures to be implemented by the Greek government, will only be possible if Greece reaches a primary surplus of 3.7 percent.