Albania has discovered "grey zones" in the Ionian Sea and claims Greece needs to ask permission from Tirana in order to conduct hydrocarbon exploitation. Following the tactics of Turkish President Recep Tayyip Erdogan, Albanian prime minister Edi Rama tears bilateral Treaties apart and challenges the Greek sovereignty in the Ionian Sea. Rama claims a piece in the Greek Ionian Sea and rights for hydrocarbon exploitation.
According to Tirana, block "Ionio 2" in the Ionian Sea is located in the Exclusive Economic Zone of Albania. Therefore the contracts signed between Greece and the oil giants were no valid – so the Albanian argument.
The so-called Ionian 2 is located north of Corfu and south of Albania, within the Greek territorial waters. Rich in hydrocarbons, it has naturally caused the interest of giants of international energy, who will start exploring the area as of next year.

Shortly before the general elections in Albania on June 25, the Rama government now considers that Greece's contracts with energy multinational companies are not "legal" and demands that Greece asks to get permission from Tirana before starts drilling.
Two months ago, Greece signed a contract with a joint venture consisting of TOTAL, EDISON and Hellenic Petroleum to exploit hydrocarbon in bloc Ionio 2.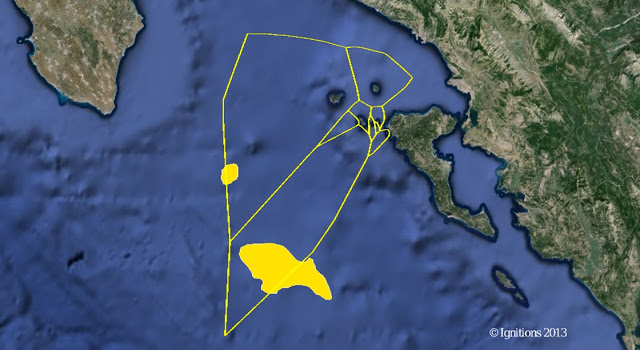 In summer 2009, Greece under Kostas Karamanlis and Albania under Sali Berisha signed the bilateral Maritime Agreement that among others determined the EEZ of the two countries.
Through this agreement a "large part of Ionio 2" was transferred to Greece, a Rama-affiliated  Albanian newspaper wrote on May 25 2017.

"A year later the Albanian Constitutional Court blocked the Agreement following Edi Rama's appeal," the newspaper writes.
Now someone could wonder,  why Albanians claim Ionio 2 and not Ionio 1 which is closer to Albania.
See the Albanian maps and calculations as reported by an Albanian television network.

"Greece showed the agreement but not the maps" Albanian TV reports
PS and has a logic I am not able to follow….