French Finance Minister Bruno Le Maire expressed optimism Greece and creditors are not far away from the agreement. "The next two days will pave the way for an agreement at the Eurogroup" on June 15, Le Maire told reporters after a meeting with his Greek counterpart Euclid Tsakalotos in Athens and before a meeting with Prime Minister Alexis Tsipras.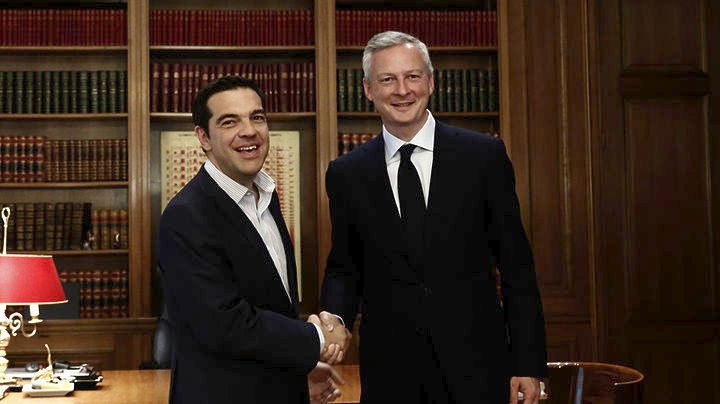 Tsipras: Solution is close
Landing in the Greek capital on Monday, the French finance minister brought with him a proposal to end the impasse between the country's German creditors and the International Monetary Fund and reach a compromise that will solve the debt relief dispute.
Citing government sources, Athens News Agency wrote that Le Maire's proposal refers to "a growth clause in debt servicing."
"Debt relief measures will be strengthened when growth is weak and relaxed when growth is strong," Kathimerini reports about the French proposal.
According to state ERT TV, the French proposal still needed some "technical adjustment" before it is finalized.
The French proposal is not merely a political narrative of Macron government but it has been technically processed in order to form the basis of the Debt Sustainability Analysis. The proposal is extremely complex, Greek media report.
Before arriving in Athens, Le Maire has reportedly spoken with Schaeuble, Dijsselbloem and Lagarde about the proposal.
Officially neither the IMF nor the German Finance Ministry commented on the proposal.
However, according to Greek economic news media, both the IMF and Berlin have rejected it.
According to crashoneline.gr, "the IMF reject the French proposal because it does not like complex …exercises. As for Berlin, it reacts negatively to any GDP-linked plans. Citing reasons of "moral hazard" it claims Greece would not be under pressure to pay off its debts."
Greece wants to take part in the Quantitative Easing of the European Central Bank and return to the international markets as soon as possible. The ECB's position remains a secret for the time being.
Meanwhile European Commissioner for Economic and Financial Affairs Pierre Moscovici called on creditors to honor their commitments, stressing that Greece has honored its own commitments, including the hardest reforms. According to his own statement, in the coming Eurogroup he will stress that the "contract" has been fulfilled and nothing more can be asked from Greece.