Is Justice in Greece independent? The government has its doubts. "A new appeal will be filed, the court will decide in new composition," Justice minister  Stavros Kontonis said on Monday, after the five-member Athens Appeals Court rejected Irianna's appeal to suspend her sentence and release her from prison. Three out of two judges accepted the prosecutor's proposal that if the woman mentioned in the media only by her first name is freed there was high possibility that she could commit the same crime. What crime? Socializing with somebody who was suspected to have alleged social connections to some urban guerilla members but who was cleared by judges and the prosecutor in the court?
The highly controversial court verdict has divided the Greek political world and the society.
Last month, the 29-year-old PhD student of Greek Philology was convicted to 13 years imprisonment for being a member of the urban guerilla group Conspiracy of the Cells of Fire.
Irianna was convicted after a partial fingertip was found on a gun clip. Scientifically speaking, the match is 1 to 67,000,000, media reported on Tuesday.
She denied having any involvement with the group, saying she was not even an anarchist and was not politically involved.
Based on media reports, suspicion is close that Irianna was charged to 13 years imprisonment for 'terrorism' without sufficient evidence.
Contested DNA sample
Irianna was arrested in 2011 together with her boyfriend in his apartment.
"In the middle of the night, a SWAT team raided the apartment that her boyfriend was renting — arresting both of them while they were asleep. While she was detained she willingly provided fingerprints and a DNA sample and cooperated all the way with the authorities. In less than 24 hours, she was let go."
Irianna's boyfriend – a student at NTUA college – faced charges for being a member of  the urban guerilla "Conspiracy of Fire Cells" (CFC), an anarchist group known for several "anti-establishment" actions. Some of them included letter bombs sent to the IMF offices in Paris.
After a long trial, the boyfriend was unanimously declared innocent. Judges and the prosecutor agreed on his innocence.
"During the trial of her boyfriend, in 2013 an anti-terrorist squad arrested Irianna in a central avenue of Athens' northern suburbs. She was taken to the District Attorney, who informed her that she was being charged for being part of the same terrorist group as her boyfriend was accused and that her DNA was found on some firearms that Greek police had found one and a half years earlier in the campus of NTUA in Athens."
The firearms were never used in any criminal activity and were found by a mystery witness that didn't even show up in court to be cross examined while the anti-terrorist service wasn't able to locate him."
She was set free again under some movement restrictions.
Lifting of privacy on her phone and bank accounts, search of her home and car showed no evidence linking her to the CFC organization.
However, the court note mentioned "serious indications of guilt" without ever have identified them.
When Irianna's defense asked for the DNA sample for the purpose of cross-examination, authorities rejected the request claiming  "the sample was too little" and therefore no sufficient for a second test.
Court July 17 2017
At the court session on Monday, her lawyer argued that Irianna was only implicated because her boyfriend was a suspected member of the group, although he was later cleared. The DNA evidence connecting her to the ammunition is not up to scrutiny, the lawyer said.
Irianna, who worked as a Greek language teacher for foreigners, argued that her career and academic ambitions are being damaged by being kept in jail.
Supporters' angry reaction
The court's verdict was greeted with jeers by Irianna's supporters who protested throwing water bottles and shouting "SS, cops and judges!"
A group of angry supporters took to the streets and set garbage bins on fire, later the group threw stones at riot police squads in Exarchia district of Athens.
In the evening, some 200 young people moved to Athens downtown in Monastiraki area and started walking towards Syntagma square smashing shops and ATMs. They were carrying bats and hammers. media report.
Video released by the anarchists group
More than 60 shop windows and store entrances were damaged along Ermou street, the most commercial street of the Greek capital.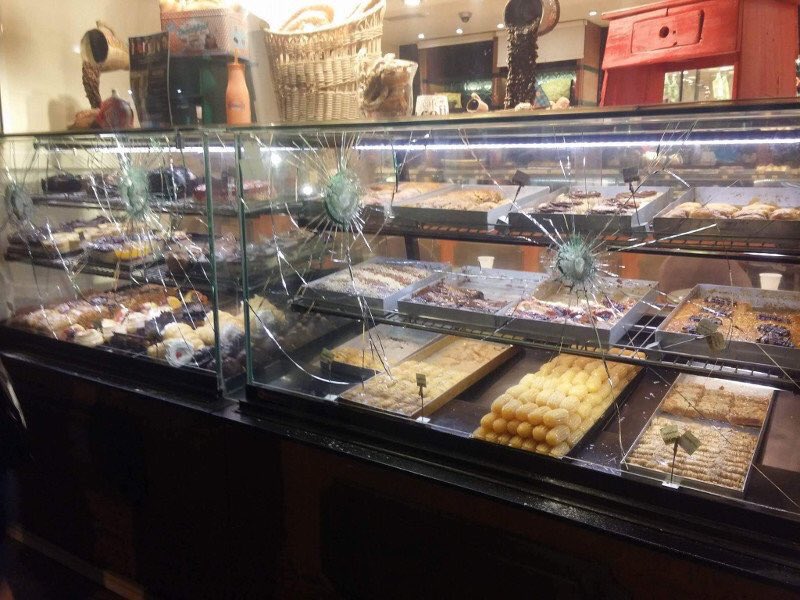 Police detained 14 people among them were also foreign nationals. Thirteen of the detainees were later released. One was arrested for possession of a small quantity of hashish.
Skai TV reports on Tuesday morning, that shop-owners criticized the 'passive' attitude of police saying that they let the vandals prevail and one squad stopped them only before they reached Syntagma Sq.
Government against court verdict
Deputy Health minister Pavlos Polakis was the first SYRIZA official to criticize the court verdict. He posted on Facebook that the "justice jails the youth."
In an unprecedented statement for a Justice Minister, Stavros Kontonis spoke of a "unpleasant surprise." He underlined that Irianna has the right to a new appeal and this will be examined by the court in new composition.
Government spokesman Dimitris Tzanakopoulos stated "Justice creates the suspicion it judges and weighs on criteria beyond the legal judgement." He added that the verdict is recorded in the "black book of the Greek Justice."
Just hours before the judges released the verdict, Prime Minister Alexis Tsipras had criticized Greek judges on their decision to rule that "not paying employees would not harm the work contracts between employees and employers."
On their part, opposition parties criticized SYRIZA for criticizing the court decision on Irianna. The case became highly political with New Democracy to lead the 'attack' against the government.
SYRIZA MEP and Vice in the European Parliament, Dimitris Papadimoulis" twitted that "criticism to 3-2 judges' decision is a constitutional right and not an attack to Justice as ND falsely claims".
Greeks criticize Justice
Several Greek media also mention several controversial justice cases and question judges' decisions with countless examples where fraudsters have been released from prison.
"The case has several grey zones and seems to be a turning point in the operation of Greece's justice," former Finance Minister Yanis Varoufakis wrote on DIEM25 website. "Criminalizing social relations and shirting the burden of proof from the accuser to the accused are worrying signs," he added.
"Irianna will not be released from prison. We, all, law-abiding citizens can sleep assured that she won't slaughter us in our sleep. SHAME ON THEM!" famous author and script-writer Elena Akrita posted on her Facebook account.
"Irianna is guilty, she paid for her 'fatal relationship', she paid for having stand by her boyfriend when he was chased for allegedly knowing two members of the CFC," daily Efimerida Ton Syntakton commented.
Until the country finds out that judges can make mistakes as well and appeals can be repeated, Irianna might be preparing another appeal to prove that while she doesn't look like an elephant, she is not an elephant either.
Detailed history of the case in Medium.com