Prolonged heat wave Lucifer gradually weakens and it practically divides Greece into two: into hot West with up to 40 degrees Celsius and into moderate hot East, where temperature will be 35-39 C. At the same time, strong north winds 'meltemia' up to 9 Beaufort locally bless locals and tourists with a very pleasant breeze. During the hot hours of the day, clouds are expected in the mountainous areas in North, the West and the South.
Greece's National Meteorological Service (EMY) issued an correction warning Thursday noon. EMY warns of air temperature up to 41° C but also thunderstorms and hail.
August 10 & 11:
temperature up to 40-41C in the west mainland, 37-38C in the islands of the Ionian Sea.
August 11-12: temperature up to 40-41C
August 12-13: heavy rain- and thunderstorms, hail and stormy winds in the North. Temperature decrease as of Saturday afternoon in the West and across the country as of Sunday.
The level of EMY alert is <orange>.
Forecast Thursday, August 10 2017
Data provided by the Greek National Observatory. Orange: temperature 37-40C, Red: above 40C
Stormy winds 6-7 Beaufort in the Aegean Sea.
Locally up to 9 Beaufort:  South of the island of Evia (Euboea) and down to islands Andros-Syros-Tinos-Mykonos.

In the Ionian Sea: 3-4B and locally 5 B.
Athens: temperature up to 37 Celsius and 2-4 degress lower in the areas by the sea. Storng winds 6-7 Beaufort.

Friday, August 11 2017
Very slight improvement of air temperature, but still high between 37-40 C in many parts of the country, including the Dodecanese islands.
Over 40° C in Central Crete and wind higher than 8 Beaufort in the East of the island.
Saturday, August 12 2017
Temperatures up to 39-40°C even in Athens.
Last day in the claws of Lucifer?
Sunday – Monday, August 13-14 2017
The heat wave has finally left Greece, maximum temperature of 35°C in Central Greece only.
Temperature even lower on Monday.
Wind forecast
Stormy winds above 8 Beaufort. Forecast for 03:00 am above, for 09:00 am below.
Tuesday, August 15 2017
Temperature rises again in North-East and South-West, while it reaches more than 40C in the Dodecanese.  I have no idea if it is still the Lucifer or another heat wave…
Prolonged heat have Lucifer set foot on August 4th with temperatures up to 41°C.
You know something is wrong when the thermometer shows 32.5C at 8 o' clock in the morning.
Many Greeks go early morning or late evening for a cooling swim, others spend the whole day at the beach. Some are just 'imprisoned' in their homes, in the coolness of  air-conditioning and fan.
For those austerity-hit Greeks who could not afford to pay higher electricity bills, municipalities had opened A/C-ed halls from 8 am to 8 pm.
Highest temperature recorded on August 9th:
Oleni, Ileia, south-west Peloponnese: 40.9 C
Amphilohia 40.2C, Pyrgos 40.1C, Ithaka 40C
The strongest wind gust was recorded in the coastal town of Karystos, South Euboea, with 127km/h, that is with more than 12 (!!!?) Beaufort.
Strong winds strengthen also the risk for wildfires.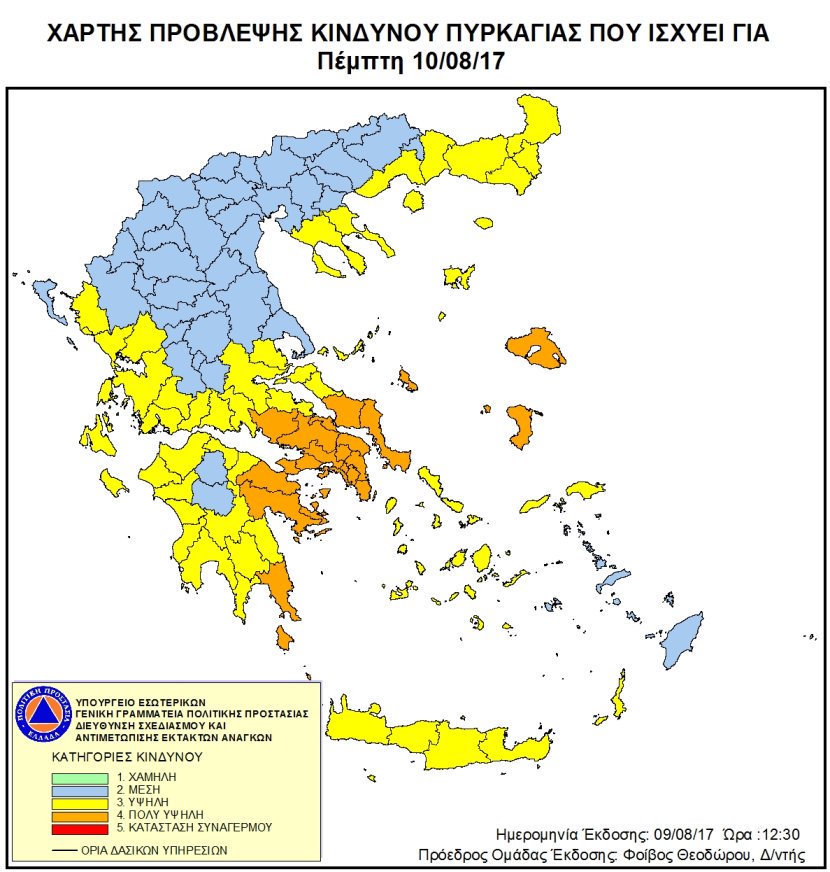 Wildfire warning for August 10: Yellow: high risk, Orange: Very high risk – Issued by the Greek Civil Protection
Weather forecast sources: poseidon, meteo.gr and others.
Lucifer heat wave cartoon by Daniel Murphy
PS I can tell you this: a prolonged heat wave is very exhausting – for the body and the nerves. Whether in front of A/C, of fan or of the sea. Not to mention the option of having to stand in front of the counter of a public service.