Eighty five wildfires broke out in the 24 hours from Friday to Saturday across the country, the Greek Fire Service said in a statement. From Peloponnese in the South up to Halkidiki and Serres in the North the wild fires burned down thousands of acres of forest land – and this although the wildfires season is considered to be over.
At least two houses were burned in the fire that broke out in Mola Kalyva in Kassandra, Halkidiki on Friday.
Elderly were evacuated, when the blaze came near the village.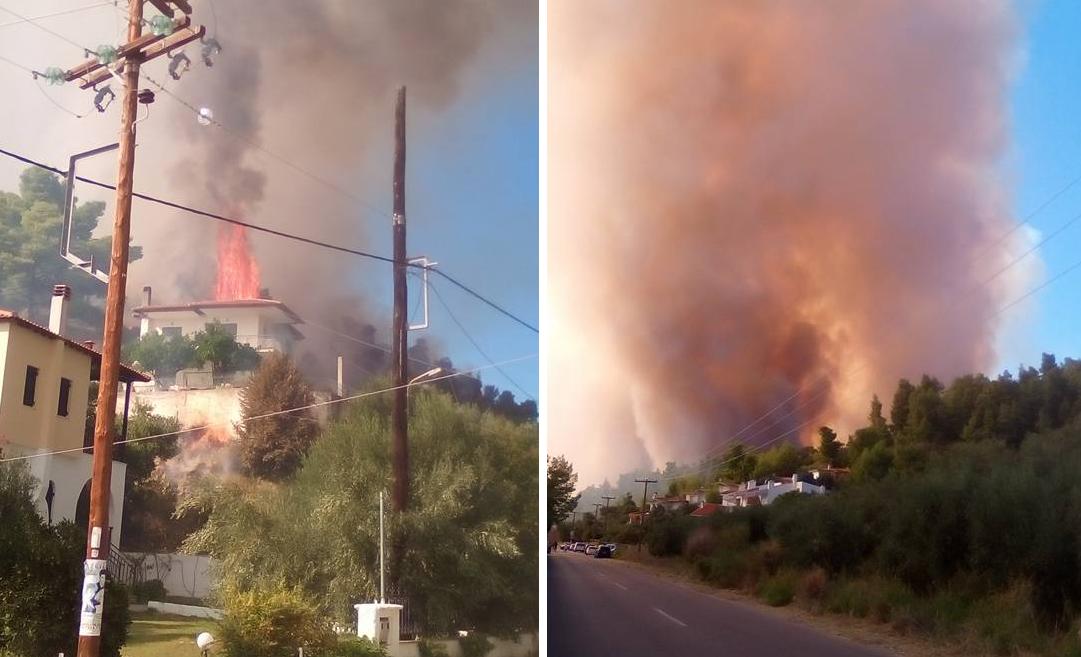 via halkidikinews.gr
Locals told media that the saw the forest ablaze "within minutes" and that "pine cones were exploding like bombs causing new fires."
Houses, pine and olive trees were burned, local authorities have submitted request to have the area declared in a state of emergency.
Sparks from a train moving on rail tracks are said to be the reason for the wildfire in Loutra, in Serrers, North Greece, Friday afternoon. Due to a problem with the breaks of the commercial train coming from Bulgaria, twelve fire reportedly broke out along the railway tracks between Loutra and Kerkini. The strong winds spread the fire to the forest around the municipality spa with thermal waters.
Some 50 hotel guests were evacuated from the Loutra spa hotel that suffered minor damages in the kitchen, while the whole green area was burned.
In Makistos, Ileia, in south Peloponnese the fire trucks were left without water because those in charge of the public water depot had blocked access with a wall!
For half an hour firefighters and locals were trying to gain access to water for the trucks, local ileialive.gr notes.
At least three wild fires ranged in Ileia on Saturday, one more broke out at 3 o' clock Sunday morning in the forest area between Vasilaki and Xirokampos in the municipality of Ancient Olympia.
In many areas the small wildfires have been extinquished, while the situation looks better where the blazes went out of control.