Unidentified perpetrators have reportedly shot three times at the headquarters of socialist party PASOK in Harilaou Trikoupi street in downtown Athens.
The shorts were fired around 8 o' clock Monday evening , while some 30 to 40 people were insdie the building and riot police squads and policemen outside.
First media information spoke of three shots fired from a Kalashnikov but later the information was rather proved wrong.
There is conflicting reports about the number of the perpetrators. Some media speak of two in a vehicle, others of one on a motorcycle.
 It is not clear who exactly was the target; according to first estimations the target was most probably the police officers guarding outside the PASOK Headquarters.
PASOK HQ is very close to Exarchia district of Athens considered to be the castle of anarchists who often attack riots police squads, throw fire bombs and set garbage bins on fire almost every weekend.
" We have been targeted again and again," PSAOK leader Fofi Genimmata "almost every Friday there are clashes. A couple of months ago a guard was injured. I have spoken with the minister in charge, with the prime minister. This phenomenon is unacceptable and has to stop. We are not going to leave the area."
High-ranking police officers rushed to the crime scene, the street and surrounding area were closed to traffic, eye-witnesses are to give testimonies, material from security cameras is due to be examined.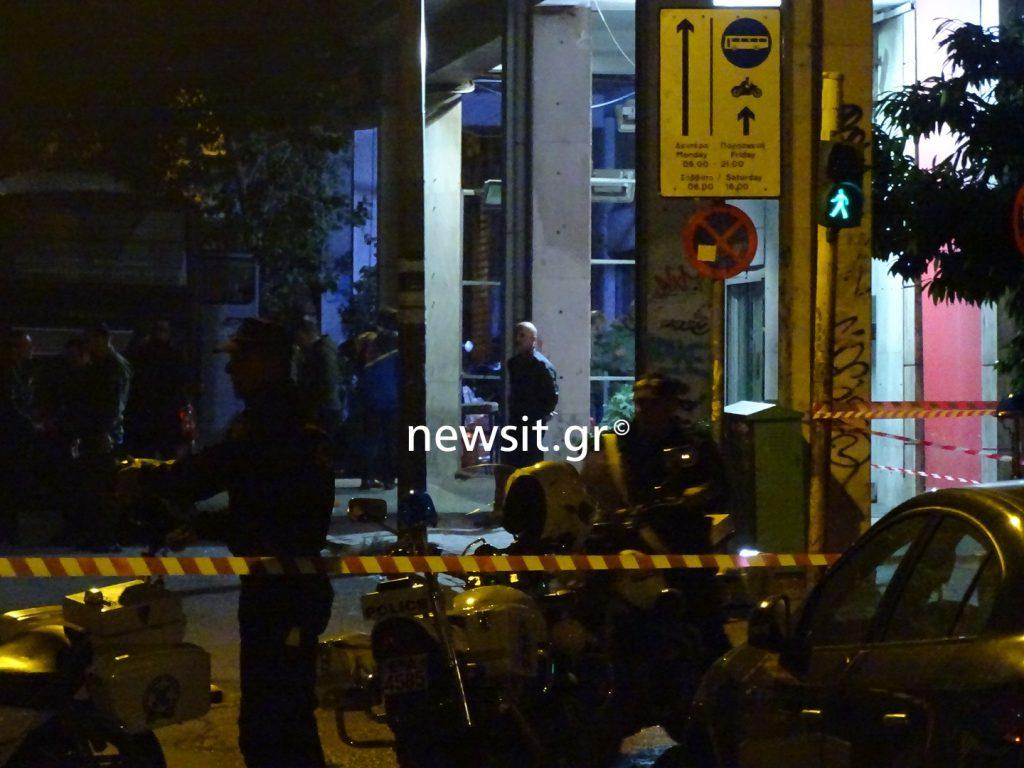 Apparently citing police sources, some media report that "the perpetrators were two on a motorcycle which they left a couple of meters away. Then they walked to PASOK offices wearing helmets and hoods inside. One of them shot at the policemen, who did not respond to the shooting. The two got on the motorcycle and flee."
Four cartridges have been reportedly found.
Investigation continues.
Two bullet holes in the trees – picture by athensvoice.gr
The shooting occurred short before the debate of candidates for the new leadership of the party.
The office of the Prime Minister issued a statement condemning the "provocative attack."
PASOK HQ became the target of attackers also in May 2014. The attack took place on a Saturday night, when the building was empty. The next day, employees found a hole in the wall and a window, bullets and a cartridge from an automatic weapon.
sources: amna, in.gr, ANT1 TV & others
PS If I am not wrong the perpetrators of the attack in 2014 were never found.