Hour by hour the death toll in West Attica floods is increasing, while an unknown number of missing people has been reported to authorities by concerned relatives.
The body of an 82-year-old woman was found by fire fighters short before 10 a.m. Wednesday. The woman was trapped inside her home when rushing waters and rubble coming down from the mountain flooded her home in Magoula, one of the areas mostly devastated by the floods.
A little later, the second victim, an 89-year-old man who was found dead in his basement home. He was also living in the same area as the first victim.
Around 11:30 am, one more man aged 60-65 years old was found dead in the yard of a home/business area between Mandra and Villia. "He was most likely swept away by the waters," the spokeswoman of the Fire Service told media.
At 12 o' clock noon, one 50-year-old man was found dead in the old Athens-Thibes highway. He was reported missing by his relatives since 4 o' clock in the morning.
Half an hour later, state broadcaster ERT reported of a fifth victim, a woman. The 90-year-old was found at the iron bars of her home yard in Mandra. Apparently she was trying to escape the rushing waters.
By 12:40, citing sources from the Civil Protection, AthensNewsAgency reported that the death toll had reached seven. According to other media, the two bodies were found in the sea area in Elefsina. No additional information has been made public as this post is written.
Two elderly women were taken to the hospital with hypothermia symptoms on Wednesday morning.
A truck driver was slightly injured and taken to hospital as well.
+++ Update 3:0 pm
Nine people dead – 7 men and 2 women -; 10 injured.
Prosecutor ordered urgent investigation into the causes of the disaster.
+++ Update 3:44 pm
One more woman was recovered dead from the floods. Total number of dead: 10
The number of injured has increased to 13, one woman is intubated and in critical condition.
According to latest information, one of the dead bodies taken for autopsy was 35 years old.
Video by Alpha TV showing the home where the first victim lost her life. The reporter says that the water had had covered the kitchen furniture and broke the entrance door. The woman's daughter managed to rescue her two children in the last minute.
Several people have reportedly contacted the Fire Service and Greek Police seeking missing relatives. Authorities investigate -if at all possible – whether the missing people have lost their lives in the floods or have sought refugee somewhere. The total number of missing persons is unknown.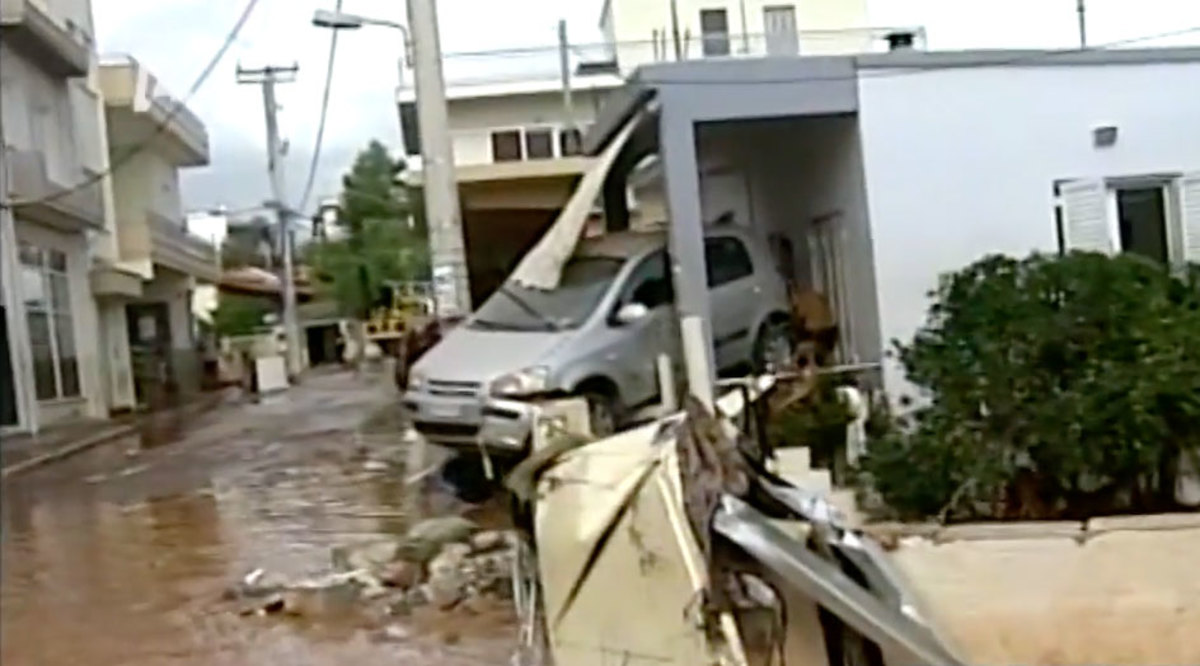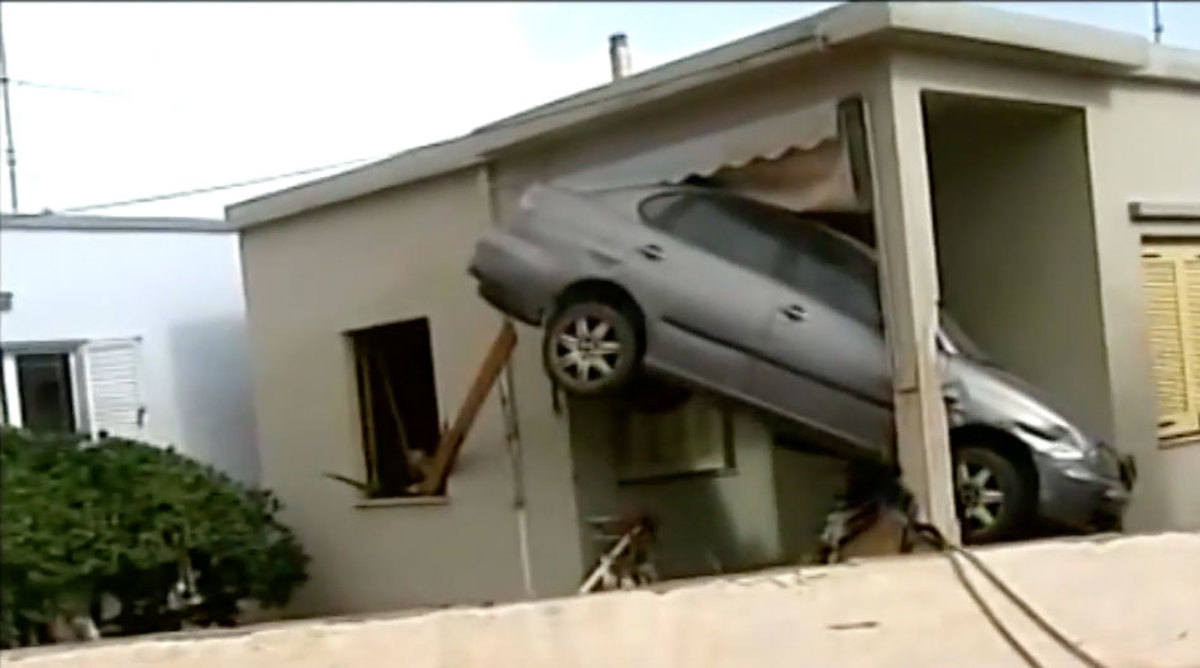 Citing fire service sources, ANT1 reported at 1:45 pm that three people were still missing.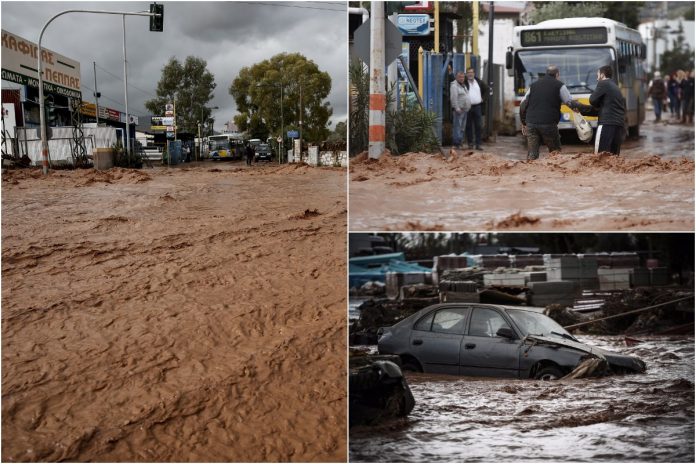 Several hours after the torrential rains and tons of mud and rubble came down from the mountain Pateras, dozens of residents and drivers remain trapped in their cars and homes.
More than 250 firefighters and rescue teams are operating in the area, while ambulances try to make their way amid rushing waters and mud to reach those in need of medical aid.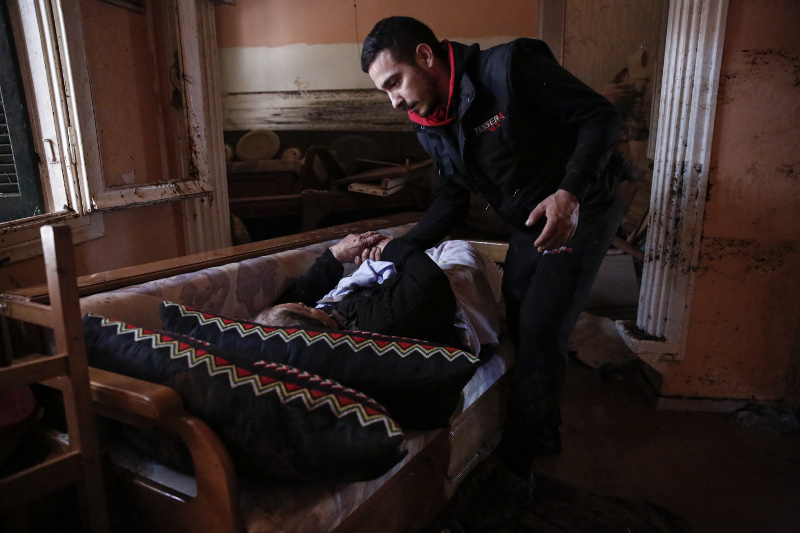 A dramatic rescue operation was launched in order to rescue a bed-ridden elderly woman whose home was flooded with mud.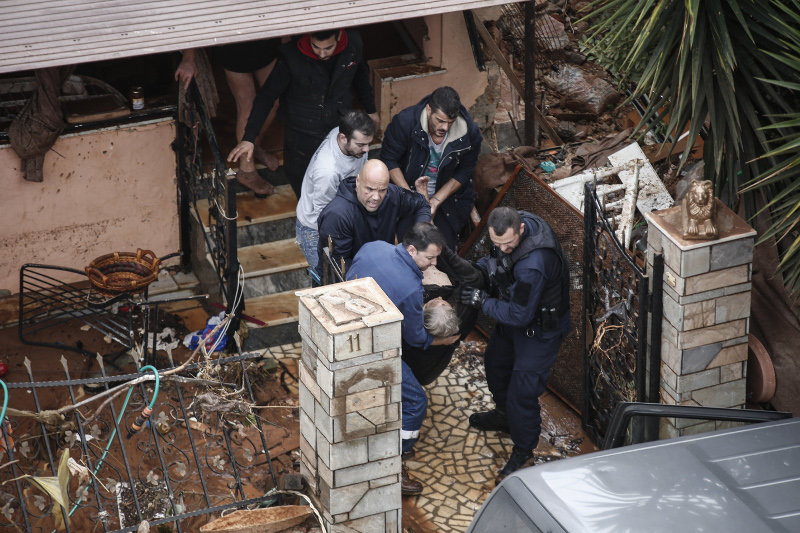 The rainstorm that stroke Megara, Magoula, Mandra, Nea Permos and Elefsina in the dawn of Wednesday have created havoc turning towns and villages into mud lakes and roads into rushing rivers. Homes and shops have been flooded, dozens of drivers trapped in their cars, swelling streams swept away whatever they met in their path.
Rainfall started again in the area at noon, meteorologists forecast more rainstorms in the area as of Wednesday night.
Read also KTG's earlier report: Two dead as torrential rains strike West Attica and tons of mud turn towns into red lakes -videos and pictures
PS Seven people death from water and rubble coming down the mountain? Someone should have resigned by now for failing to take anti-flooding measures.