Greece's meteorologists are warning of extreme weather phenomena with powerful rain- and thunderstorms, very strong winds but also a Mediterranean Hurricane (Medicane) in the next days.
Weather Forecast Nov 15-19 2017
According to National Meteorology Service EMY, analytically, areas affected will be:
Nov 15
the Ionian Sea, Epirus, West Sterea, Peloponnese, Thessaly, Central Macedonia. At night: Sporades islands, Euboea, possible also the rest of the mainland regions.

Nov 16

Temporarily the Ionian Sea and islands, all mainland regions, Euboea, Sporades, West Cyclades and Western Crete
Nov 17

Most possibly Epipus until the morning, Ionian Sea -south of Corfu- Sporades, Euboea, Cyclades, West Crete and the mainland regions except Thrace and East Macedonia.

Nov 18
Initially all the country, excerpt Epirus and Corfu. Gradually the phenomena will weaken in Ionian Sea, Crete and mainland regions except Central and Est Macedonia and Thrace
Nov 19
Possibly until noon, East Macedonia, Thrace, the islands of Eastern Aegean Sea and the Dodecanese.
Unusual Medicane to strike the Ionian Sea
An unusual phenomenon, a low intensity Medicane, is expected to be formed in the south Adriatic Sea, the South and Central Ionian Sea.
Medicane comes from the combination of Mediterranean and Hurricane
According to nautika xronika (sailors' chronicles) the forecast is  the Medicane will start south of Sicily, Italy on Wed, Nov 15, afternoon, will move East and North East beyond the Ionian Sea and will reach the Ionian islands on Friday, Nov 17, 2017.
These data may change in the coming hours though, nx notes.
Chief meteorologist on state broadcaster ERT, Sakis Arnaoutoglou, says also that the forecast may change and he expected the Medicane to reach the Ionian islands on Friday evening.
See below the wind forecast for Thursday.
Stormy winds up to 9 and 10 Beaufort
Thursday forecast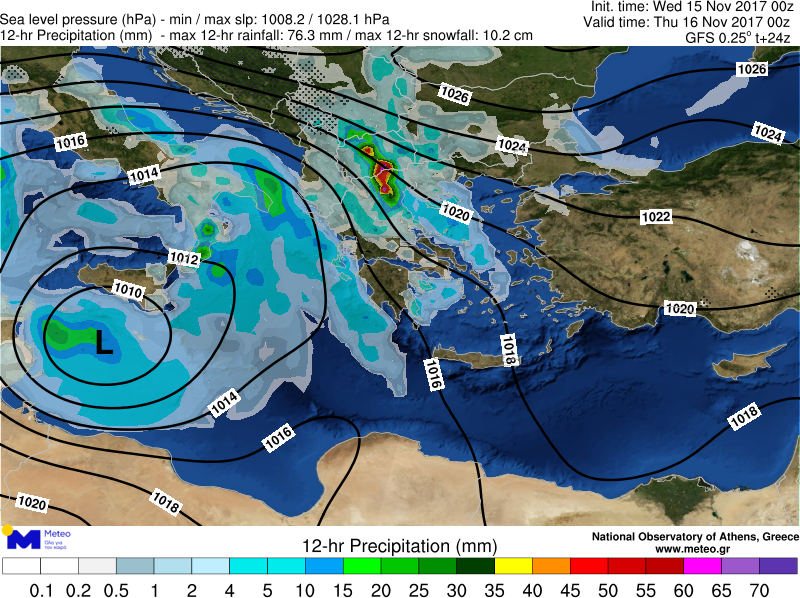 The floods area in Mandra, Nea Peramos, Magoula in West Attica will continue to be targeted by rainfalls.
National Observatory Video showing the rain fall on Wed Nov 15:
25mm in Villia (North), 12 mm Agioi Theodoroi (West) , very little in Elefsina (East)