Thousands but no as many as organizers had hoped gathered in downtown Athens and marched towards the Greek Parliament to protest new austerity measures and poverty, while lawmakers have been voting on Budget 2018. A peaceful march on general strike day – except for the total destruction of tickets machines at a metro station in the city center – by anarchists.
#Greece: Thousands protest in Athens against further austerity and the continuing impoverishment of the greek population during a 24h general #strike. pic.twitter.com/F5fRWpzgcf

— Savvas Karmaniolas (@savvaskarma) December 14, 2017
According to estimations, some 12,000 unionists participated in the protest against austerity, poverty and over-taxation.
Αυτή είναι η απάντηση των εργατών! #ΠΑΜΕ #ΠΑΜΕ_14Δεκέμβρη #ΑΠΕΡΓΙΑ_14ΔΕΚ #apergia #palestine pic.twitter.com/e3RJPRR92S

— Τόνια Παπακώστα (@toniapap93) December 14, 2017
Impressive as always was the participation of communist party KKE, the only political party that manages to send hundreds of unionists to the streets.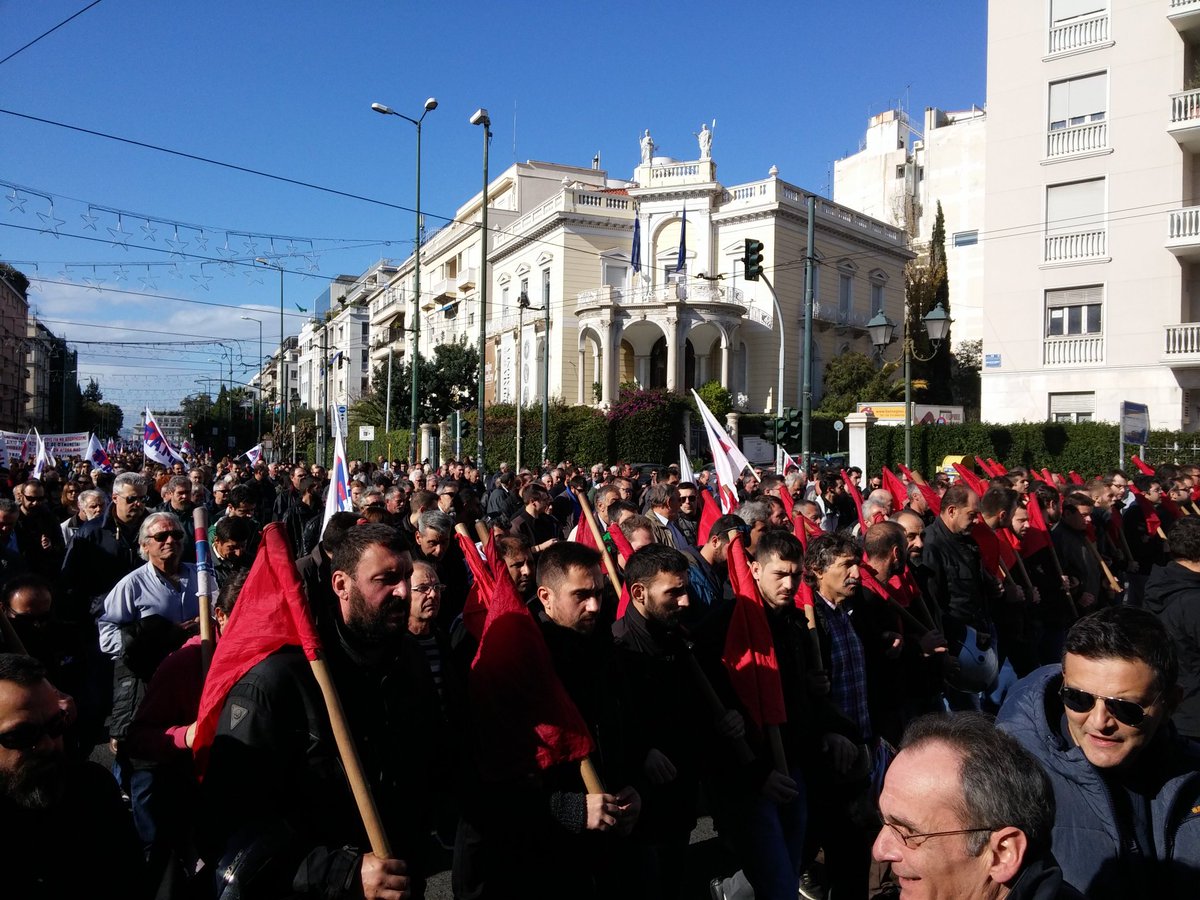 The protest march was peaceful and no anarchists manged to turn the streets of the city center into a battlefield.

Private union GESEE banner: We Resist

Banner with Santa on strike: Permanent Work For All
This time anarchists did something else. They raided the Metro station <Panepistimio> and smashed all the machines that validate the new tickets.
A police squad arrived when the group with hoods had left the area.
According to some unconfirmed reports, a shop window or two was also smashed on Panepistimiou street.
Protest marches were held also in other Greek cities.
#Ioannina – Following order of the businessman/employer, a bunch of bodyguards and fascists tried to attack the strikers outside a super market chain. #Greece #Yannena #Strike #MarketIn #απεργια pic.twitter.com/rcHgfS6PQ4

— In Def. of Communism (@id_communism) December 14, 2017
The general strike on 14. December was the 42nd since Greece surrendered to the lenders' bailouts in 2010.
The strike has paralyzed the country, has disrupted transportation in Athens as workers joined with work stoppages. Train workers and seamen joined the mobilization with a 24-hour strike, forcing trains to remain parked and ferries to be docked.