A big operation is underway to rescue 12 crew members of cargo vessel Little Seyma that run aground off the eastern coast of the islet of Tragonisi off the eastern tip of the island of Mykonos in the central Aegean Sea.
Little Seyma – Tragonisi
The vessel is reportedly stuck between the rocks, while the 12-member crew of nine Ukrainians and three Azerbaijanis have been evacuated and are on the islet of Tragonisi.
The vessel suffered suffered water ingress in engine room late on Friday evening. It was sailing from Tuzla, Turkey, to Famagusta, Cyprus.
After the trouble, "it sailed to Greek waters, looking for shelter from stormy weather," maritimebulletin reports adding that the vessel was "Turkish", although it has a Panama flag.
Stormy winds up to 8 -9 Beaufort were blowing on Friday in the area and so they do on Saturday hindering the rescue operation.
Due to the stormy winds, no rescue boat of the Greek coast Guard could come close to the islet and evacuate the crew members. Frigate "Salamis" has also tried to approach the islet, however, without success.
According to latest reports by local media, a Chinook helicopter of the Greek Army is transporting a unit of the rescue department of the Fire Service EMAK and three divers to assist with the crew rescue.
The ship is loaded with 2700 tons of Russian flour.
UPDATE
Short after 3 o' clock Saturday afternoon, the crew member could be rescued with the help of Navy marines and a fisherman boat.
The crew of Little Seyma was brought to safety on Mykonos.
Stormy winds have been blowing in the area since Friday, Dec 22 2017.
Video from Naoussa on the island of Paros.
Indicative for the weather conditions in the Aegean Sea is the marinitme ministry has restricting sailing of ships and ferries in the area.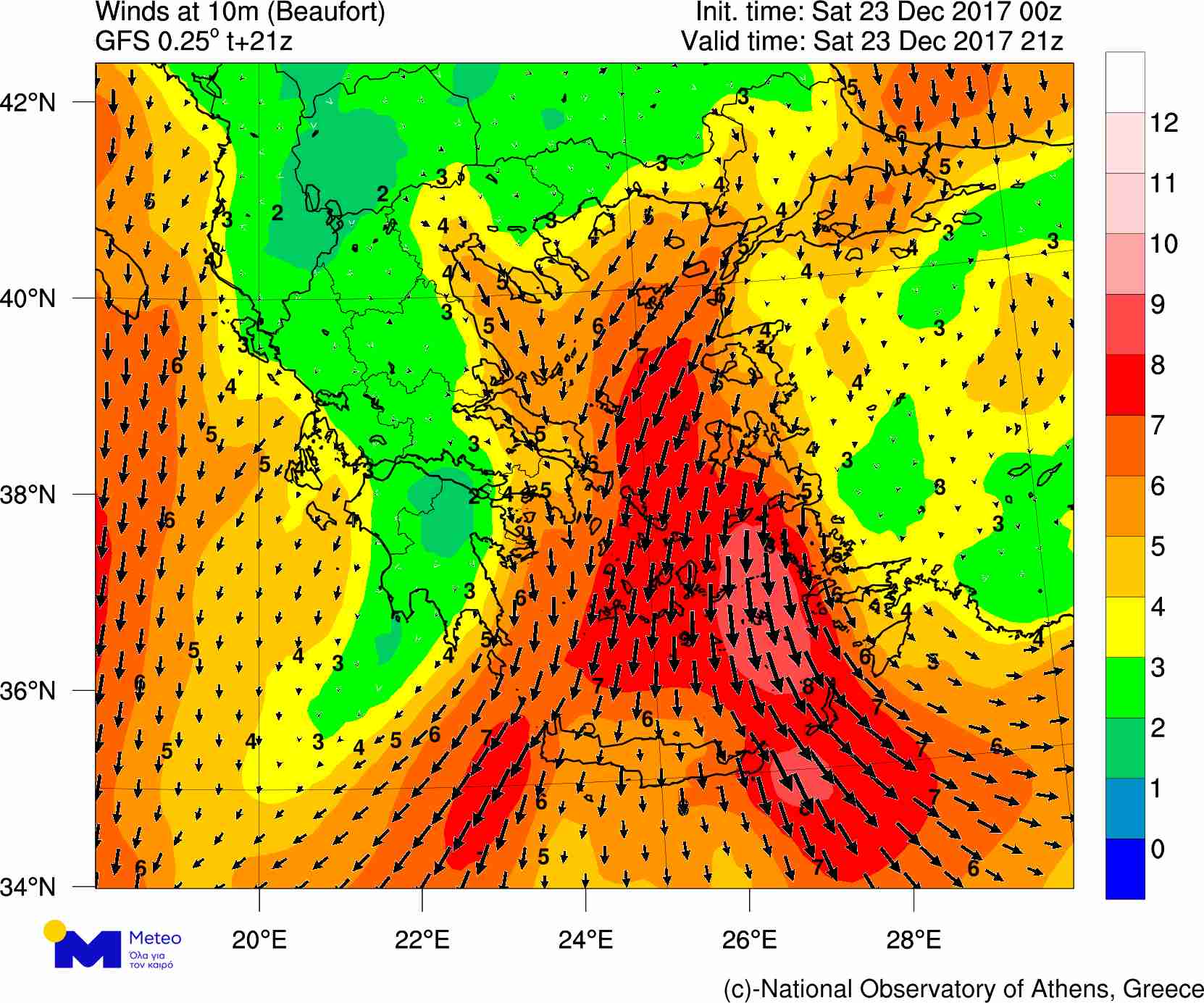 Map Wind intensity via meteo.gr