Real winter weather with unpleasant rain, snow-rain, stormy winds and low temperatures. From North-West to South-East Greece is in the grip of a bad weather front that is not expected to last long though.
Thunderstorm forecast Thursday, Jan 4, 2018.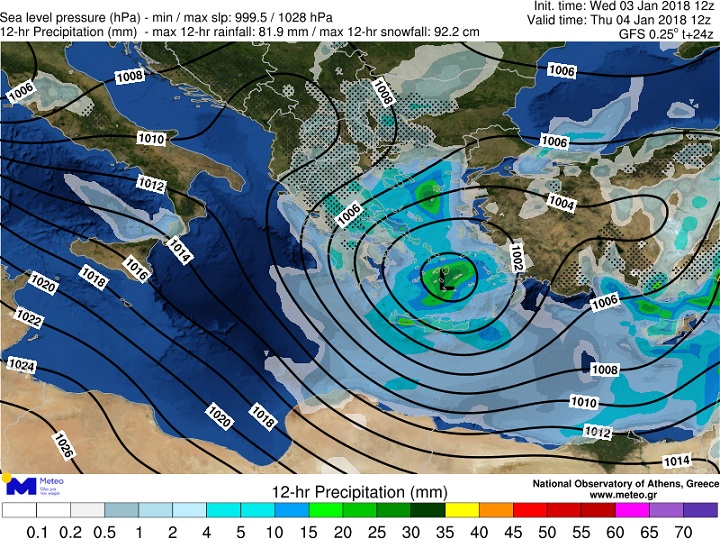 The National Meteorology Service warns of  strong rainfalls and thunderstorms
in the Ionian Sea, the mainland, the whole Aegean Sea incl the Cyclades group, the island of Crete and the Dodecanese.
Heavy snow-falls in all mountainous areas of the mainland except in Thrace.
Snow is to fall in Epirus (above 600-700 m), West Macedonia (300-400 m), Thessaly, West and Central Sterea (above 700-800 m).
For the time being most affected by the snow-falls are is the region of Western Macedonia.
Dream landscape in Drepano by Kozani
Although it was not forecast, snow has been falling since Thursday morning on the Mountain of Parnitha in the outskirts of north Athens.
Video via Bafi Shelter
A light snow-rain has been falling also in the south suburbs of Athens.
WIND
Stormy winds up to 8 and 9 Beaufort, locally up to 10 Beaufort.
Strong winds in the Ionian Sea hinder the sea traffic and some ferries schedules have been cancelled.
The weather is expected to improve as of Friday but worsen again as of Sunday.
Meteorologists forecast temperatures up to 14-16C on January 6th, but temperature drop and frost as of January 7th.