Four of the largest islands of the Cyclades group in the Aegean Sea will be supplied with power via an underwater cable as of next month. This connection will put an end to environmental polluting units of the Greek Public Power Corporation [PPC. DEH]," the state broadcaster ERT said in a report on Thursday.

 The connection of the islands of Syros, Paros, Tinos and Mykonos with submarine cables will also reduces the cost of electrification of the islands by EUR 100 million per year. This saving cost will be seen on the PPC bills of the consumers.
The 108-kilometer cable at the seabed transports electricity from Lavrio in south-West Attica to the island of Syros. From there with other cables bring power to Paros, Tinos and Mykonos.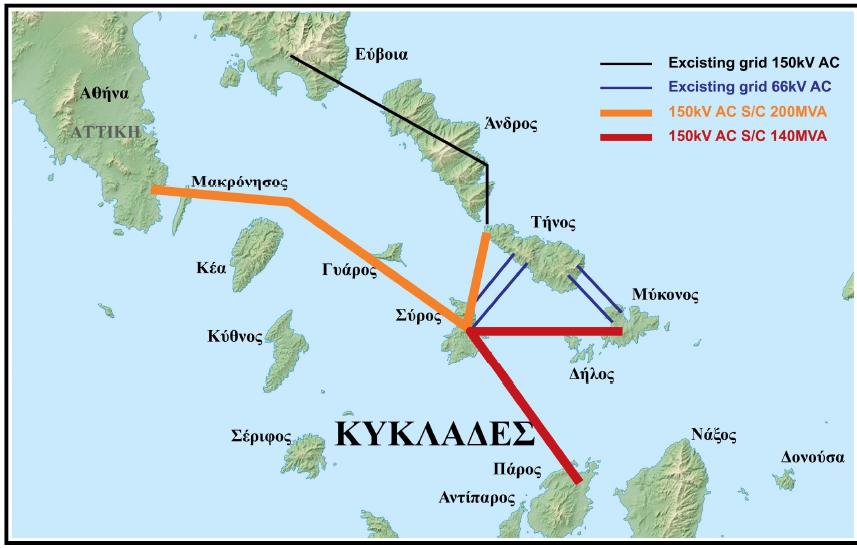 Testing begins within the next days and by mid February the pollution triggering fuel oil-fired units will stop operating.
A cable connects Tinos with Andros and south Evia already since the 1990's.
The new form of electrification will bring the power black outs on these islands due to increased power consumption to an end.
The underwater cable has 24 optical fibers that can be used also in telecommunications. With them, the PPC monitor control center in Agios Stefanos will monitor the operation of the power substations on the islands, Ert1 said.
The project was supposed to have been finished in autumn 2016. In fact the project was in the plans twenty years ago. The total cost is 240 million euros.
Another project to supply the island of Crete with power will save 400 million euros per year.  Crete will be connect with underwater cable with Peloponnese.
The question is when the Crete project will be materialize.
But you know how things are in debt ridden Greece. Money swims very slowly. No to mention some negative reactions by local communities on Crete. Some estimation last spring spoke of  year 2020.
Nevertheless, consumers will certainly welcome the new form of electrification of the islands as they will see their bills to demand less euros.