Greece's National Meteorological Service issue a warning of extreme weather phenomena for the next hours, starting Tuesday evening, February 27 2018, for two days.
Main features of the weather deterioration are:
Strong rainfalls and thunderstorms, accompanied by strong South winds and possibly also hail locally. Snowfalls, temporarily very heavy. Frost. Temperature drop.
The weather forecast analytically and areas affected:
Tuesday evening, Feb 27
Rainfalls and thunderstorms: Ionian islands, West Sterea and Peloponnese
Snowfalls: Epirus (above 400m), Thessaly, West and central Sterea (above 600-700 m), West and Central Macedonia

Wed, Feb 28
morning: the Cyclades and by noon also the islands of the North and Eastern Aegean Sea and the Dodecanese.
!!! Strong winds above 8 Beaufort in Attica, Cyclades, Evia, Sporades, islands of North-East Aegean, Crete, Prefectures of Rodopi, Corinth, Argos in East Peloponnese and Fthiotida, Sterea.
Snow: West and Central Macedonia, mainly Halkidiki (above 200 m) as of the afternoon: in plain-lands of East Macedonia and Thrace

Temperature is expected to gradually drop on Wednesday, starting in the North.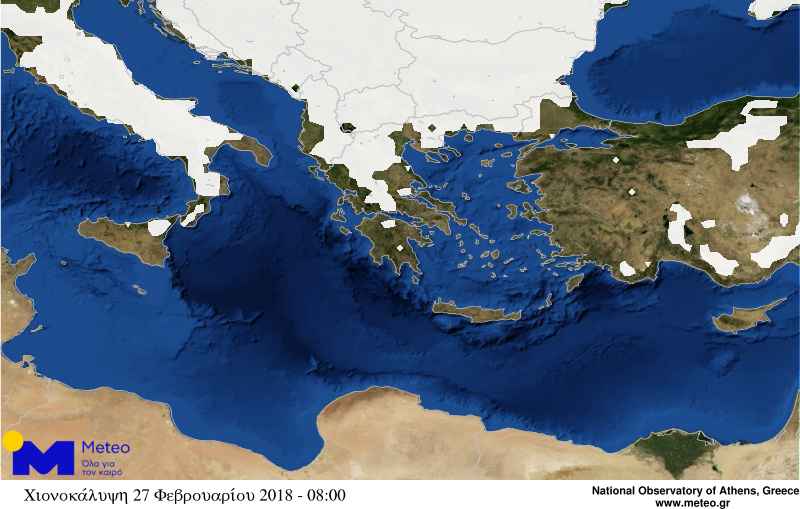 Snow map Feb 27 2018
Frost on Wednesday night and on Thursday in the North and Central mainland, locally also in East Macedonia and Thrace.