Time has come: the linking of Cyclades islands to the mainland's electricity network will be inaugurated on Monday, March 19, 2018. Syros, Paros, Mykonos and Tinos, four of  the largest islands of the Cyclades group in the Aegean Sea will be supplied with power via an underwater cable.
The inauguration  of the project by Prime Minister Alexis Tsipras is scheduled at 11:oo a.m. on Monday at the substation of the Independent Power Transmission Operator (ADMIE) in the Lazaretta section of Syros island.

According to Environment Ministry, the project will provide reliable and adequate power to the islands especially during the summer, when demand hits a spike due to tourism. It will also reduce the carbon footprint of oil-run power stations on the islands. Additionally, the ministry said, it will lower household bills throughout Greece by reducing the fees collected against the cost of non-connected islands.
The project will be implemented gradually. As Environment Minister George Stathakis said on Tuesday, initially the islands of Syros, Paros, Mykonos and Tinos will be connected by underwater cable from Lavrio.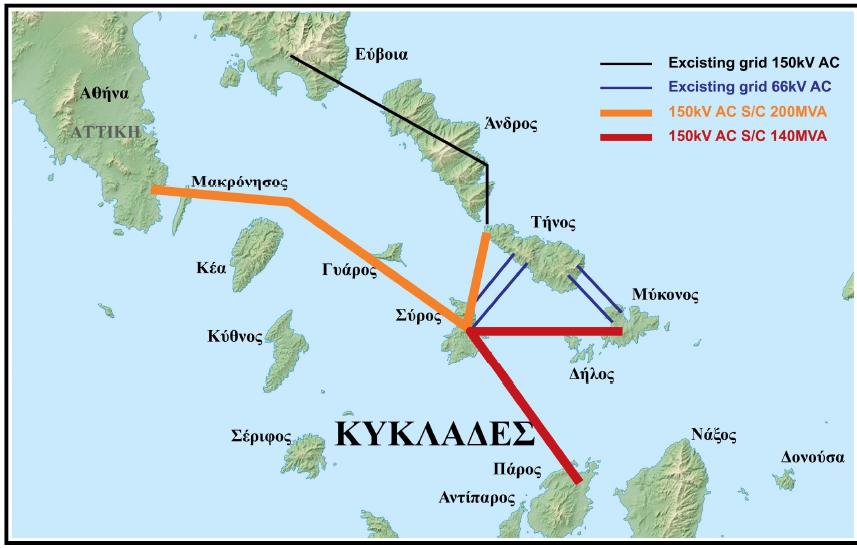 Savings from the first year of operation will amount to close to 80 million euros. The project's budget totals 245 million euros, jointly funded by Greece and the European Union, with funding support from the European Investment Bank.
More on the project as wells as the linking between Crete and mainland here.