As if Greeks are not divided enough on national and political issues, the weather is going to add the icing on the Greek cake and this icing is made of pure fluffy snow. In the country's North is going to be winter, in the country's South …summer. While Greeks in the North of Macedonia and Thrace will be freezing, those on the island of Crete can pack swimming suits and beach towels, wear their flip flops and go to the sea for a nice refreshing swim.
The peak of this crazy weather is on Thursday, March 22, although it already started to snow in the mountainous areas of West Macedonia.
Video Snow fall in Nymphaio, Florina, West Macedonia on 21. Mar 2018
Roughly considered:
Rain and thunderstorms are expected in the regions northern of Sterea in south Central Greece, from Thessaly northward. Snowfalls in altitude above 300 m. all across North Macedonia and Thrace. Temperatures 4 – 5 degrees Celsius in West Macedonia.
South of Sterea, the weather will be milder with rainfalls locally, occasional sunshine and higher temperatures.
The southern one goes the higher the temperatures expected to reach even up to 30 degrees Celsius at the peak of noon in the north of Crete, in Chania, Rethymno and Heraklio, for example
+++ There is warning for the north cities of Crete with powerful wind blowing with up to 90 km/h. The warning is from Wed night until Thu during the day.
At the same time, south winds will bring again millions of the nasty yellow particles of Sahara dust.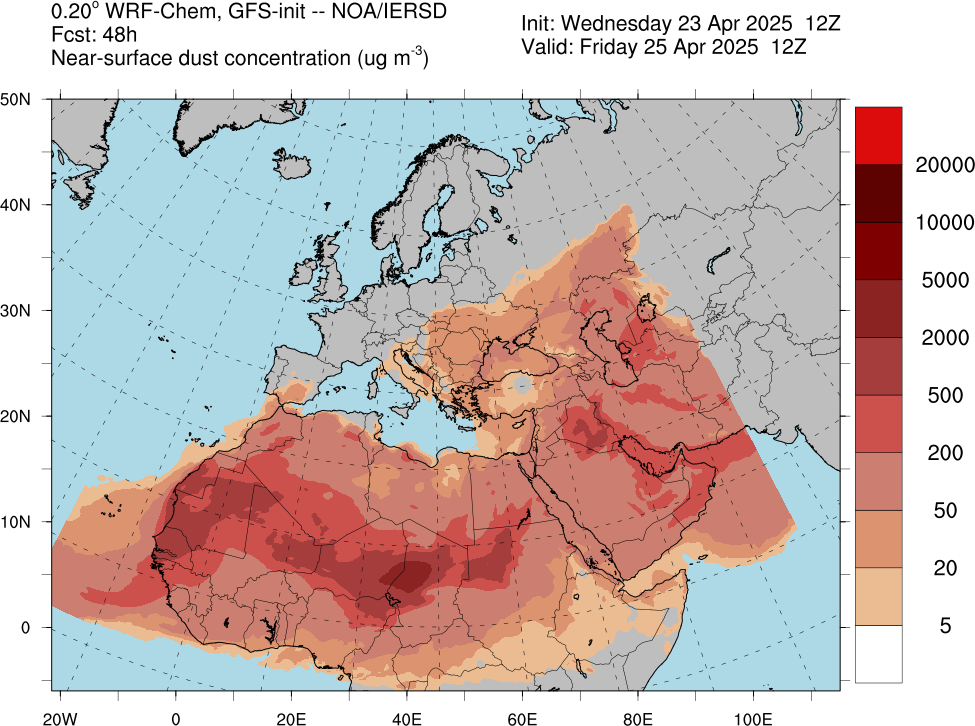 The dust will move eastwards as of Friday afternoon.
Rainfalls are expected locally in all regions of Greece until the weekend.
Snow in the North, rain and thunderstorms on Saturday.
PS and yesterday, Tuesday, it was full spring time, with sunshine and blooming plants… But yesterday it was the spring equinox and the weather played a little bit with us.