President of the European Commission, Jean-Claude Juncker is a man that truly inspires. Not always in positive way, though. Sometimes like today, on an official visit to Greece, Juncker caught for one more time trying to sell mirrors and pearls to the locals. " I always fought in favor of Greece," he said among others while he was addressing the Greek Parliament.
Some mean Greeks, like KTG, recalled the long and cruel austerity text Juncker wrote and handed over to Greece before the 3. bailout. It was the same austerity program for which Greece held a referendum with the crucial question be: Do you accept Juncker's austerity plan? with majority 60% the Greeks rejected Juncker's efforts to save the debt-ridden country, even thought the SYRIZA-ANEL government let the people's vote aside and proceeded with Juncker's plan amid pressure and all forms of blackmail.
Why am I writing this and not just write down Juncker's inspiring statements of today? Because, I get angry when politicians believe, we, the people, have a gold fish memory.
Nevertheless, Juncker said a lot of nice things as he always does when he visits Greece. For example, he said among others:
I don't think any other country could have faced such problems … with such courage and dignity
Greece is my second home

Greece does not need credit line, extra austerity

Growth has returned to Greece

Greek government reforms are in the direction; we should focus our attention on debt relief

Greek fiscal improvement is remarkable

I plea that you continue reforms

 He is confident Greece is ready to return to normal by summer

The eurozone countries should honour their promises to provide debt relief to Greece, whose economy is still struggling
Greece a pillar of stability in the Balkans
He also called on Turkey to release the two Greek soldiers and stop illegal actions in the eastern Mediterranean.
At the end of his speech at the Palriament, he said in Greek" Long live European Greece, long live Greek Europe."
Almost collapsed
Upon his arrival he met with Presidnet Prokopis Pavlopoulos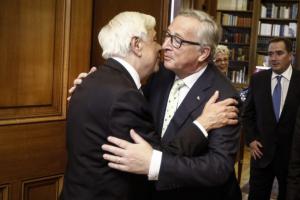 …and then with Prime Minister Alexis Tsipras with whom they held a joint press conference.
63-year-old Juncker had a hard day health-wise and he seemed to be struggling against what he called unbearable "heat" although it was just around 26-27 degrees Celsius and he was definitely not standing under the Greek noon Greek sun.
He seemed to be on the verge of a collapse (video after 12:14)
"I will speak short, it is hot here and I am sweating,"Juncker said. Thank goodness, he managed to say that Greece is exiting the bailout on August 20th."
By the time he had to speak at the Parliament he had fully recovered, most likely after receiving the blessing of the Greek Church.
However, some sign of the previous private heat-wave attack remained.
What on earth have they done to Juncker's hair!? pic.twitter.com/FLWHzx90v4

— Nick Gutteridge (@nick_gutteridge) April 26, 2018
State media speak of the special symbolism of Juncker's visit to Greece one day before the Eurogroup.
PS at the end of the day he is the type of a good fella, if only…. *sigh*