Relaxed, with a string of worry beads – kompoloi – in his hands, a Greek unionist steps one foot on the Monument of the Unknown Soldier in front of the Greek Palriament. The unionist from powerful GENOP-DEH of workers at Public Power Corporation (DEH) is obviously tired.
Together with his comrades, the middle-aged man walked less than one kilometer in downtown Athens under the burning April sun in order to protest the sale of lignite power plants on Wednesday.
Bead by bead, he counts the minutes he has to spend in front of the Palriament; bead by bead he counts his worries and tries to find an answer to a huge dilemma:  shall he go home or  – even better – seek the next best tavern where he will discuss with other unionists how they can prevent the  privatization of PPC and secure the benefits they have been enjoying in the last decades?
The picture has triggered an outrage in Greek social media, while news websites reproduced the issue.
"The unionist wouldn't dare to do that on Andreas Papandreou' [founder of PASOK] grave because he found him a job at the PPC," a user noted while another wrote:
"A flock of orangutans. With the alpha male orangutan in the middle posing with his leg on the Monument of the Unknown soldier." as another pictures shows the man and other unionists taking selfies.
"A wandering troupe of  a clique of disgraced privileged ones who are not aware neither of the high symbolism of the sacred monument nor do they show respect," somebody wrote on Twitter. And posted a picture of unionists as wells as of members of left-wing Popular Unity carrying lignite to the Monument.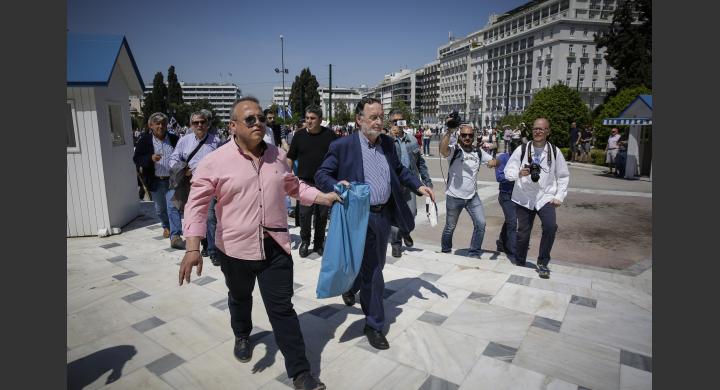 The protesters indeed threw the black lignite on the marbles of the Monument.
Despite the protest actions, the bill for the sale of lignite units owned by Greece's main power utility, the Public Power Corporation (PPC), was passed by the plenary of the Hellenic Parliament on Wednesday with 151 votes in favour and 124 votes against. The bill was supported by MPs of the ruling SYRIZA-ANEL coalition and voted down by the opposition in a roll-call vote requested by the Democratic Alliance.
Three SYRIZA MPs – Efi Georgopoulou, Dimitris Baxevanakis and Markos Bolaris – were absent during the vote, which a total of 25 MPs from all parties did not attend.
UPDATE: early Thursday afternoon, the Union of Technicians at PPC (DEH) issued a statement saying that the man is neither a technician nor a worker at the PPC. Stressing that there were other groups (hospital employees, pensioners) protesting outside the Palriament on Wednesday, the union condemned the "unacceptable sacrilege of the Monument" and said that "the malicious comments on social media and media aim to disorient the society from the big sale off of the Greek PPC."