Greece's National Meteorological Service (EMY) has issued a "red alert" warning of extreme weather phenomena with heavy rainfalls and powerful thunderstorms. Barometric low "Nefeli" is expected to start striking Greece on Monday, June 25, and move away on Friday, June 29, 2018.
Red Alert

by EMY means people have to take precautionary measures and follow authorities instructions. The phenomena will be locally very intense.
Rainfalls, thunderstorms with powerful lightning, locally also hail-fall and gusty winds.
Weather Forecast – analytically – Regions affected
Monday, June 25
Islands in the Ionian Sea, Epirus, West and Central Sterea, Peloponnese and gradually also Thessaly, West and Central Macedonia, by evening East Sterea.
Tuesday, June 26
islands in the Ionian Sea, mainland regions including Attica, the Sporades islands, Evia, islands of the North and East Aegean Sea, at times also the Cyclades islands and Crete.
Wednesday, June 27
Mainland regions, the Sporades islands, Evia, islands of the North and East Aegean Sea, the Dodecanese.
Temporarily also the Ionian islands, possibly also the Cyclades and Crete
Thursday, June 28
Macedonia, Thrace, Epirus, islands of North Aegean Sea, West Sterea, West Peloponnese, Ionian islands and possibly temporarily also Thessaly.
Meteorologists on Greek TV stations warn that the extreme weather phenomena may cause floods.
National Observatory forecast Monday (left) and Tuesday (right)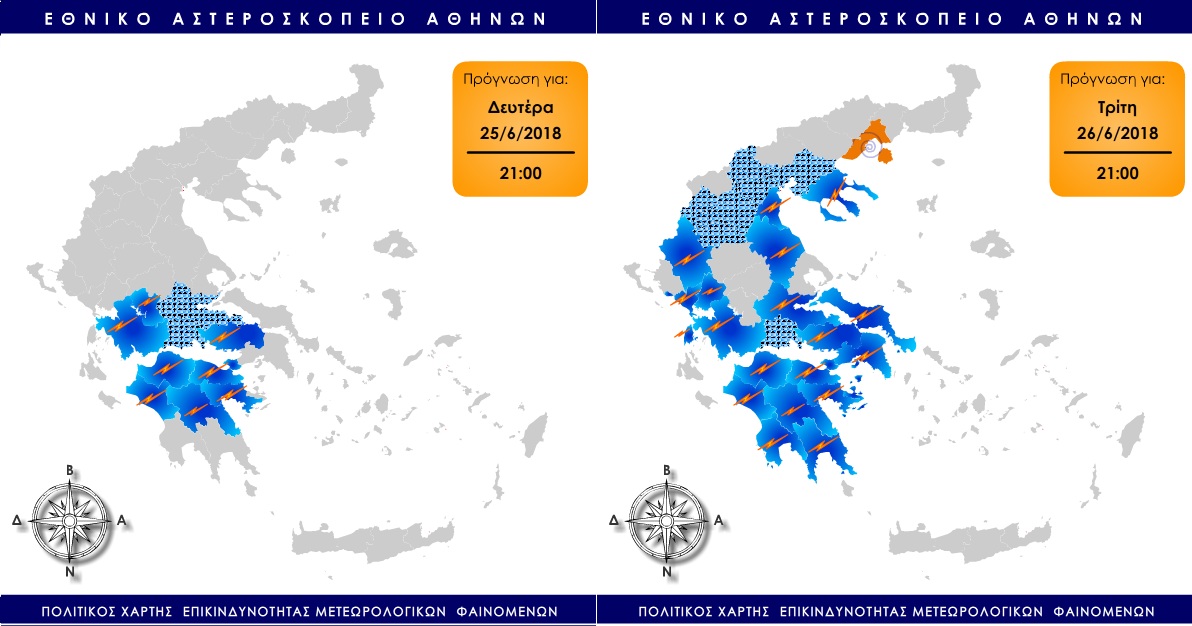 The weather looks as f ti will gradually improve as on Friday.
The weather in the last days is not of the kind one had hoped and expected for Greek summer. Powerful rain- and thunderstorm stroke several regions over the weekend, including Attica.  Roads were flooded for short time especially in West Attica and Piraeus.
Famous British singer Sting had to grab a broom and sweep rain waters off the stage of Odeon Herodus Atticus on Saturday as the sky opened short before his concert.
Storm in time Lapse – Nafplio – June 24/2018
Argolida, West Peloponnese June 24/2018