As there are several requests for donations for the pets and the wild animals that went injured, lost and found in the wildfires in Athens, here is a list of a few animal welfare societies that do a great job in the area – a great job in general and a great job now that there is an emergency situation.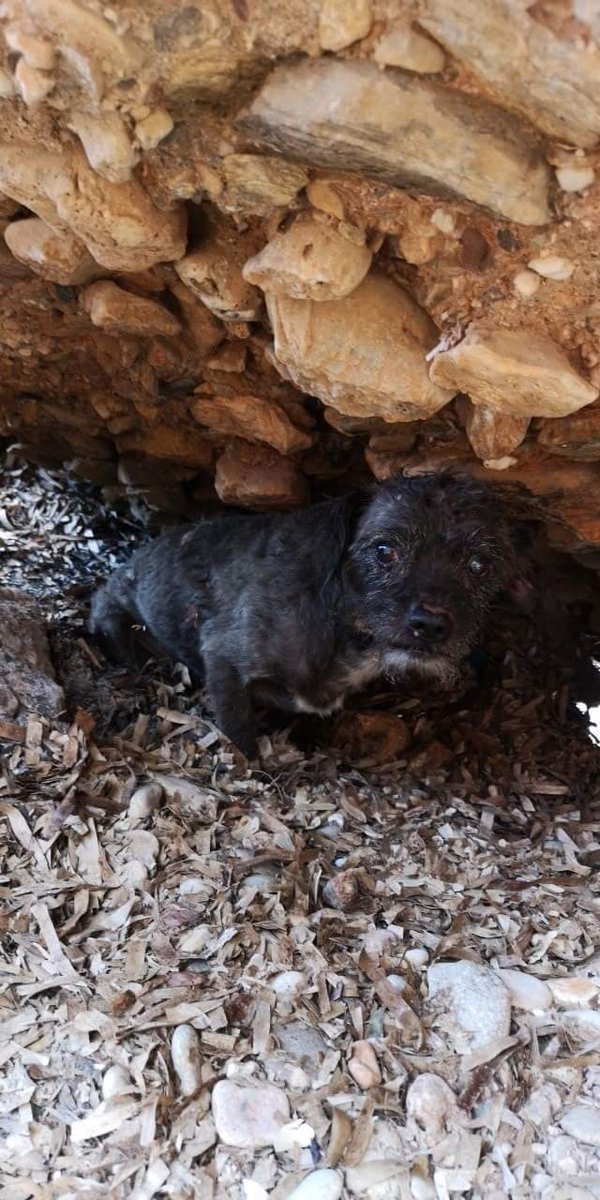 Lonely and scared – wildfire survivor waiting for help – Dozens of injured pets and wildlife.

Animal welfare societies with volunteers are conducting patrols in the areas hit by the fires to rescue injured animals and provide them with treatment, to bring to safety dogs, cats and other pets and to give them shelter until they are united with their owners. At the same time, they keep posting on social media pictures of pets they found or those that owners are missing.
Some pets will never reunite with their beloved owners. They are lost in the fires. For ever.
Members of the welfare societies  go around in Mati, Neos Voutzas, Kokkino Limanaki, in all settlements in the area in search of pets in need. They carry food and water and leave bowls in the area.
Please, keep in mind the huge volume of food, medication and other material are currently needed to take care of all these pets in need in an area declared to be in "state of emergency."
A heroic work if one considers the devastation the wildfires brought to the area.
LIST
→PEGASUS ANIMAL WELFARE GROUP nonprofit organization- located in Rafina-Pikermi, one of the areas most hit by the wild fires.
The group has a Page on Facebook
On their FB Page there are also pictures of missing or found pets.
Donation accepted in:
ACCOUNT NUMBER:
ALPHA BANK 663-00-2002011253
IBAN GR6401409700663002002011253
BIC CRBAGRAA
Account holder: ΠΗΓΑΣΟΣ ΦΙΛΟΖΩΙΚΟΣ ΣΥΛΛΟΓΟΣ
PAYPAL: helppegasusanimalrescue@yahoo.com
→  ANIMAL WELFARE SOCIETY of MARATHON – located in NeaMakri nextto Mati.

It operates with volunteers in the fire hit areas.
Their Facebook Page here.
For donations per bank account and/or Paypal click here on their website.
→ SCARS SECOND CHANCE ANIMAL RESCUE located in South Athens
The volunteers' group currently operates in the fire hit areas, treat animals on the spot, offers and distribute food to pet owners who cannot afford it because they have lost everything.
Eurobank
Swift: ERBKGRAA
IBAN: GR5302601420000900200479872
For PAYPAL click here.
The Facebook Page is here.
→VET4Life Clinic – located in Pikermi, Marathonas Avenue, fire hit area.
The clinic currently offers free of charge treatment to pets found in the fire hit areas.
It  also hosts pets that have been found but the owner is missing or the two have not reunited yet.
Facebook Page here.
The clinic asks currently for items donations due to the increased demand. You can contact them on their website here.
→ EDKE –  Volunteer Action by Greek Veterinarians
Members of their network in the Prefecture of Attica offer free treatment to victims of the wildfires. They also offer free treatment to animals in the fire hit areas.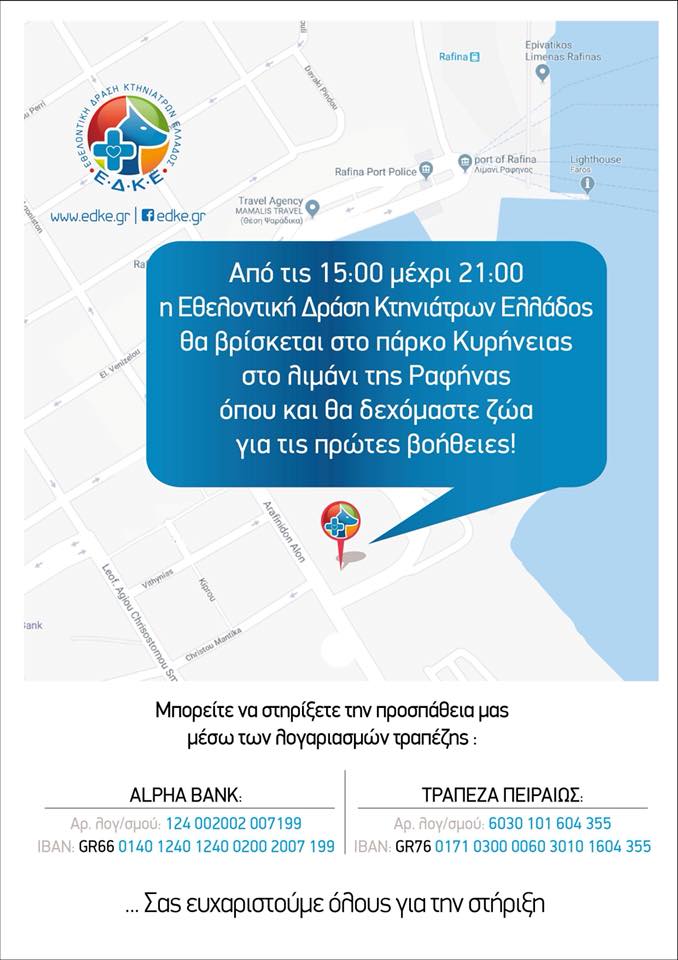 You can support EDKE here.
In these difficult times  animals and the people who help them need your help.
And you know, every donation count, no matter how small or big.
Rescued animals are not only badly injured. They have suffered a shock they will need time to overcome.
And some just don't make it.  Even if volunteers rescue them and bring them to specialized care.
Their injures are too severe, the panic they have experience much too big.
This dog was found running in panic on Marathon Avenue. Unfortunately he didn't make it, writes spiros petridis.
An injure  rat …rescued by a family and brought to ANIMA NGO for the Protection of Wildlife.
→ANIMA is currently in need of newspapers, ointments for burns, diapers, substrates/layers, one use disposable gloves, eye-drops, ointments for eyes.
ANIMA is located in Kallithea suburb of South Athens. You can contact them here.
PS The list has been compiled with a friend who know very well the area and the needs. Be sure to confirm b-account and account holder match.