Greece's National Meteorological Service EMY has issued a weather warning valid for Monday and Tuesday, August 27 and 28, 2018.
EMY warns of strong rainfalls and thunderstorms, locally powerful, with possible hale-fall and gusty winds.
Rainfall are expected in the early hours of Monday initially in the West mainland and the Ionian Sea. The bad weather front will move to the rest of mainland and the islands.
The weather phenomena are expected to be very strong.
Weather Forecast Analytically and Regions affected

Monday, 27. August
Until noon/early afternoon hours the islands in the Ionian Sea, Epirus, West Macedonia and West Sterea.
As of the afternoon Central and East Macedonia and gradually also Thessaly, the Sporades islands, East Sterea, Attica, Evia and Peloponnese.
Wind intensity 6 to 7 Beaufort and locally (Ionian Sea) up  to 8 Beaufort.
Tuesday, 28. August
Until noon/early afternoon Central and East Macedonia, islands in the North Aegean Sea.
Until the afternoon hours: East Thessaly, the Sporades islands, East Sterea, Evia, East and South Peloponnese, The Cyclades islands, Crete and the islands of East Aegean Sea.
Wind intensity an average of 6 to 7 Beaufort.
The weather deterioration will be temporary and limited to Monday and Tuesday.
Except for East Greece, bright sunshine and high temperatures are forecast for Wednesday, 29. August.
Greece Civil Protection has also issued a warning of High Risk for Fires for 27. August.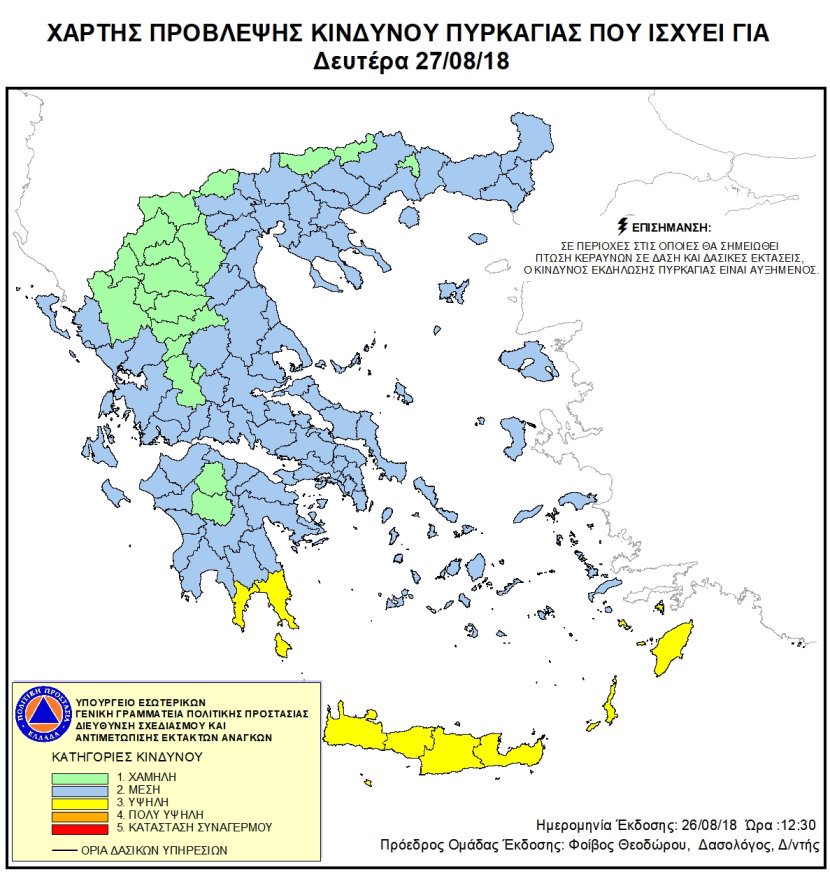 Areas where citizens should be on alert are: Lakonia in South Peloponnese, the island of Crete and the South Dodecanese.
The Civil Protection warns also that the fire risk is especially high in areas where there will be lightning falls.
In case of Fire, please, call the Fire Service under phone number <199>.
sources: Civil Protection, EMY, National Observatory, meteo.gr