The European Parliament voted to ban single-use plastic. With an overwhelming majority of 571 votes vs 53 against,  MEPs backed the proposal aiming to reduce the estimated 150-thousand tons of plastic waste from Europe that ends up in the sea every year.
Completely banned are to be plastic straws, cotton buds, cutlery and plates, drink-stirrers and balloon sticks. The proposal submitted by Liberal MEP Frédérique Ries also called for a reduction in single-use plastic for food and drink containers like plastic cups.
Plastic ups should be reduced by 1/4 until 2025 either via price hikes or advertisement for alternatives.
The list of banned items such as cutlery and cotton buds was chosen because there are readily available alternatives, such as paper straws and cardboard containers.
Manufacturers will also have to take more responsibility for what happens to their plastic products and packaging.
Another ambitious target is to ensure 90% of all plastic drinks bottles are collected for recycling by 2025. Currently, bottles and their lids account for about 20% of all the sea plastic, the European Parliament report said.
After the vote, Ries said it was "a victory for our oceans, for the environment and for future generations."
One MEP said, if no action was taken, "by 2050 there will be more plastic than fish in the oceans".
In a last minute move,  the conservative fraction of EPP managed to "rescue"  balloon out of people's reaction ahead of the EU elections in May.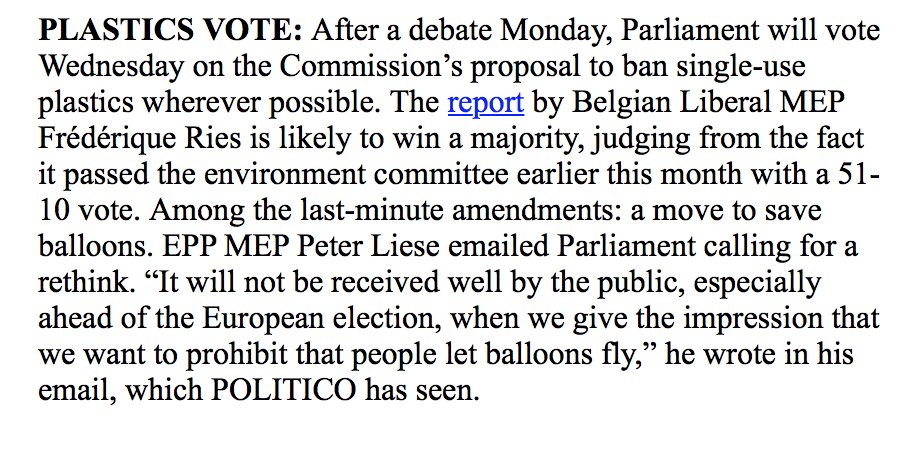 The measure still has to clear some procedural hurdles, but is expected to go through.
The EU hopes it will go into effect across the bloc by 2021.
Several countries are already considering proposals to target disposable plastic products – including the UK.
Even if there is a general consent about reduction of plastic in the oceans, some say that the banning single-use plastic is not panacea without raising awareness and change consumers' habits.
And some claim that no matter what the EU does, Asia and Africa do not car eabout the problem and so does Trump's America.
What do you think?
Loading ...