Greece's health authorities announced on Monday, 209 new coronavirus cases and 17 Covid-related deaths in the last 24 hours. The number of intubated Covid-patients in hospitals Intensive Care Units stands at 283.
There is no live briefing by the health authorities on Monday due to holiday, there are also no vaccinations today for the same reason.
Tests have been much fewer due to the long weekend, however, it should be noted that all daily numbers (infections, deaths, intubations) have been constantly decreasing in the last two weeks.
Vaccinations

Stand June 20, 2021: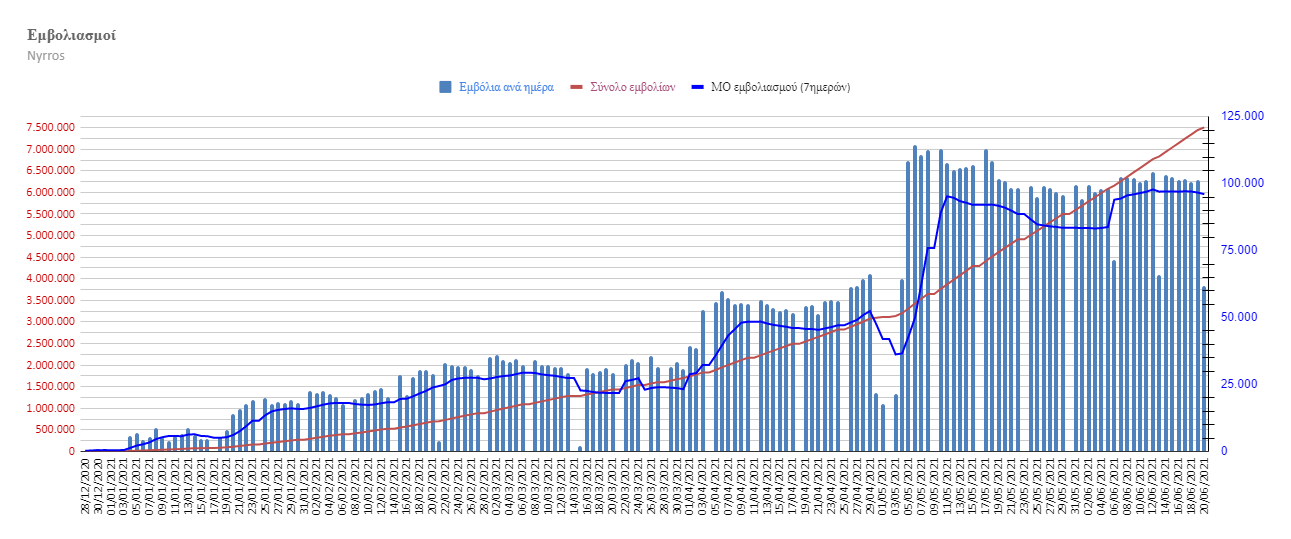 4,526,282 vaccinated citizens (43.4%) 7,508,584 doses
1,350,839 Partially vaccinated 
3,175,443 Fully vaccinated (30.5%)
Vaccinations tracker per region here.
Official coronavirus data, June 21
Tests in the last 24 hours: PCR 3.947 Rapid tests 11,501
Positivity of PCR & Rapid: 1.35%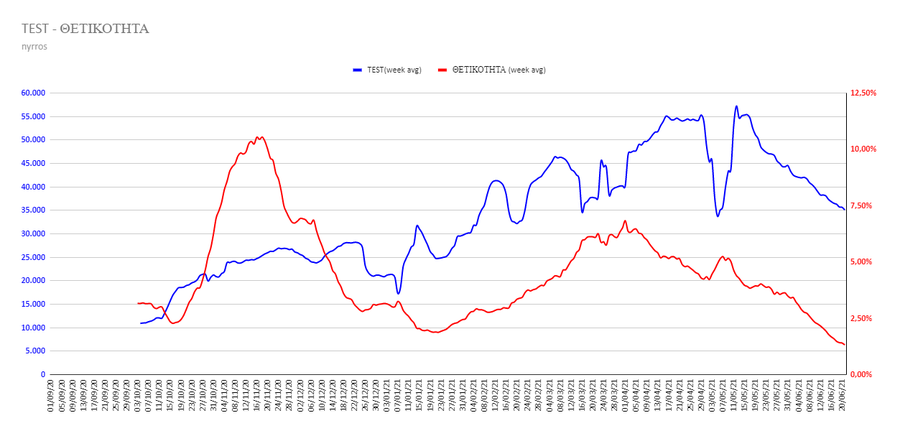 Rt: 0.8 from 0.81 last week
Since the pandemic began, Greece has confirmed 418,548 infections (daily change: +0.0%). In the confirmed cases of the last 7 days, 32 infections are related to travel from abroad and  672 to other confirmed cases.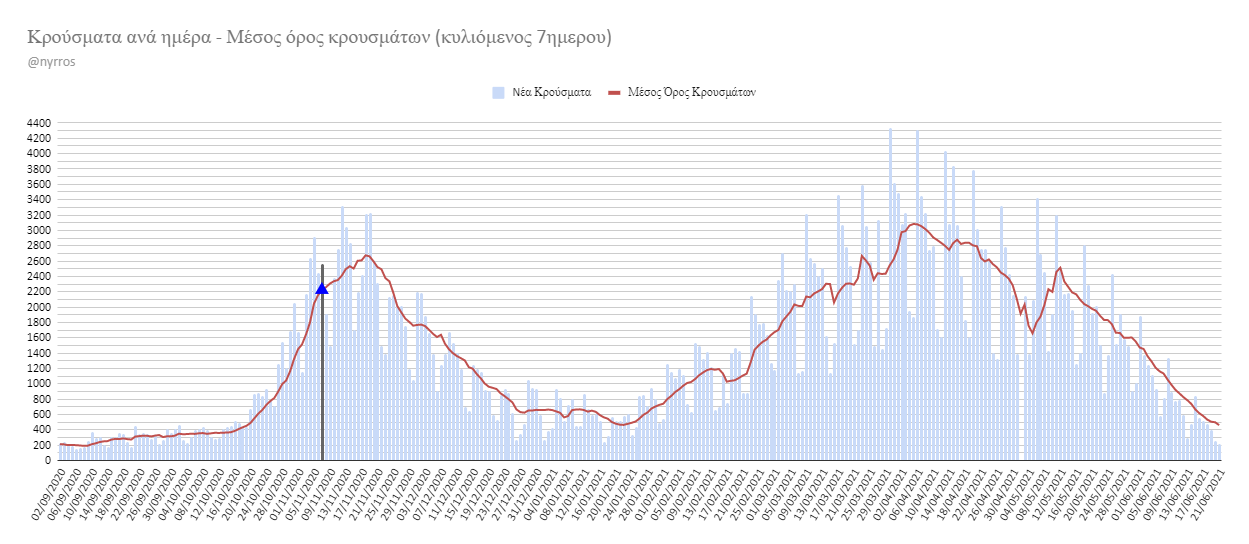 Rolling average: 460 (737 previous week)
51.2% of the infected are men.
There are 17 deaths recorded in the last 24 hours, the total of pandemic victims to 12,565.  Of these, 95.5% had an underlying condition and/or were 70 years old.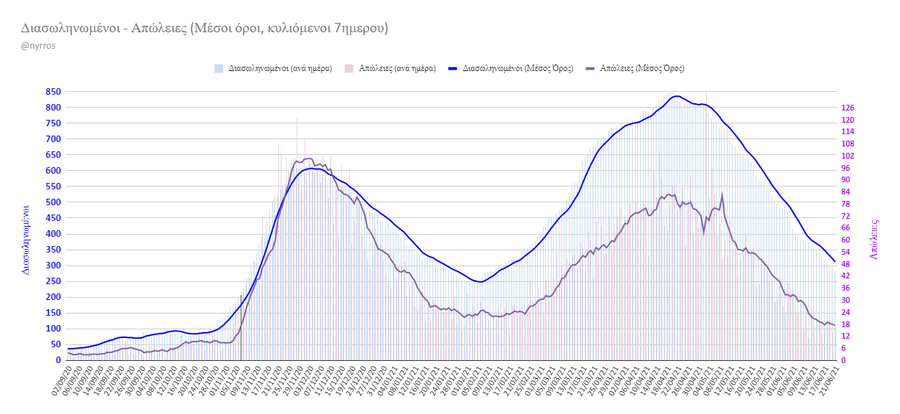 A total of 283 Covid-patients -from 296 a day earlier – are on ventilators in hospitals. Their median age is 66 years. 63.6% are men. 83.4% have an underlying condition and/or are aged 70 or more.
2,615 patients have been discharged from ICUs since the pandemic began.
48 Covid-19 patients were admitted to hospital in the last 24 hours (daily change: -27.27%). The average admission of patients with Covid-19 to hospitals over the last 7 days was 65.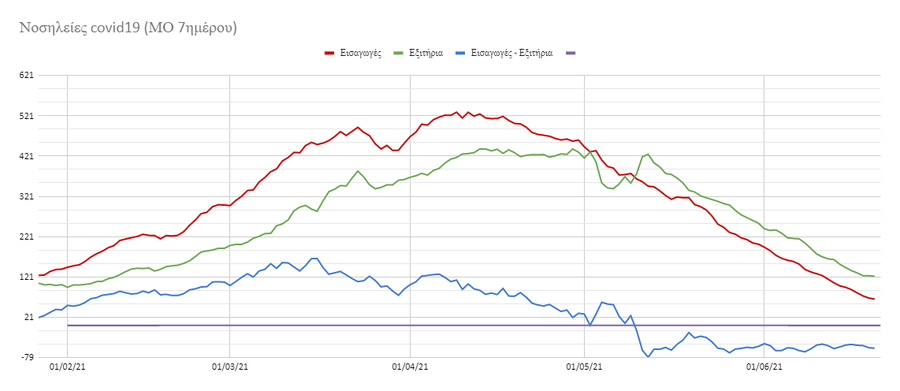 The median age of new infections is 43 years (range: 0.2 to 106 years), while the median age of the deceased is 78 (range: 0.2 to 106 years).
Geographic distribution June 21

Of the 209 new cases, 4 were detected at the entrance gates of the country and 0 among travelers already in the country.
The remaining cases are:
94 Attica
21 Thessaloniki
10 Achaia
9 Heraklio
7 Larissa
Each 4 Rhodes, Magnisia, Rethymno
Each 3 Argolida, Kos, Evia, Ioannina, Kozani, Lesvos, Pieria
Each 2 Grevena, Karditsa, Lakonia, Trikala, Chania
Each 1 Aitoloakarnania, Viotia, Drama, Ilia, Mykonos, Pella, Preveza, Samos, Fthiotida
9 under investigation
Coronavirus Infections Maps to compare
Greece's Covid-map of confirmed infections in the last 14 days, based on permanent or temporary residence.
Official data by EODY Daily Report in Greek
here.
More information on coronavirus in Greece
here.