Greece's health authorities announced on Monday, 801 new coronavirus cases and 6 Covid-related deaths in the last 24 hours. The number of intubated Covid-patients in hospitals Intensive Care Units stands at 173.
As from today, Monday, 5. July 2021, citizens need to present some Covid-19 documents if they want to travel to the Greek islands per ferry or airplane (domestic flights.)
Note that 1,000,000 who have only one dose, will still need a PCR test for 60 euros or a Rapid test for 20 euros to travel to the islands.
Greek health experts have warned that infections increased up to 266% since last week.
Live Briefing
At the Live Briefing on Monday, chairwoman of the National Vaccinations Committee said that the platform for appointments for the vaccination of teenagers aged 15-17 will open next week.
The Committee gave the green light, however, only with parents' consent. chairwoman professor Maria Theodoridou stressed.
She added that teenagers at this age have possibility to get infected with the coronavirus, while research has shown that due to social activities outside school they transmit their environment with higher frequency.
Theodoridou said that 15-17 years olds will be administered mRNA vaccines as there are scientific data available. She noted that in some cases there could be side effects such as mild myo- or periocarditis.
In 8 million doses to children aged 12=17 and 6 million children who received both doses, 250 cases of mild periomyocarditis has been recorder. this is a rate of 1%-4% per 100,000 children Theodoridou said.
Vaccinations
Stand July 4, 2021: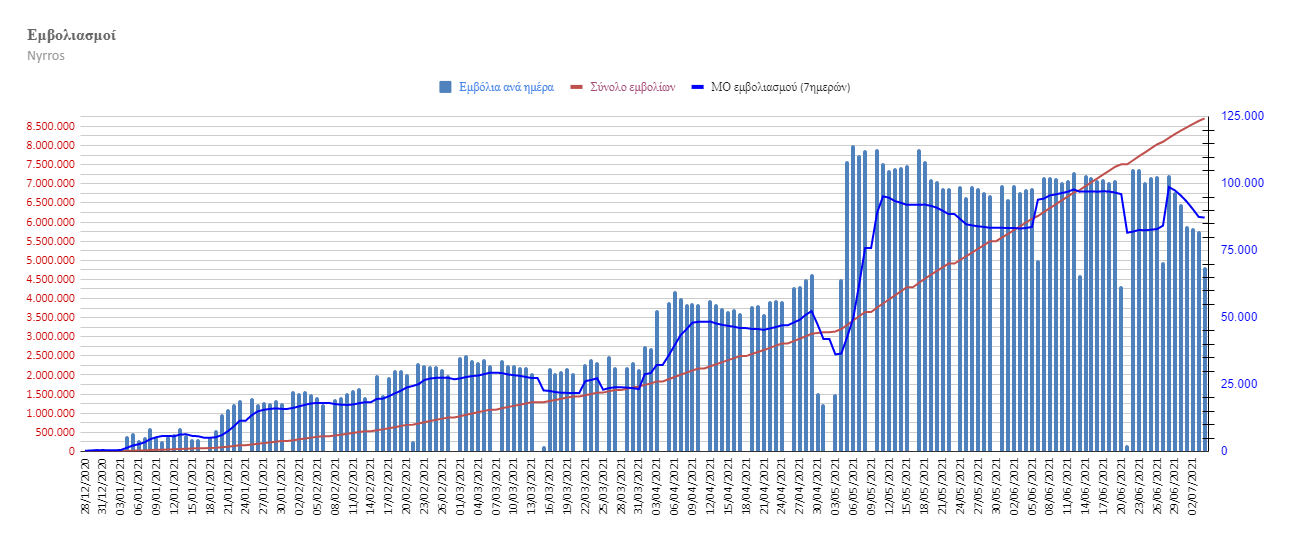 Of the 4,923,673 vaccinated citizens (47.9% of population with at least one dose):
1,019,813 Partially vaccinated 
3,968,350 Fully vaccinated (38.1%)
Vaccinations tracker per region here.
Official coronavirus data, July 5

Tests in the last 24 hours: PCR 4,841 Rapid tests 21,608
Positivity of PCR & Rapid: 3.03%
blue: tests red: positivity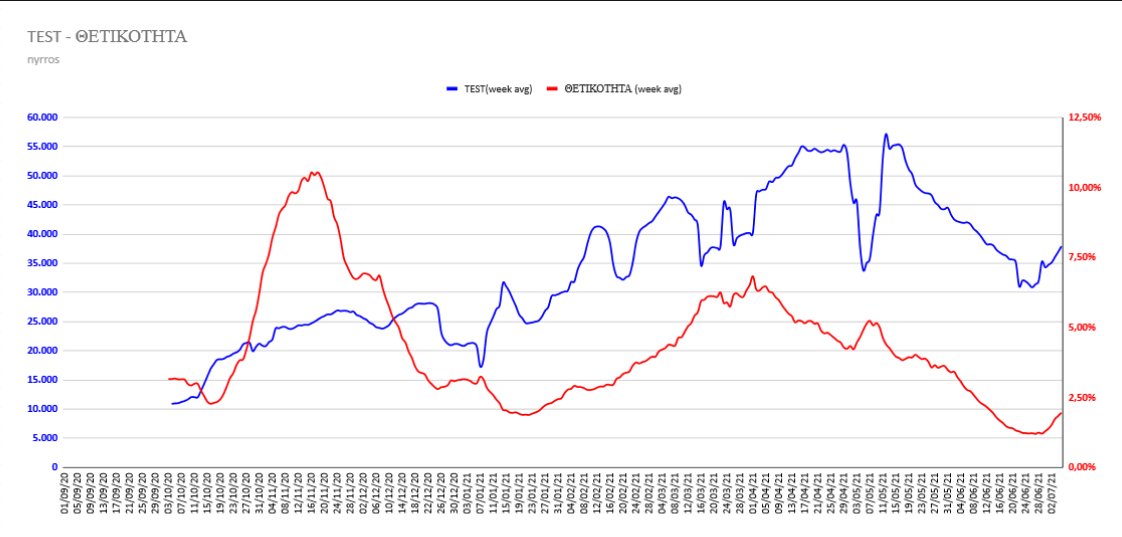 Rt: 0.8 from 0.81 last week.
Since the pandemic began, Greece has confirmed 426,963 infections (daily change: +0.2%). In the confirmed cases of the last 7 days, 109 infections are related to travel from abroad and 1238 to other confirmed cases.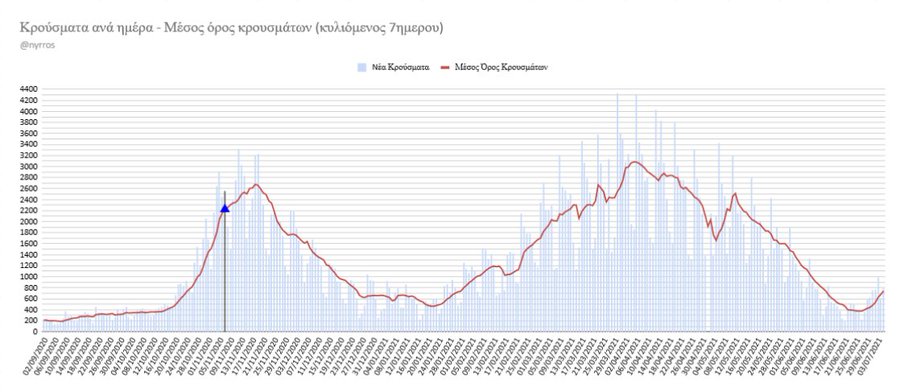 Rolling average: 742 (398 previous week)
51.2% of the infected are men.
There are 6 deaths recorded in the last 24 hours, the total of pandemic victims to 12,743.  Of these, 95.5% had an underlying condition and/or were 70 years old.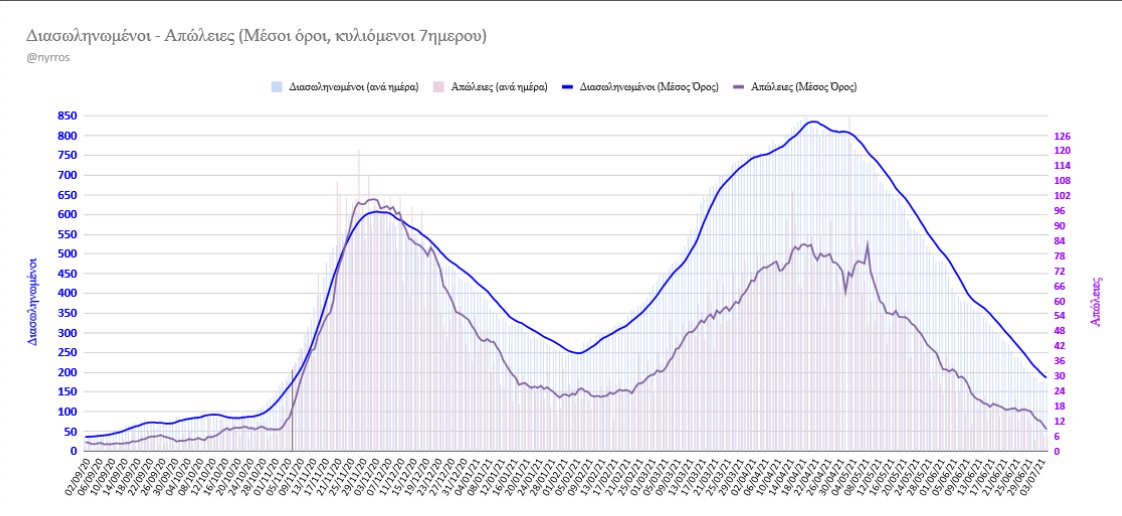 A total of 173 Covid-patients – from 177 a day earlier -are on ventilators in hospitals. Their median age is 66 years. 68.2% are men. 86.1% have an underlying condition and/or are aged 70 or more.
2,702 patients have been discharged from ICUs since the pandemic began.
59 Covid-19 patients were admitted to hospital in the last 24 hours (daily change: +96.67%). The average admission of patients with Covid-19 to hospitals over the last 7 days was 39.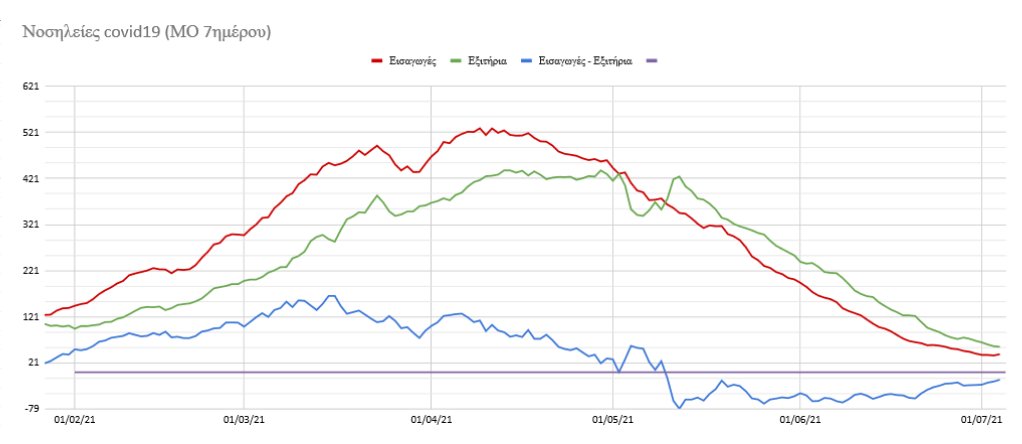 The median age of new infections is 43 years (range: 0.2 to 106 years), while the median age of the deceased is 78 (range: 0.2 to 106 years).
Geographic distribution July 5

Regional units epidemiological load: last 7 days – infections per 100,000 population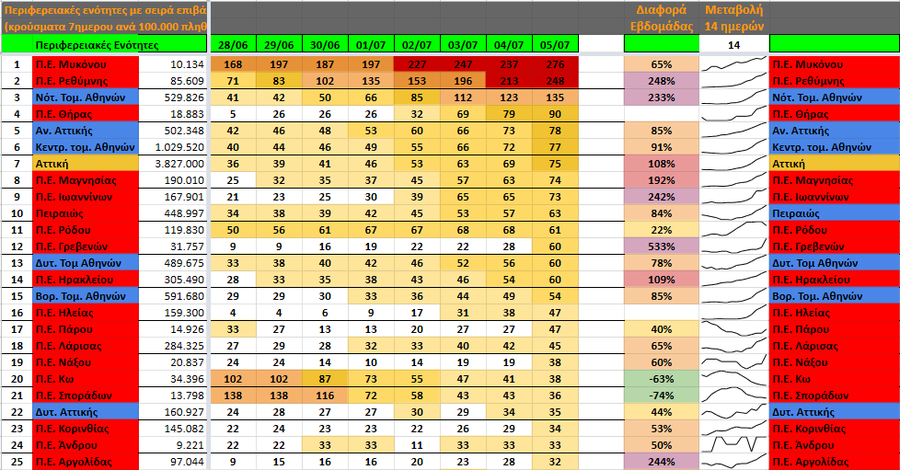 Of the 801 new cases, 4 were detected at the entrance gates of the country and 15 among travelers already in the country.
The remaining cases are:
408 Attica
27 Thessaloniki
38 Rethymno 31 Mgnisia
28 Heraklio
17 Ioannina 16 Larissa
Each 15 Evia, Ilia, Corinth
11 Aitoloakarnania
10 Grevena
8 Mykonos, 7 Chania
Each 5 Viotia, Pieria
Each 4 Argolida, Kozani, Naxos, Halkidiki
Each 3 Kavala, Karditsa, Corfu, Thira
Each 2 Achaia, Rhodes, Zakynthos, Kefalonia, Pella, Fthiotida, Chios
Each 1 Arcadia, Kos, Evros, Imathia, Milos, Lasithi, Lesvos, Sporades
73 under investigation
Coronavirus Infections Maps to compare
Greece's Covid-map of confirmed infections in the last 14 days, based on permanent or temporary residence.
Official data by EODY Daily Report in Greek
here.
More information on coronavirus in Greece
here.