Daily coronavirus infections in Greece remain high throughout the week and health authorities announced on Saturday 6,393 new confirmed cases. 48 of Covid-related deaths were recordedin the  24 hours. The number of intubated Covid-patients in hospitals has increased further to 459.
According to EODY data 85% of the beds in public hospitals Intensive Care Units for Covid-19 have reached capacity.
A 27-year-old woman died of Covid-19. She was hospitalized for the last 10 days. She had recieved the first dose of vaccine against the virus.
Former Presaident of the Hellenic Repoublic, Prokopis Pavlopoulos, was admitted to hospital on Saturday a day after he was tested positive with Covid-19. In a statement the hospital said that the admission was for preventive reasons due to an underlying health issue. 71-year-old Pavlopoulos is reportedly assymptomatic and so is also his wife, tested positive with the virus as well.
New restrictions for unvaccinated citizens went into force on Saturday ending in long queues outside shops due to the checks oof RAPID, CPR and Vaccination pass. More on a separate post.
Official EODY data Νοbember 6
Tests in past 24 hours:
PCR 17,920 RAPID 266,532-
Positivity PCR+RAPID: 2.25%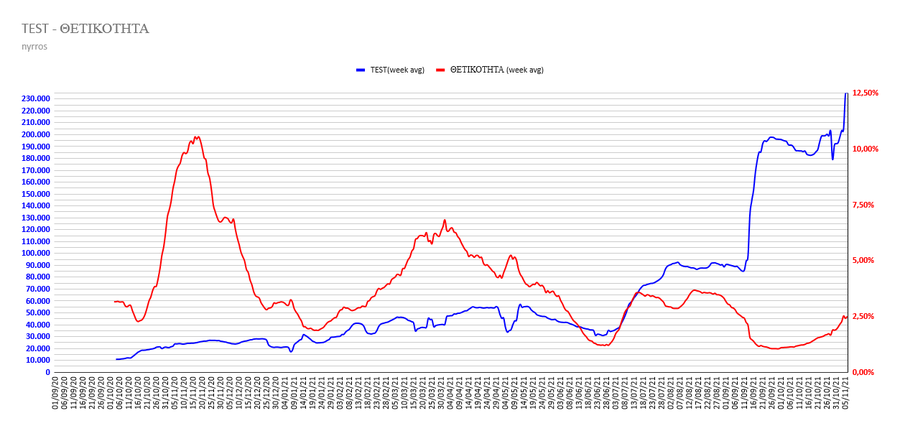 Since the pandemic began, Greece has confirmed 780.621 infections (daily change: +0.8%). Of the confirmed cases of the last 7 days, 161 infections are related to travel from abroad and 2,819 to other confirmed cases.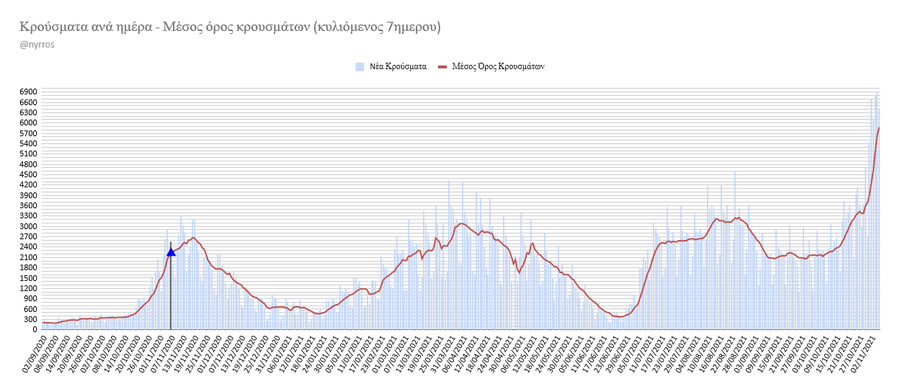 Rolling average 5877 from 3595 last week.
43 deaths recorded in the last 24 hours, brought the total of pandemic victims to 16,243. Of these, 95.4% had an underlying condition and/or were aged 70 or over.
459 Covid-patients are on ventilators in hospitals from 450 a day earlier.. Their median age is 65 years, 59% are men. 813% have an underlying condition and/or are aged 70 or over.
Of the total patients on intubation, 377 (82.14%) are unvaccinated or partly vaccinated and 82 (17.86%) are fully vaccinated.
Intubated Covid-patients per age group:
0-17: 0
18-30: 19 ↑
40-64: 206 ↑
65+ : 234 ↑
3,349 have been discharged from ICUs since the pandemic began.
344 Covid-19 patients were admitted to hospital in the last 24 hours (daily change: -3.37%). The average admission of patients with Covid-19 to hospitals over the last 7 days was 328.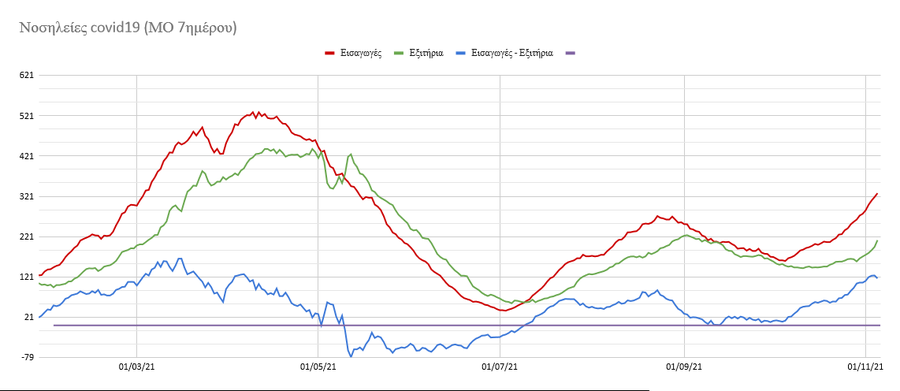 The median age of new infections is 38 years (range: 0.2 to 106 years), while the median age of the deceased is 78 (range: 0.2 to 106 years).
Vaccinations
Stand Nov 5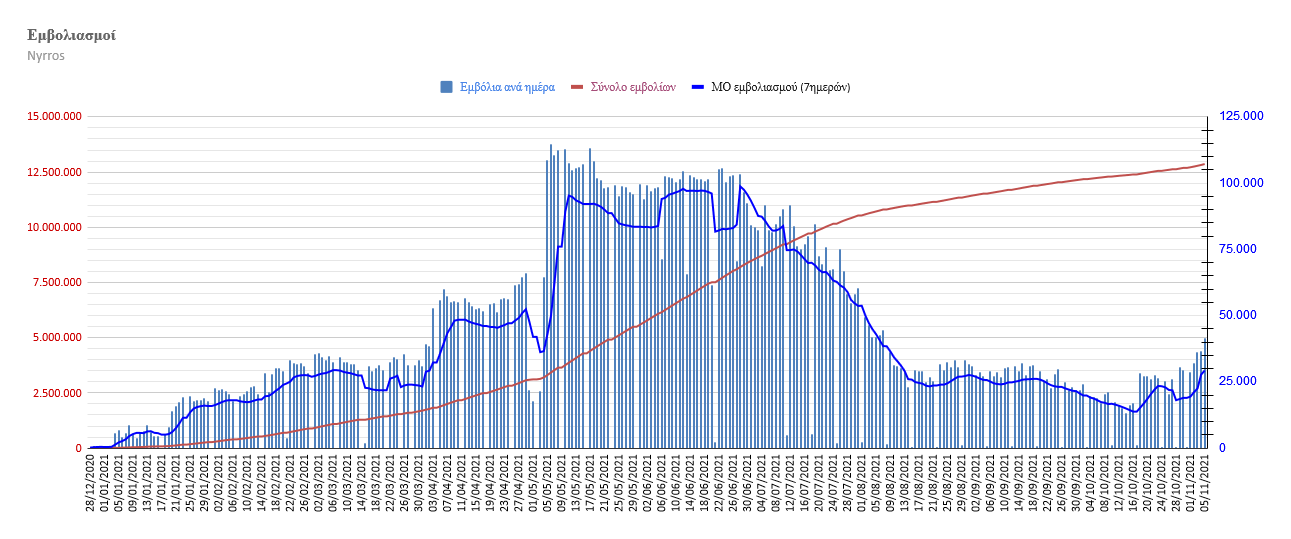 Party vaccinations 64.2% of the population
Fully vaccinated: 61.5%
Booster shot since Sept 13: 411,424
Vaccination tracker per region in Greek here.
Geographic distribution Νovember 6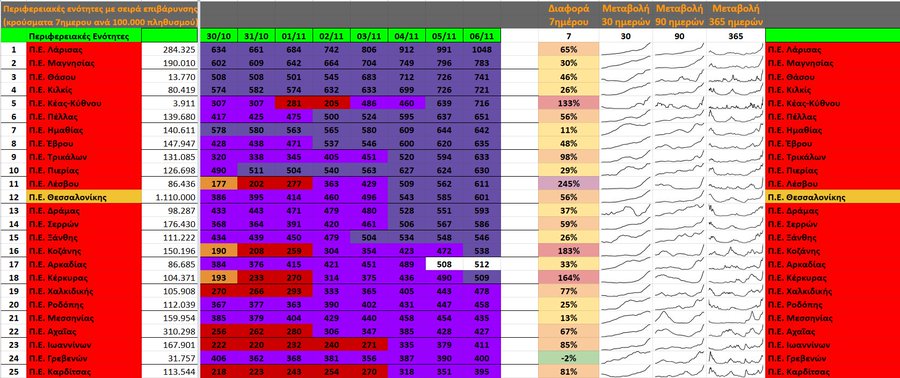 Of the 6,393 new coronavirus cases, 16 were detected at the entry gates of the country and 7 among travelers already in Greece.
The remaining cases are:
1481 Attica
1052 Thessaloniki
489 Larissa
181 Magnisia
164 Kozani
159 Serres 158 Achaia
147 Trikala 141 Pella
130 Fthiotida
123 Evros 121 Imathia 120 Ioannina
103 Drama
Regions with 2- or 1-digit cases in the charts below:
94 Pieria 93 Aitoloakarnania
85 Xanthi 83 Lesvos
Each 81 Karditsa, Kilkis
60 Halkidiki
77 Messinia 70 Kavala
68 Rodopi 63 Corfu
59 Viotia 56 Chania
Each 55 Heraklio, Corinth
48 Arcadia 46 Lakonia 42 Thodes
38 Florina 33 Evia 31 Thseprotia 30 Rethymno
Each 29 Argolida, Kastoria
27 Ilia 26 Preveza
Each 25 Zakynthos, Lasithi
20 Arta
15 Grevena 13 Thassos 12 Limnos
Each 9 Samos, SPorades, Fokida
8 Thira
Each 6 Kos, Evrytania, Paros, Lefkada, Chios
Each 5 Kalymnos, Mykonos
Each 4 Kefalonia, Kea/Kythnos, Syros
Each 2 Milos, Naxos
1 Andros
119 under investigation
MAP: Infections last 14 days per 100,000 population
Nov 6: same stand as Nov 5
More details on EODY daily bulletin in Greek here.
More information on coronavirus in Greece here.