Greeks formed long queues outside shops waiting their Covid-documents to be controlled on Saturday when the new restrictions for unvaccinated people went into effect. However, also vaccinated Greeks had to find out that their documents had to be controlled if they wanted to have a coffee, a lunch, buy shoes or clothes or enjoy  with their children that are normally unvaccinated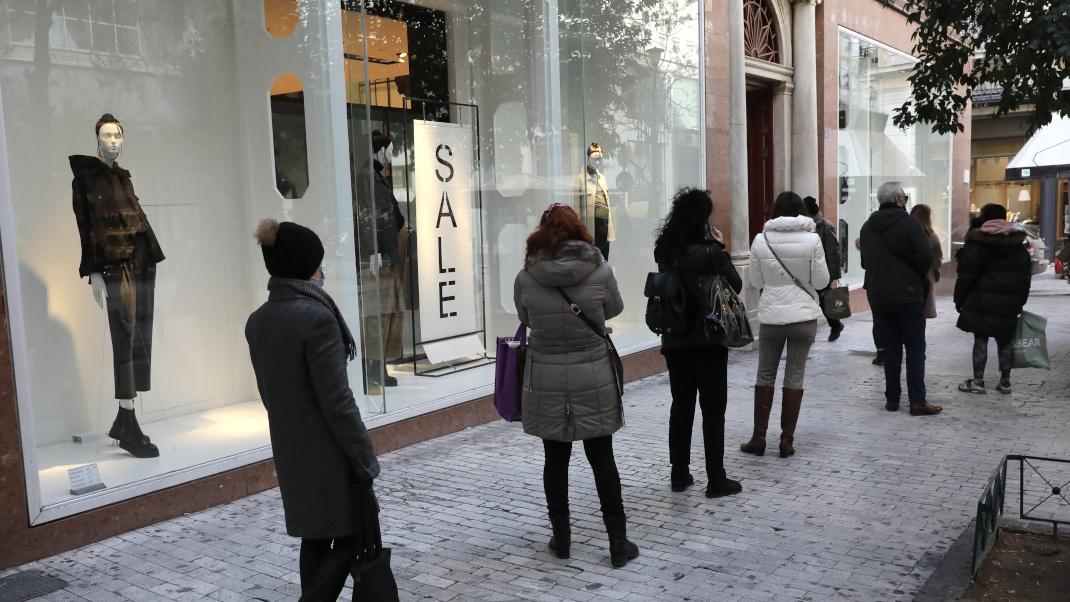 Some customers waited patiently and some did not with the effect that it came to quarrel and disputes, internet users posted on social media
Saturday night long queues outside pharmacies have been observed in Thessaloniki, the city with over 1,000 new infections daily since the start of the week. It is mostly young people, unvaccinated, who want to have a Rapid test before go out to bars and clubs.
Speaking to local media voria.gr, a pharmacist said that activity tonight was unprecedented.
The new restrictions provide that unvaccinated citizens have to show a negative RAPID or PCR Covid-19 test in order to enter stores, banks, hair- and nail-salons and outdoor spaces in cafes and restaurants, while the vaccinated ones have to show a vaccination certificate or a document that they have recovered from the coronavirus disease.
According to the new rules published in the Official Gazette late on Friday:
Customers must present a full-vaccination certificate, or a certificate of having contracted Covid within the last six months or negative RAPID or PCR test results in order to enter stores including malls, hair and beauty salons and wellness businesses, outdoor areas of restaurants and cafes, luna parks, zoos, and entertainment areas.
Minors aged 4 to 17 will have to provide negative SELF-TESTSs as alternatives to the four certifications above.
Exempted from the obligation to show the Covid-documents is when people enter supermarkets & groceries, pharmacies and churches.
People without tests may order through the click-away method of ordering by phone or online and physically picking up goods outside the store.
Restrictions were also imposed on workers in the public and private sectors, who must present a negative rapid or PCR test twice a week, instead of once as was required since the start of October. The first test must be done by November 8
The rules went into effect at 6 a.m. Saturday, November 6, and will be in force until 6 a.m. on Monday, November 22, 2021, when authorities will review whether they managed to take the increasing coronavirus infections under control.
Documents – Requirements
– PCR: the test has to have been carried out within the last 72 hours before using it to enter a space.
– RAPID: the test has to have been carried out within the last 48 hours before use.
Both must have been issued by officially recognized labs or pharmacies, whether private or public, and include the full name of the person (as shown on a police ID or passport).
– SELF-TEST: the test has to have been carried out within the last 24 hours and be registered on the website site self-testing.gov.gr.
– Certificate of Covid infection: This must be certified through the PCR test or a follow-up to a rapid test, within 30 days of the first positive result. It is valid for up to 180 days after the first positive result.
VACCINATION CERTIFICATE: it's obtained after 2 doses of Astrazeneka, Pfizer and Moderna and 1 dose of Johnson & Johnson.
Cafes and restaurants
Food-related places with indoor eating areas can operate on full (100%) seating capacity but only for people fully vaccinated or who have contracted Covid the last six months and carry related documentation. The restrictions include eating places in stoas, malls, and long-distance transportation stations.
Places that operate in the open air will be required to ask for either of the two certificates (full vaccination or Covid), or either of the tests (rapid or PCR). Those aged 4 to 17 may alternatively present a self-test. The regulations include wine bars that have sample testing events, catering services, and outdoor cafes or restaurants that are part of hotels.
People without full vaccination or recent Covid infection are not allowed in indoor hotel and airport food places that serve only hotel guests or travellers. Catered and indoor events in hotels are under the same restrictions.
Take-away, delivery, and drive-through services are allowed to all customers regardless of certification, as long as they do not enter any of the premises.
Open markets, sports events
Open markets (laiki) are expected to keep a meter of space between the stalls, spreading to more streets if necessary.
Spectators at sports events must wear a mask at all times, otherwise the home team or organizers will be fined, and spectators banned from future games.
Workplaces, public services, banks

High-risk staff may work from home or be placed in areas that do not require direct transactions with the public.
Appointments are required for public sector services, except for banks, courier services, the Hellenic Post Offices, the Public Power Corporation, Athens Water and Sewage, and such public utilities.
People wishing to enter banks in particular must present at the door any of the four required documents as mentioned above, while 4- to 17-year-olds may present a self-test as an alternative to the other tests.
Entertainment places
Entertainment places, including receptions, music stages and music bars, may only allow fully vaccinated or people who have contracted Covid the last six months. The restrictions include indoor or outdoor spaces, and the certificates will be checked at the door.
Masks
In all of the above, masks are obligatory at all places, except for those working by themselves in private offices. Masks are in general also obligatory wherever crowds tend to gather outdoors. Exceptions to mask-wearing include people who have been exempted for medical reasons (with written proof) and children under 4 years of age.
8,000 police officers will be assigned with the duty to control whether customers and business-owners comply with the measures. Owners are threatened with fines of 5,000 euros and 2 weeks closure of their businesses.
Note that almost half of the police force are unvaccinated.
with official new rules information from state-run news agency
amna.