Another day, another record of coronavirus infections: Greece's health authorities announced on Tuesday 8,613 new coronavirus cases.  The number of Covid-related deaths recorded in past 24 hours is 46. The number of intubated Covid-patients in hospitals has increased further to 486.
It should be noted that infections are normally higher on Tuesday, as confirmed cases from weekend are being added and a record number of Rapid tests have been registered. This, however, does not change the fact that infections have been constantly increasing in the last few weeks and especially in the last 10 days.
7-day rolling average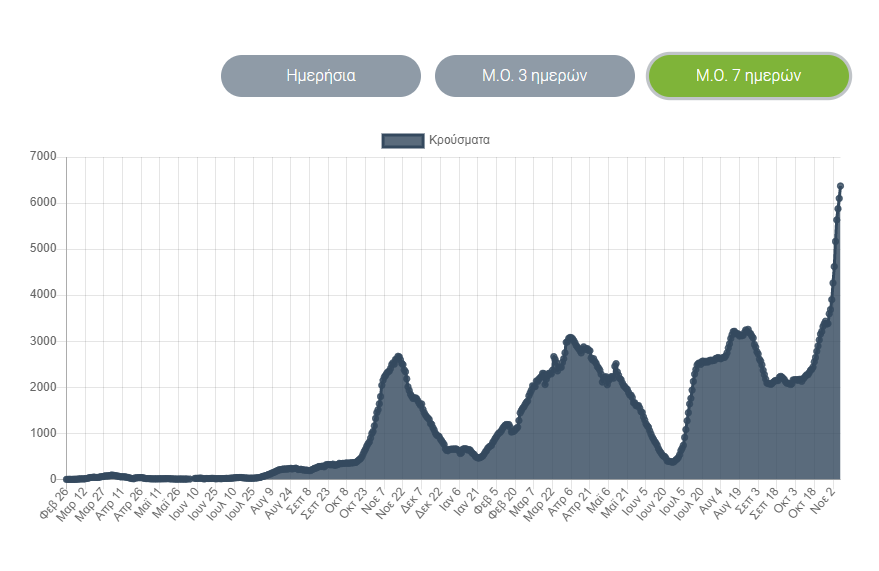 Greek health experts attribute the increase to an "aggressive" transmission of the virus Delta variant triggering the 4th wave, relaxation of protection measures, the high rate of unvaccinated citizens (some 38%-39%) but also to immunity decrease of those vaccinated more than 5-6 months ago.
The pandemic seems out of control in the country and it puts the public health system under immense pressure. Doctors from the public hospital in Volos, central Greece said on Tuesday that "there is one doctor for 120 Covid-patients" and that the hospital deals with the pandemic without a pulmonogist.
Official EODY data Νοbember 9
Tests in past 24 hours:
PCR 24,586 RAPID 611,627
Positivity PCR+RAPID: 1.35%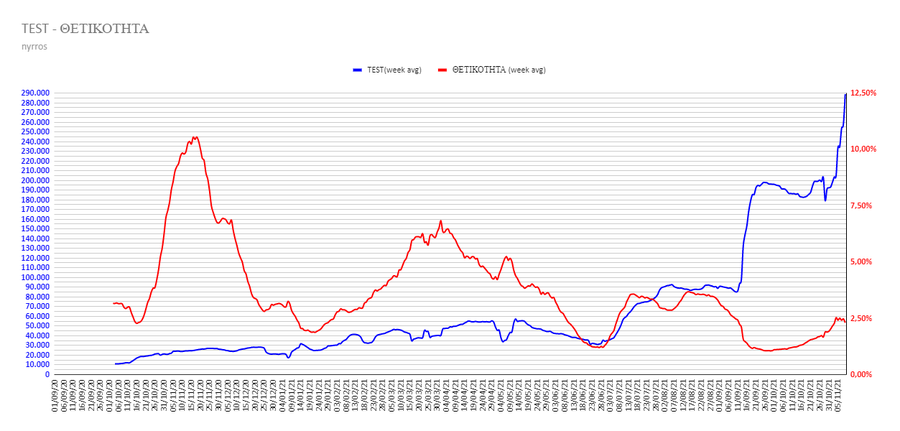 Since the pandemic began, Greece has confirmed 801,208* infections (daily change: +1.1%). *356 confirmed cases form previous days added to EODY data on Tuesday.
Of the confirmed cases of the last 7 days, 140 infections are related to travel from abroad and 2,341 to other confirmed cases.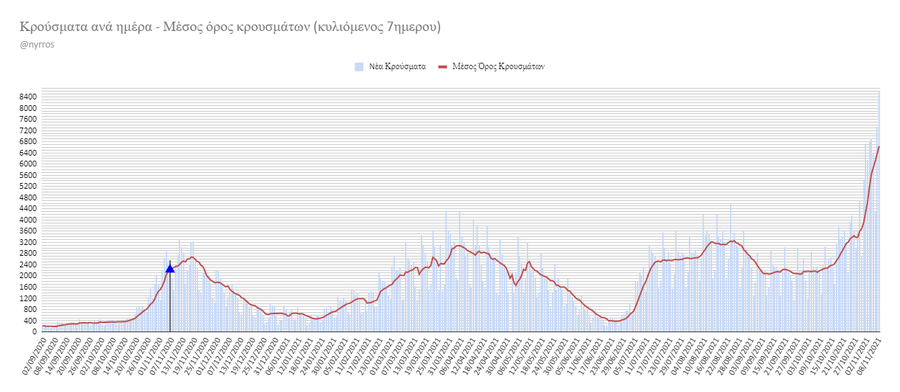 Rolling average 6645 from 4264 last week.
46 deaths recorded in the last 24 hours, brought the total of pandemic victims to 16,414*. Of these, 95.3% had an underlying condition and/or were aged 70 or over.
*7 deaths from previous days were added to EODY data on Tuesday.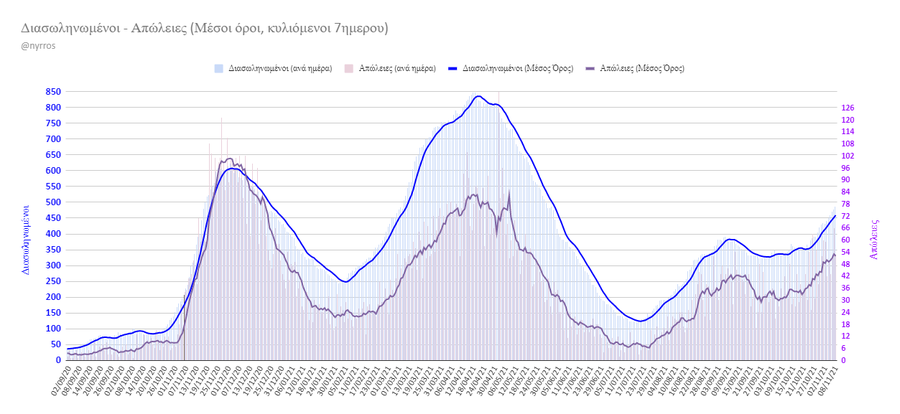 486 Covid-patients are on ventilators in hospitals from 477 a day earlier.. Their median age is 65 years, 58.5% are men. 81.7% have an underlying condition and/or are aged 70 or over.
Of the total patients on intubation, 408 (83.95%) are unvaccinated or partly vaccinated and 78 (16.05%) are fully vaccinated.
Intubated Covid-patients per age group:
0-17: 0
18-30: 19 ↑
40-64: 212 ↑
65+ : 255 ↑
3,364 have been discharged from ICUs since the pandemic began.
407 Covid-19 patients were admitted to hospitals in the last 24 hours (daily change: +5.71%). The average admission of patients with Covid-19 to hospitals over the last 7 days was 360.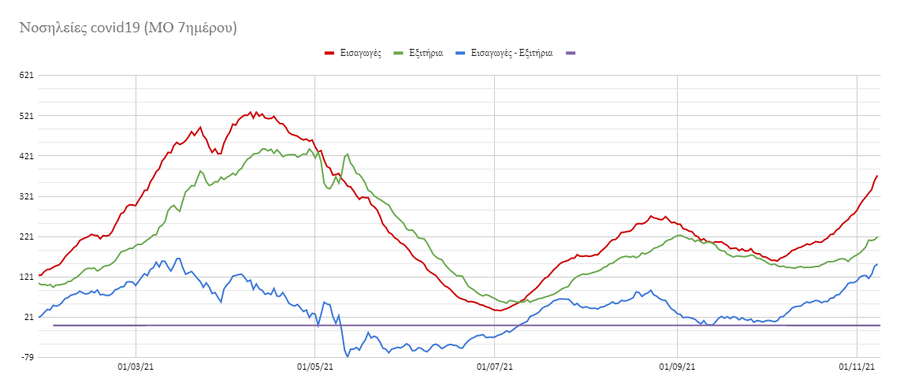 The median age of new infections is 38 years (range: 0.2 to 106 years), while the median age of the deceased is 78 (range: 0.2 to 106 years).
Vaccinations
Stand Nov 8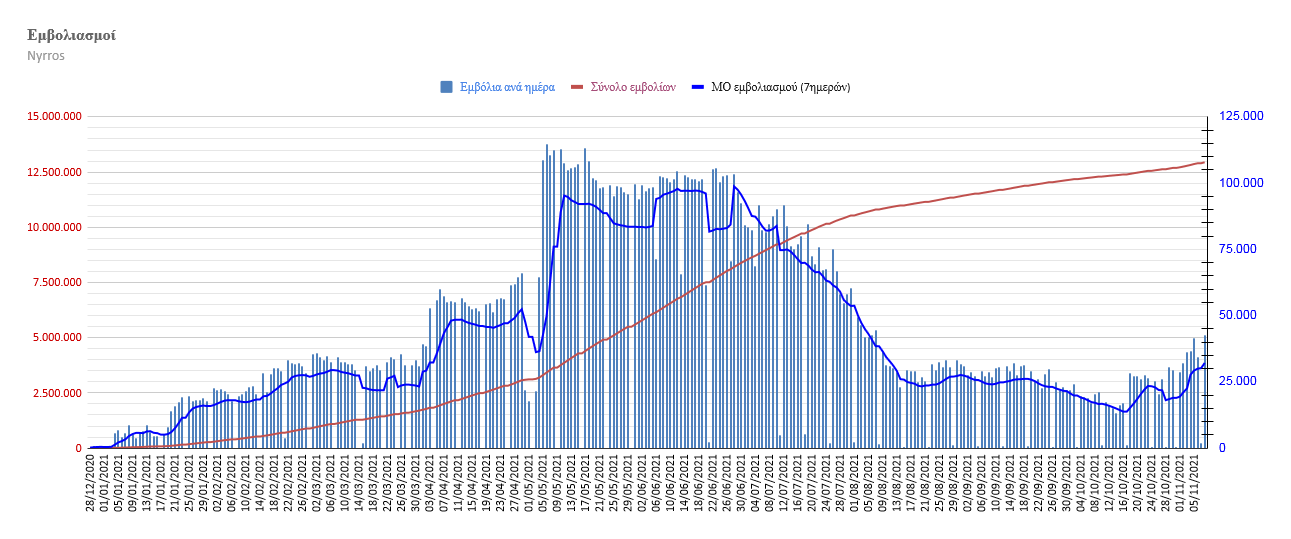 Party vaccinations 64.5% of the population
Fully vaccinated: 61.6%
Booster shot since Sept 13: 467,389
Vaccination tracker per region in Greek here.
Geographic distribution Νovember 9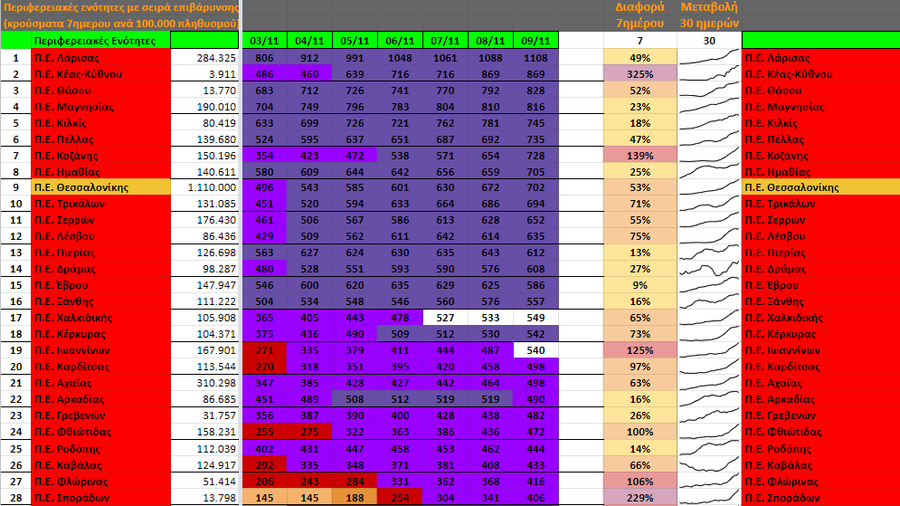 Of the 8,613 new coronavirus cases, 19 were detected at the entry gates of the country and 2 among travelers already in Greece.
The remaining cases are:
1999 Attica
1440 Thessaloniki
571 Larissa
307 Achaia
276 Magnisia 218 Kozani 217 Pella 207 Imathia
196 Serres
165 Ioannina
150 Fhtiotida
144 Trikala
137 Aitoloakarnania 132 Evros
119 Pieria 112 Drama 111 heraklio
108 Halkidiki
Each 106 Lesvos, Messinia
103 Karditsa 102 Kavala
Regions with 2- or 1-digit cases in the charts below:
98 Xanthi 95 Kilkis
87 Corfu
79 Rethymno 75 Viotia 72 Corinth 70 Rodopi
65 Evia
Each 56 Rhodes, Lakonia
52 Florina
48 Arcadia 47 Ilia 46 Chania 45 Arta 44 Argolida
39 Lasithi  38 Thesprotia
Each 36 Grevena, Kastoria
29 Preveza 21 Zakynthos 20 Thassos
Each 18 Kefalonia, Lefkada
15 Fokida, 12 Kalymnos 11 Kos, 10 Sporades
Each 8 Milos, Mykonos
Each 7 Evrytania, Limnos
6 Thira
Each 5 Paros, Chios
4 Syros, 3 Naxos
Each 1 Karpathos/Kasos, Ikaria, Andros, Tinos, Samos
169 under investigation
MAP: Infections last 14 days per 100,000 population
Nov 8: same stand as Nov 5
Nov 6: same stand as Nov 5
More details on EODY daily bulletin in Greek here.
More information on coronavirus in Greece here.