Femicide in Greece: Police announced on Tuesday that it solved the murder of a 55-year-old woman in a bakery in Thessaloniki on Monday morning. The murderer was not a woman not even the victim's mother-in-law as media initially reported. Police said it arrested the 56-year-old ex husband of the victim who confessed to the crime and revealed where he had hidden the gun.
The man was wearing a long coat and a hood, the police said in a statement.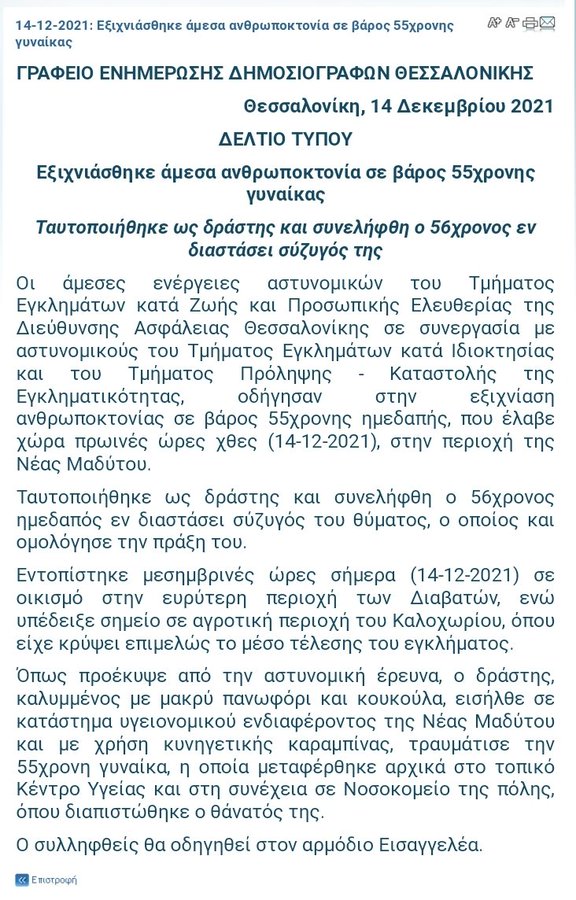 It was probably the way the murderer was dressed that led to false clues the perpetrator was a woman as also the shop owner testified.
Media also reported hours after the murder that the mother-in-law had fired at the woman in Nea Madytos in Thessaloniki.
Confusion was perfect when some media reported the real mother-in-law had mobility problems and others that she had died long ago.
Fact is that the murdered had lurked the victim and followed her to the shop where he fired at her while she was buying bread.
The woman was living apart from her ex husband and in her brother's home in Nea Madytos.
The "mysterious murder case" is now added on the long list of femicide in Greece. The woman is the 17th victim in 2021, the third victim alone in December.