Greece's health authorities announced on Thursday 19,712 coronavirus cases and 112 Covid-related deaths in past 24 hours. The number of intubated Covid-patients in hospitals decreased further to 633.
So far, the worst pandemic month regarding deaths was December 2021 with 2,633.
General Secretary for Prime Health Care Marios Themistokleous said that he has been positive to Covid-19. He added that he had 3 doses of vaccination and he was isolated.
At the weekly Live Briefing on Thursday, health experts refused to clarify whether the Omicron variant is also responsible for the high numbers of deaths recently.
The health Minister announced today that some restrictions in restaurants and entertainment venues will be lifted as of Jan 31, 2022. More details here on KTG.
Daily EODY data January 27
Tests in 24 hours
PCR 23,278  RAPID 212,760
Positivity PCR+RAPID rests: 8.35%
Since the pandemic began, Greece has confirmed 1,867,935 infections (daily change: +1.1%). In the confirmed cases of the last 7 days, 380 infections are related to travel from abroad and 1,113 to other confirmed cases.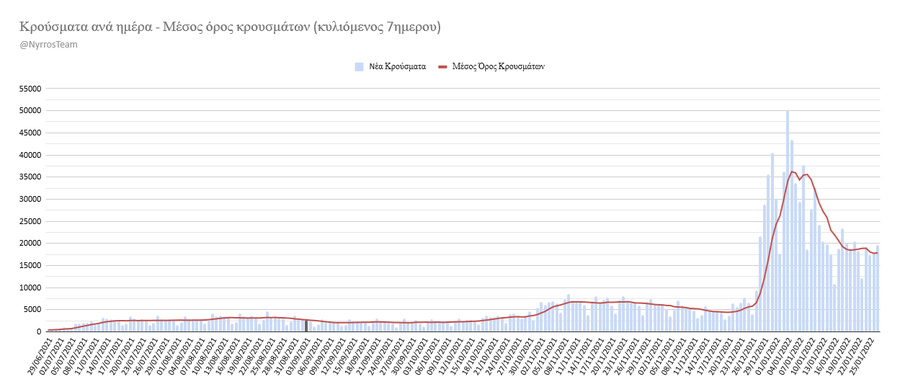 Rolling average: 17,872 from 18,450 last week
Rt: 0.95 from 1.14 last week
112 deaths recorded in the last 24 hours, brought the total of pandemic victims to 23,083*. Of these, 95% had an underlying condition and/or were aged 70 or over.

*1 death from previous days incorporated to EODY data on Thursday.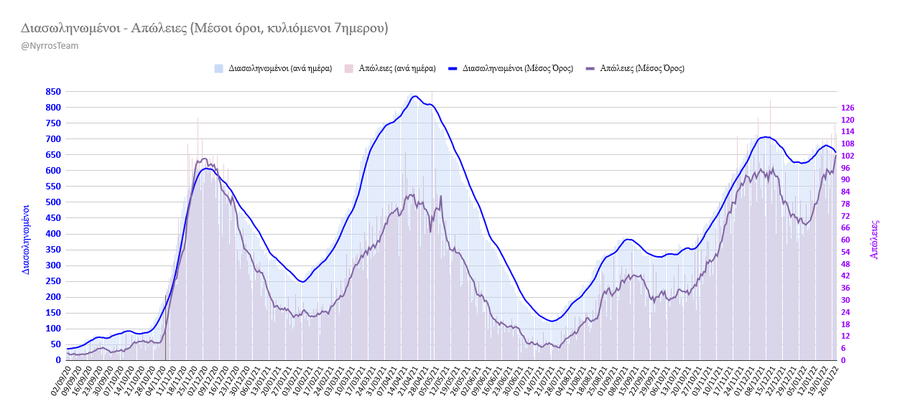 A total of 633  Covid-patients are on ventilators in hospitals from 646 a day earlier. Their median age is 66 years and 60.3% are men. 83.6% have an underlying condition and/or are aged 70 or over.
Of the total in intubation, 504(79.62%) are unvaccinated or partly vaccinated and 129 (20.38%) are fully vaccinated.
4,004 have been discharged from ICUs since the pandemic began.
415 Covid-19 patients were admitted to hospital in the last 24 hours (daily change: +5.06%). The average admission of patients with Covid-19 to hospitals over the last 7 days was 449.
The median age of new infections is 35 years (range: 0.2 to 106 years), while the median age of the deceased is 78 (range: 0.2 to 106 years).
VACCINATIONS
Stand Jan 24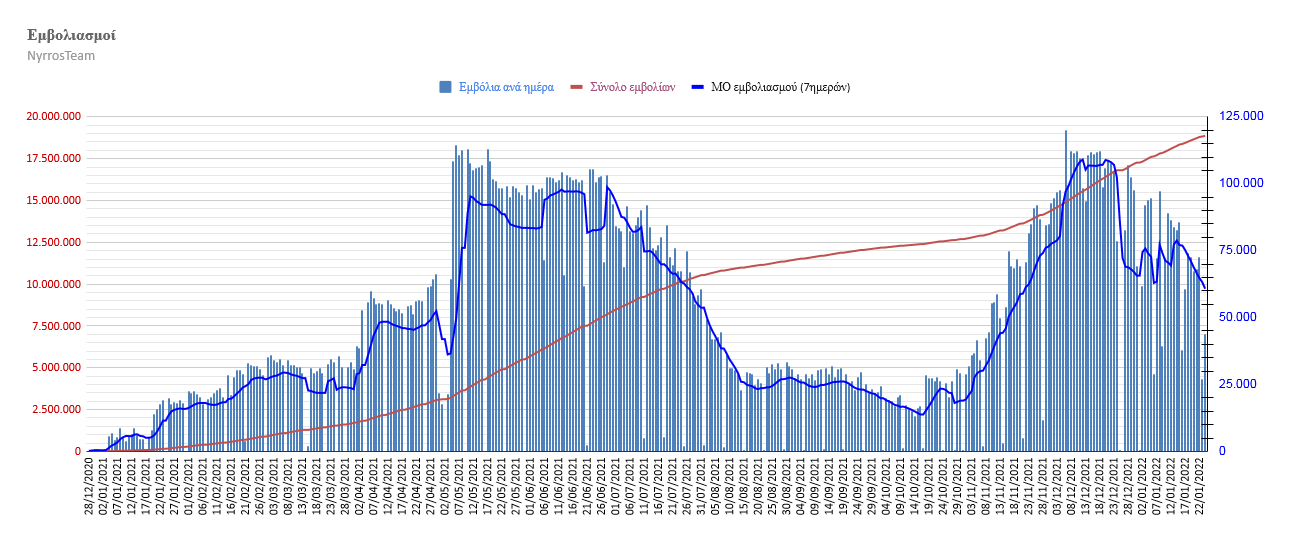 Partly vaccinated 74%
Fully vaccinated 69.5%
Booster shot since Sept 13: 4,641,176
Geographic distribution January 27
Of the 19,712 new coronavirus case, 70 were detected at the country's entry points and 3 among travelers already in Greece.
The remaining cases are:
6816 Attica
1915 Thessaloniki
754 Heraklio 707 Achaia
562 Chania
479 Larissa 437 Rhodes 437 Rhodes 426 Evia
350 Evros 349 Corinth
297 Aitoloakarnania 259 Messinia 259 Rodopi 255 Halkidiki 252 Xanthi 240 Ioannina
229 Corfu 223 Pieria 222 Magnisia 220 Kavla 219 Rethymno 212 Lesvos
192 Ilia
189 Imathia
179 Trikala 175 Argolida 171 Viotia
162 Lasithi 160 Fthiotida
158 Serres 155 Kozani
144 Pella 138 Arta
123 Karditsa 110 Drama 103 Arcadia
Regions with 2- or 1-digit infections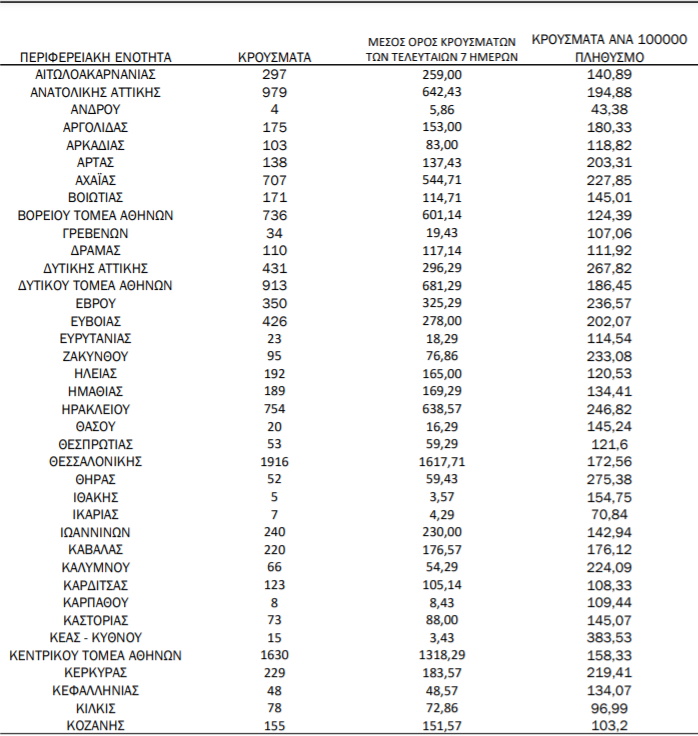 via newsit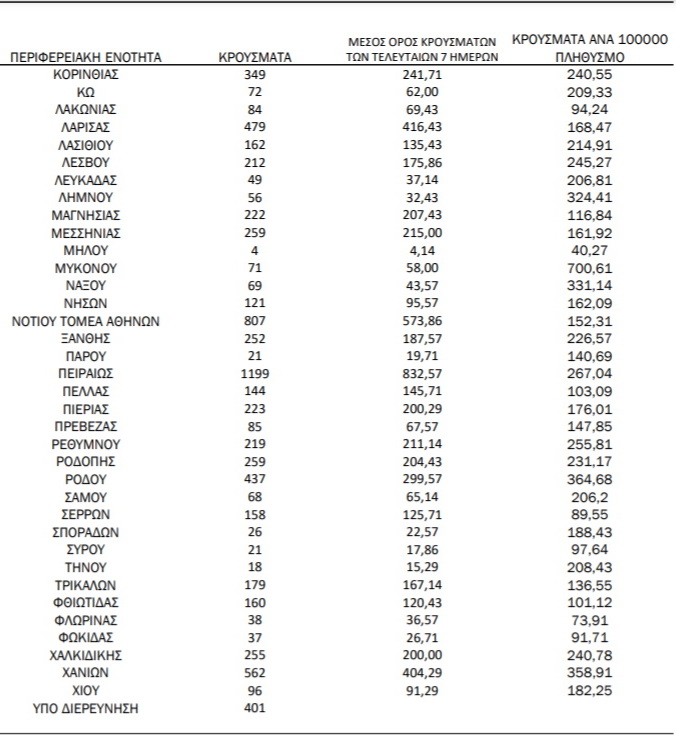 401 under investigation
MAP: infections per 100,000 population last 14 days
EODY daily bulletin here in Greek.
More on coronavirus in Greece here on KTG.