Greece's National Meteorological Service EMY issued a weather warning on Monday about weather deterioration with heavy rainfalls and thunderstorms, dense snow falls, significant temperature drop by 8-10 Degrees Celsius and powerful winds of up to 10 Beaufort.
The powerful winds will start in the north Ionian Sea, they will later move to south Ionian and the Aegean Sea.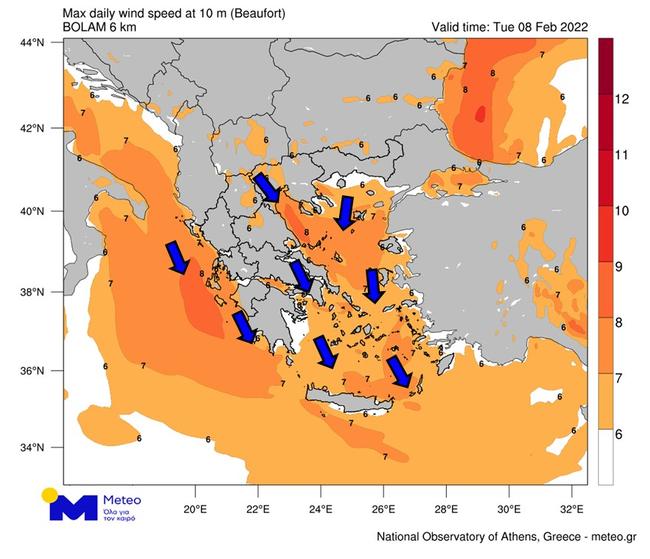 The bad weather front is forecast to set in from Monday afternoon, February 7, and last until at least Wednesday, February 9, 2022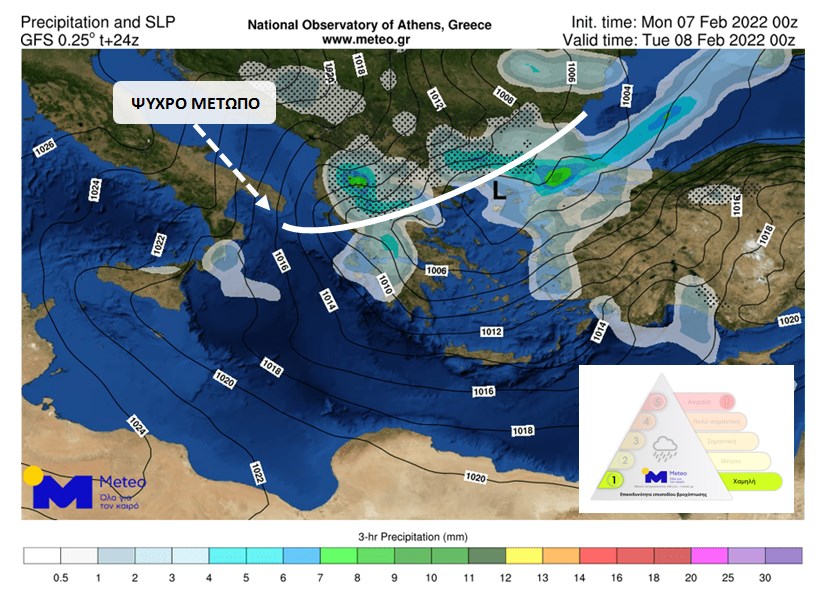 Cold weather front as of the early evening hours of Monday, Feb 7, 2022 – via meteo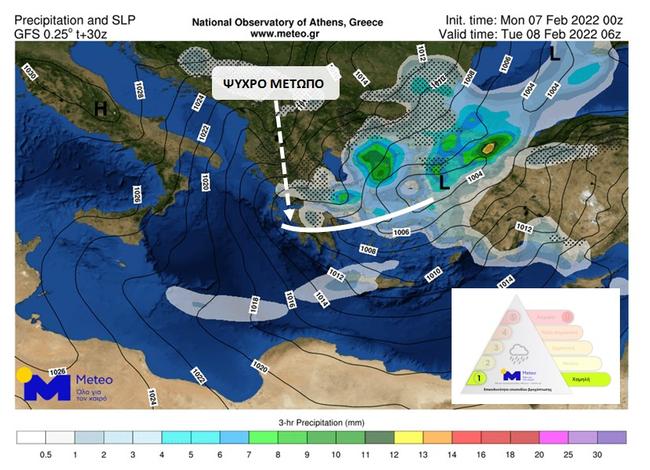 Weather Warning Analytically
Monday, Feb 7
Stormy north-northwest winds will prevail in the West – North Ioanian Sea- from the evening hours;, their intensity will reach 8-9 Beaufort.
Heavy rainfalls and thunderstorms locally as of the afternoon in the northern Ionian islands and Epirus. At night the phenomena will extend to extend to Macedonia, Thrace, Thessaly, the Sporades, the southern Ionian islands, Sterea,  Peloponnese and the islands of the north Aegean Sea.
Heavy snowfalls, locally very dense as of the evening in western Macedonia and on the mountainous and semi-mountainous regions of Epirus. Gradually also in central and eastern Macedonia and Thrace.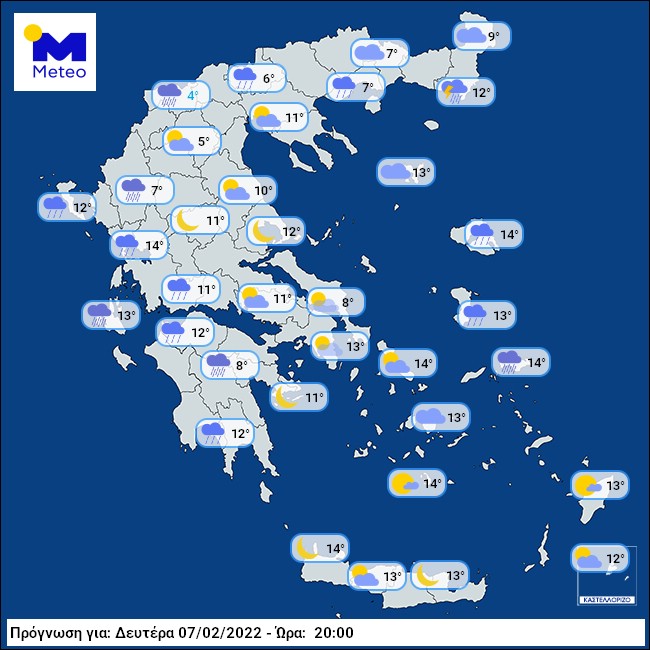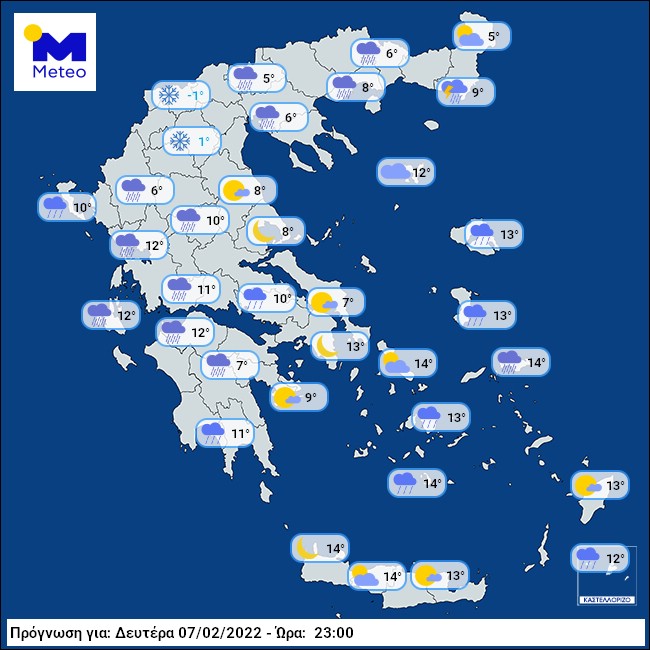 Tuesday, Feb 8
Stormy north-northwest winds will blow throughout the country with intensity of 8 to 10 Beaufort.
Heavy rainfalls and thunderstorms will occur from early morning hours in the sea and coastal areas of eastern
Macedonia, Thrace, Thessaly, the Sporades, Evia, the islands of the northern and eastern Aegean Sea, gradually in
the Dodecanese. From noon also in the Cyclades and Crete.
Heavy snowfalls in places will occur in the mountains and semi-mountains of eastern Macedonia, Thrace and Evia.
The phenomena in eastern Macedonia and Thrace will weaken quickly and in the afternoon they will stop. Gradually until the evening they will be limited to the Cyclades, Crete and the Dodecanese.
Temperature will drop significantly by 8 to 10 degrees Celsius in northern and central Greece.
Sleet is forecast for the northern suburbs of Athens early Tuesday morning. Not enough snow for create a chaos again as two weeks ago, meteorologists said.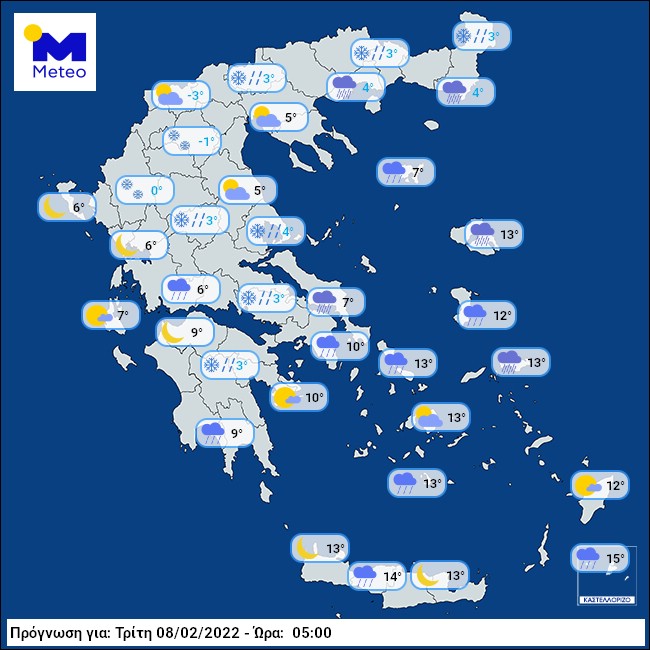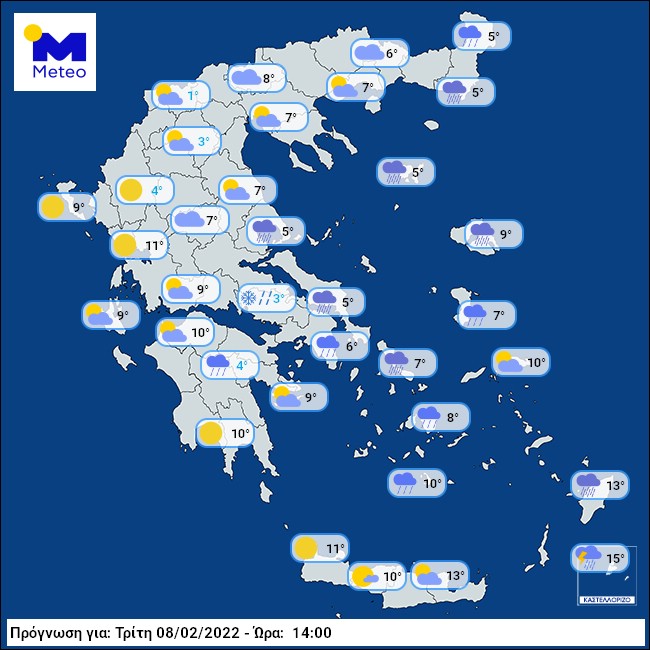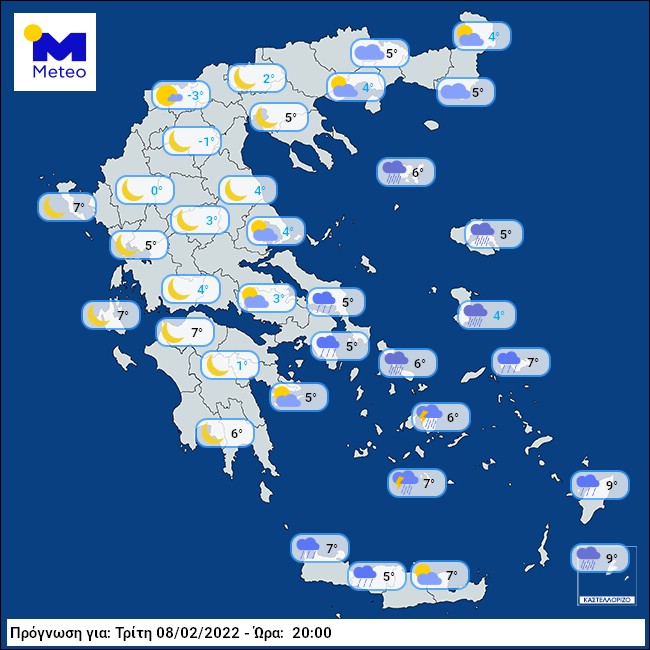 Wednesday, Feb 9
Stormy north-northwest winds will be blowing with intensity of 9 Beaufort in the central and southern Aegean Sea, but will be gradually limited to the south-east. They will weaken by noon.
Heavy rainfalls in the morning in Cyclades and northern Crete.