Greece's health authorities announced on Wednesday 19,618  coronavirus cases and 87 deaths in past 24 hours. The number of intubated Covid-patients in hospitals decreased further to 515.
Official EODY data February 9

Tests in last 24 hours
PCR 26,818 RAPID 299,428
Positivity PCR and RAPID: 6.01%
Since the pandemic began, Greece has confirmed 2,109,999 infections (daily change: +0.9%). In the confirmed cases of the last 7 days, 376 infections are related to travel from abroad and 2,211 to other confirmed cases.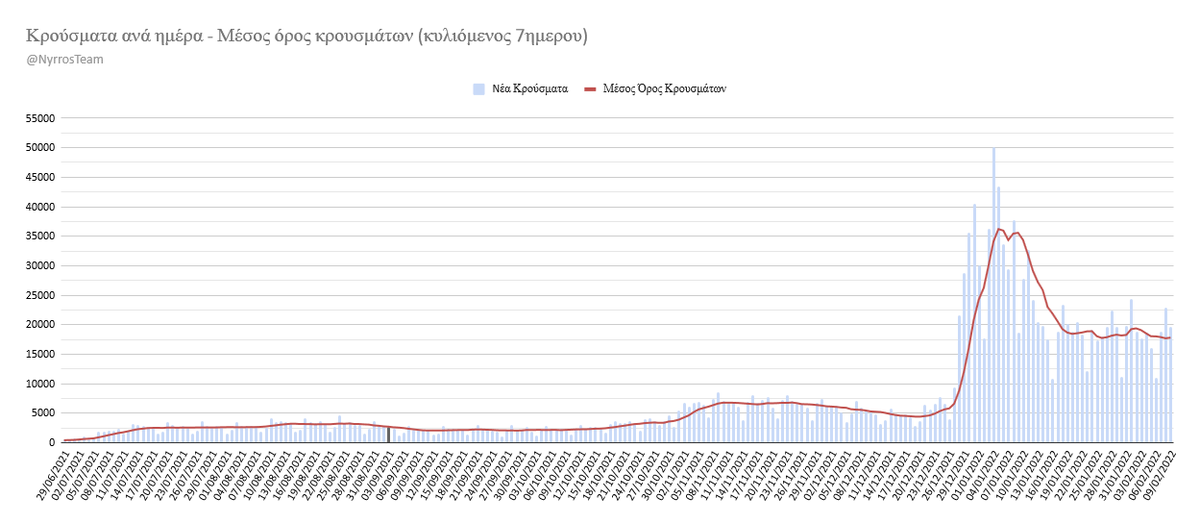 Rolling average: 17,810 from 19,378 last week.
Rt: 0.98 from 1.01 last week.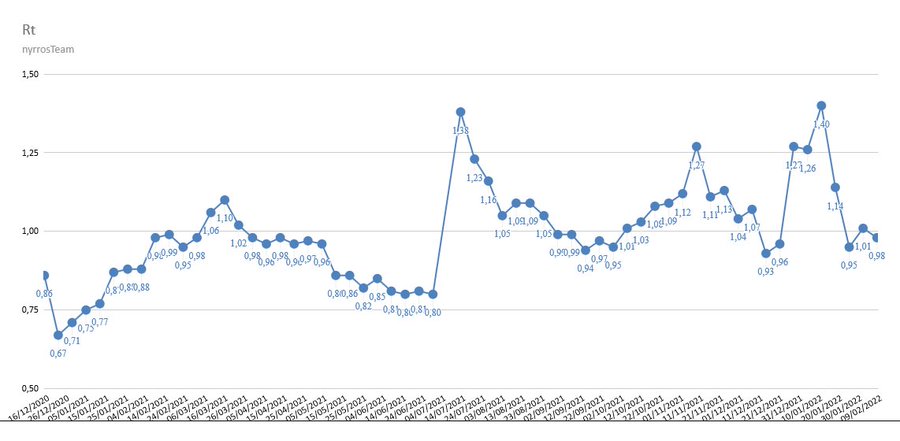 87 deaths recorded in the last 24 hours, brought the the total of pandemic victims to 24,410*. Of these, 95.1% had an underlying condition and/or were aged 70 or over.
*1 death form previous days incorporated to EODY data on Wednesday.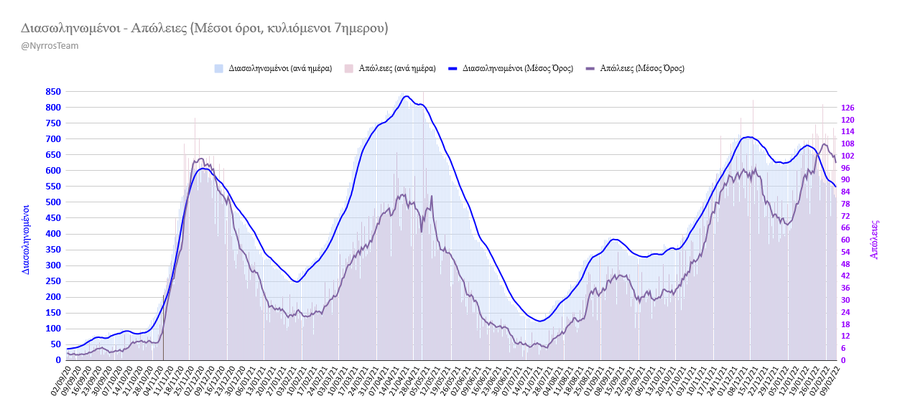 515 Covid-patients from 524 a day earlier are on ventilators in hospitals. Their median age is 66 years, 61.7% are men and 84.9% have an underlying condition and/or are aged 70 or over.
Of the total in intubation, 395 (76.7%) are unvaccinated or partly vaccinated and 120 (23.3%) are fully vaccinated.
4,116 have been discharged from ICUs since the pandemic began.
441 Covid-19 patients were admitted to hospital in the last 24 hours (daily change: +4.01%), while the daily average of admissions over the last 7 days was 451.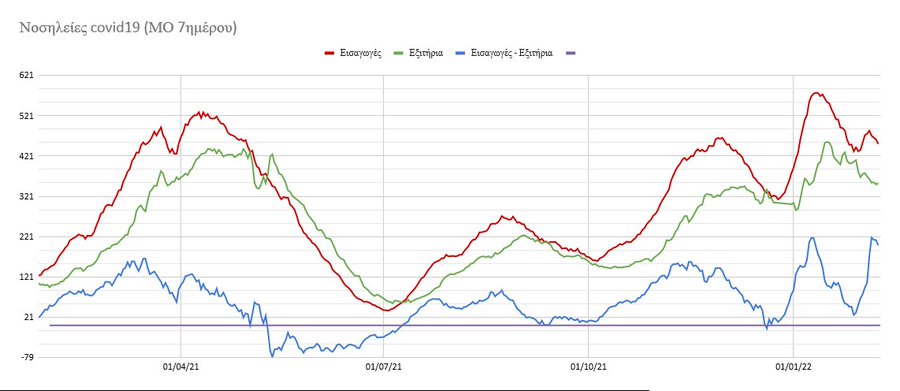 The median age of new infections is 35 years (range: 0.2 to 106 years), while the median age of the deceased is 78 (range: 0.2 to 106 years).
VACCINATIONS
Stand February 6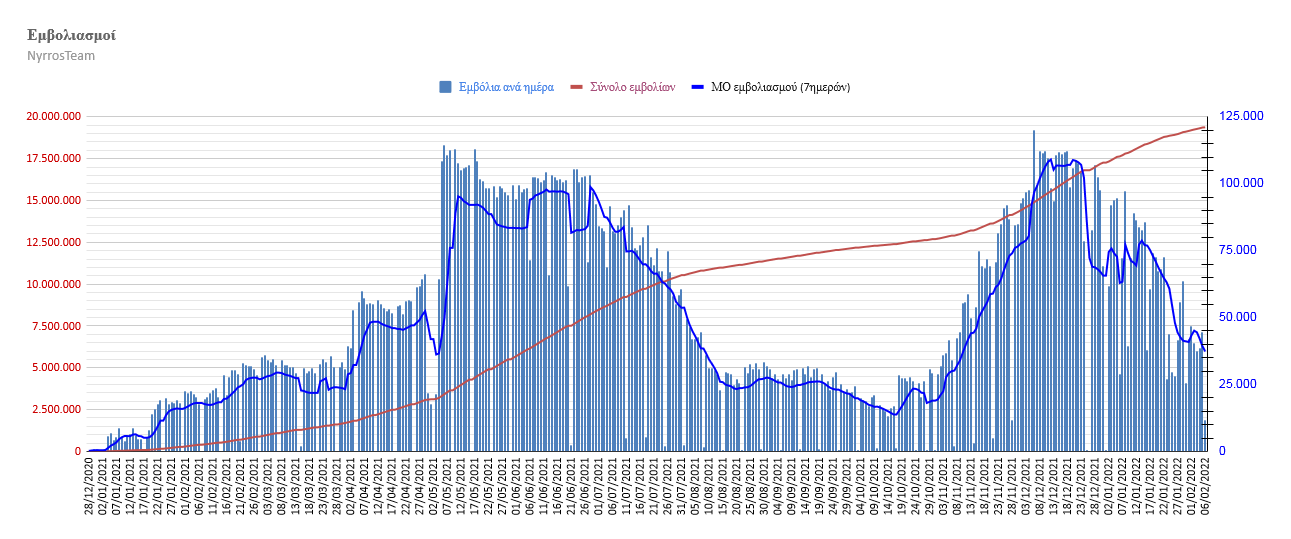 Partly vaccinated: 74.8%
Full vaccinated: 70.5%
Geographic distribution February 9
Of the total 19,619 new coronavirus infections, 47 were detected at the entry gates of the country and 2 among travelers already in Greece.
The remaining cases are:
5101 Attica
2391 Thessaloniki
753 Achaia
695 Heraklio
594 Larissa
515 Chania
442 Ioannina
411 Evros
369 Messinia
358 Rodopi
326 Aitoloakarnania
325 Evia
314 Corfu
311 Rhodes
306 Kavala
298 Imathia
284 Corinth
256 Lesvos
251 Trikala
236 Pieria
228 Xanthi
225 Pellas
219 Halkidiki
212 Ilia
200 Kozani
195 Magnesia
192 Fthiotida
186 Rethymnon
176 Viotia
165 Kos
162 Serres
161 Karditsa
149 Kilkis
148 Argolida
133 Samos
124 Arcadia
122 Lasithi
119 Drama
119 Chios
118 Arta
107 Preveza
94 Zakynthos
94 Thesprotia
94 Laconia
87 Kastoria
87 Mykonos
80 Kalymnos
80 Kefallinia
79 Lemnos
76 Thira
76 Lefkada
54 Naxos
42 Syros
39 Grevena
39 Florina
36 Fokida
32 Thassos
27 Evrytania
20 Milos
20 Paros
11 Karpathos-Kasos
11 Andros
9 Tinos
9 Sporades
7 Kea-Kythnos
6 Mount Athos
4 Ithaca
1 Ikaria
359 under investigation
MAP last 14 days infections per 100,000 population
** EODY daily bullet in Greek  here
More information on coronavirus and restrictions in Greece here on KTG