The two truck drivers from Bulgaria and Turkey trapped on the burning Euroferry Olympia were rescued early Friday evening, when a Super Puma helicopter managed to bring two marines on board who helped them evacuate the ship.
The two men are being transferred to the hospital of Corfu as they were exposed to the fumes after they were trapped in one of the ship's decks for over 12 hours. Friday noon, the two men contacted authorities with their mobile phones saying they were alive but trapped inside.
The rescue of the two truck drivers was announced by the Greek Fire Service.
Σε συνέχεια προηγούμενων μηνυμάτων, διασώθηκαν 2 άνδρες από στελέχη του Π.Σ. στο Ε/Γ-Ο/Γ Euroferry Olympia. Συνεχίζονται οι ενέργειες έρευνας και διάσωσης.

— Πυροσβεστικό Σώμα (@pyrosvestiki) February 18, 2022
Meanwhile, the number of missing persons remains 11 and efforts are underway – as much as the burning conditions allow, to locate them.
Aerial shot of burning ferry from the Italian coast guard.
According to state broadcaster ERT there is a slim chance that some had managed to isolate themselves somewhere on the ferry.
+++According to latest media report, three more passengers, most likely Bulgarian citizens, have contacted a Bulgarian security company saying that they are trapped in a specific area of the ferry.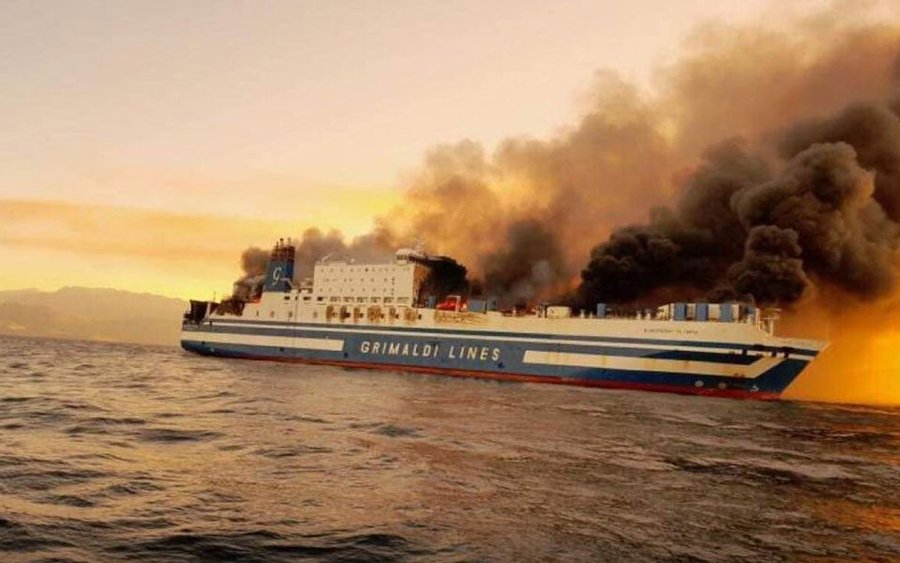 Spokesperson of the Corfu Port Authority, Nikos Lagadianos, announced late in the afternoon that a total of 11 people remained missing. Among them are three Greeks, with one of them to have been confirmed as a 63-year-old truck driver.
The missing are thought to be truck drivers who preferred to sleep in their vehicles instead to spend the night in a cabin.
The 11 people are considered as missing as they were not among those 277 passengers and crew members who were rescued and evacuated to the port of the island in the Ionian Sea. Among those rescued is a passenger whose name was not on the official ferry list.
Media suggest the passenger is a stowaway.
According to the official lists there were 239 passengers and 51 crew members.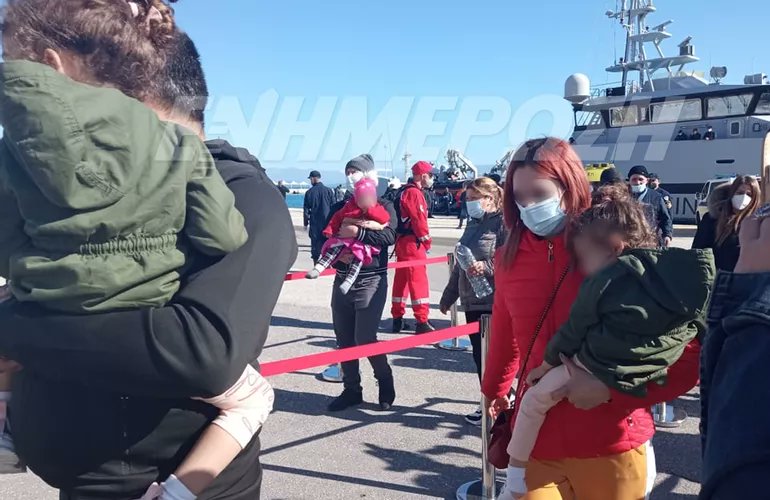 Among the rescued were also several children including a 2-month-old baby boy.
The fire broke out on one of the third car decks around 4:30 in the morning off the island of Erikoussa north-west of Corfu. More details here on KTG
via @MarineTraffic
The captain ordered the ship to be immediately evacuated with lifeboats.
The Italian-flagged Euroferry Olympia had left the port of Igoumenitsa in western Greece for Brindisi in Italy.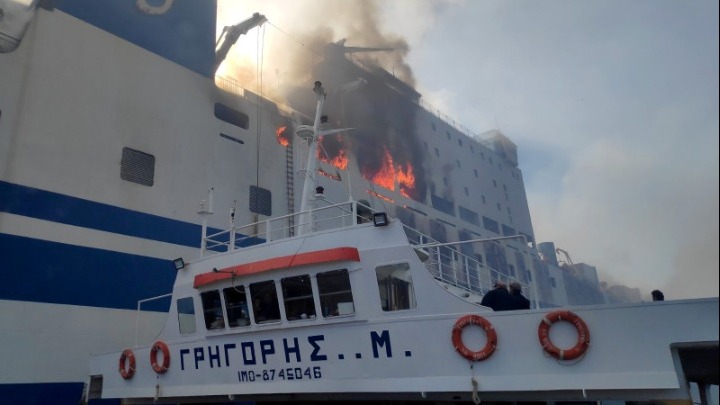 Ten people – 9 men and 1 woman – have been reportedly taken to the Corfu hospital, mostly with respiratory problems.
Meanwhile, tugboats with firefighting equipment and dousing the ship with water in an effort to extinguished the blaze.
Video by Greek Fire Service
Σε εξέλιξη η επιχείρηση κατάσβεσης στο E/Γ-O/Γ Euroferry Olympia 🛳, στη θαλάσσια περιοχή ΒΑ της νήσου Ερεικούσσας. pic.twitter.com/qCfSJ64t1t

— Πυροσβεστικό Σώμα (@pyrosvestiki) February 18, 2022
Owner and shipping company Grimaldi Lines said the ship was also carrying 153 trucks and 32 passenger vehicles. It added that no fuel leak has been detected in the sea surrounding the ferry while its stability has not been affected.