One day before the official start of the spring and Athenians woke up with freezing temperatures and snow falling even in areas of the center of the city. The National Meteorological Service EMY issued a emergency bulletin warning of heavy snowfalls in the Greek capital and even more south in upcoming week.
Snow on the night from Saturday to Sunday, in Gerakas, NE Attica and Kolonaki downtown Athens – via iefimerida
Especially in North Athens and Attica, traffic police urges motorists to use snow chains and is regulating the traffic thus shutting down access to some roads.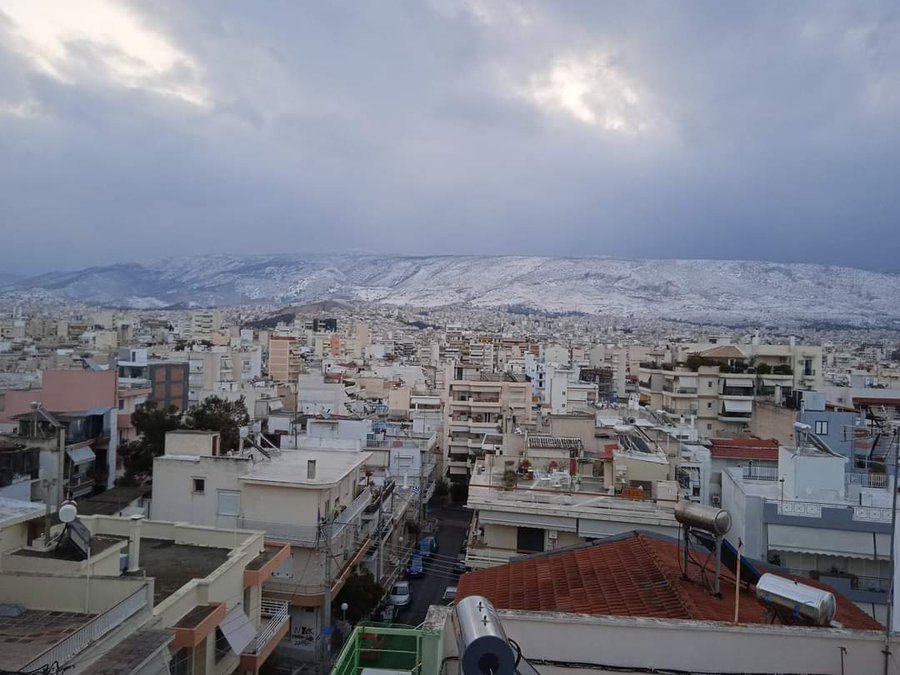 Snow on Hymetus Mt east Athens via Twitter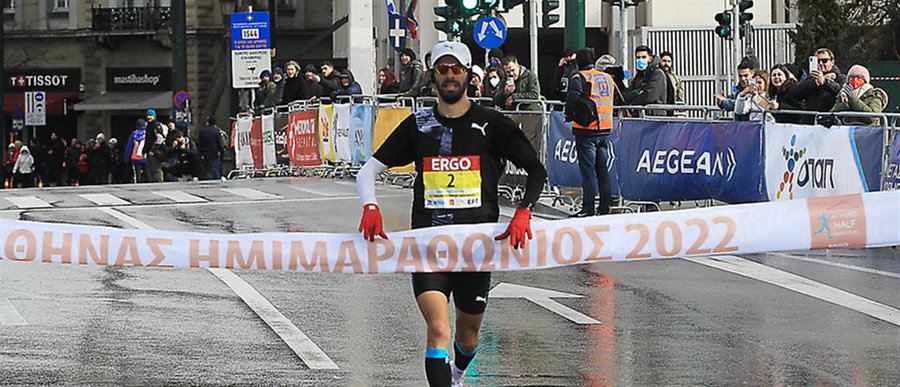 Low temperatures, snow and sleet did not bother thousands of runners to joint the Half-Marathon 2022
According to EMY's warning, the very cold weather with strong winds in the Aegean Sea will continue until Wednesday, March 23, 2022.
Weather deterioration with heavy snowfalls in the East of the country is forecast on Tuesday, March 22, 2022. Snow is forecast in the mountainous and semi-mountainous areas as well as in such with lower altitude on the mainland.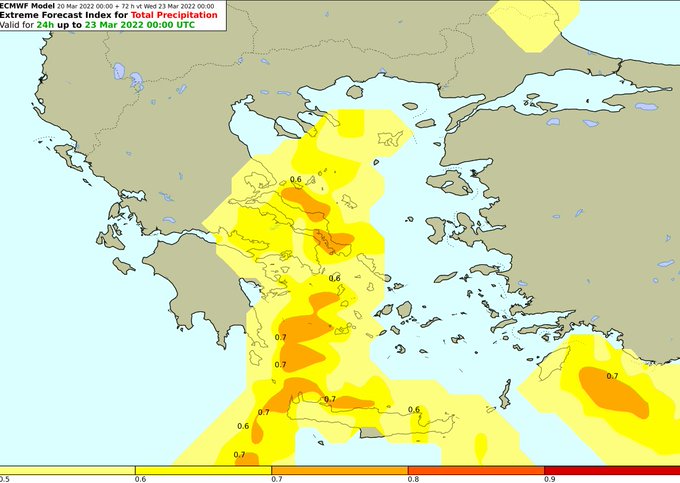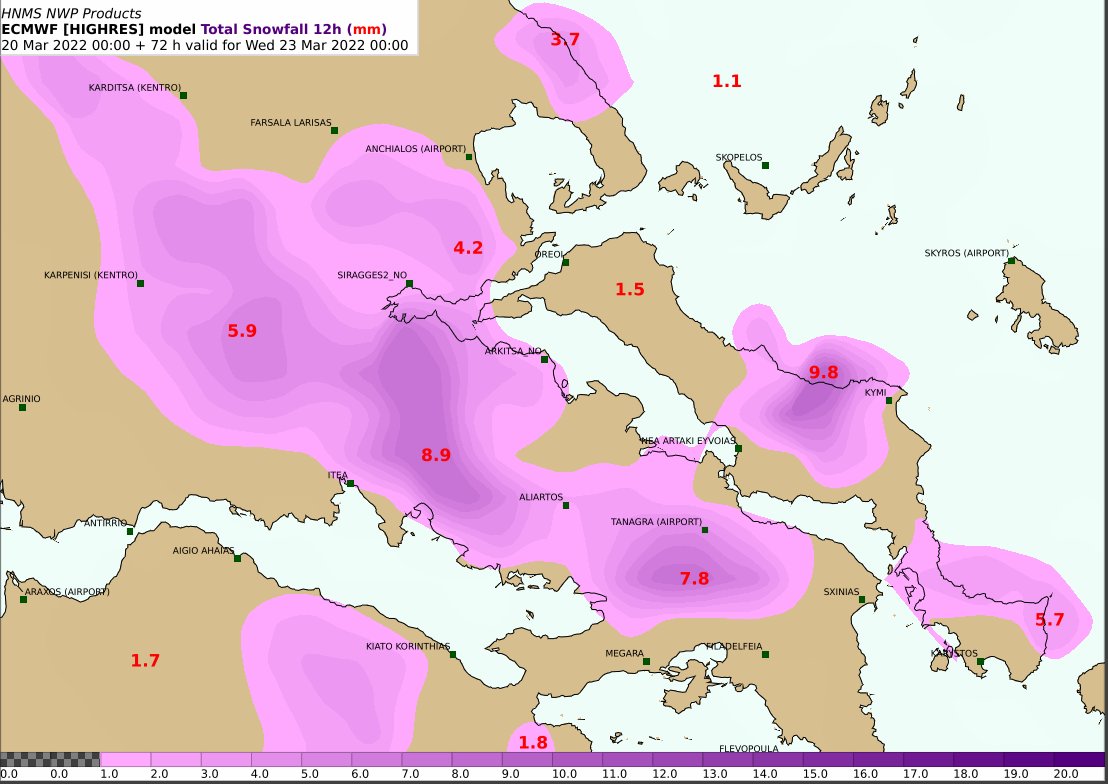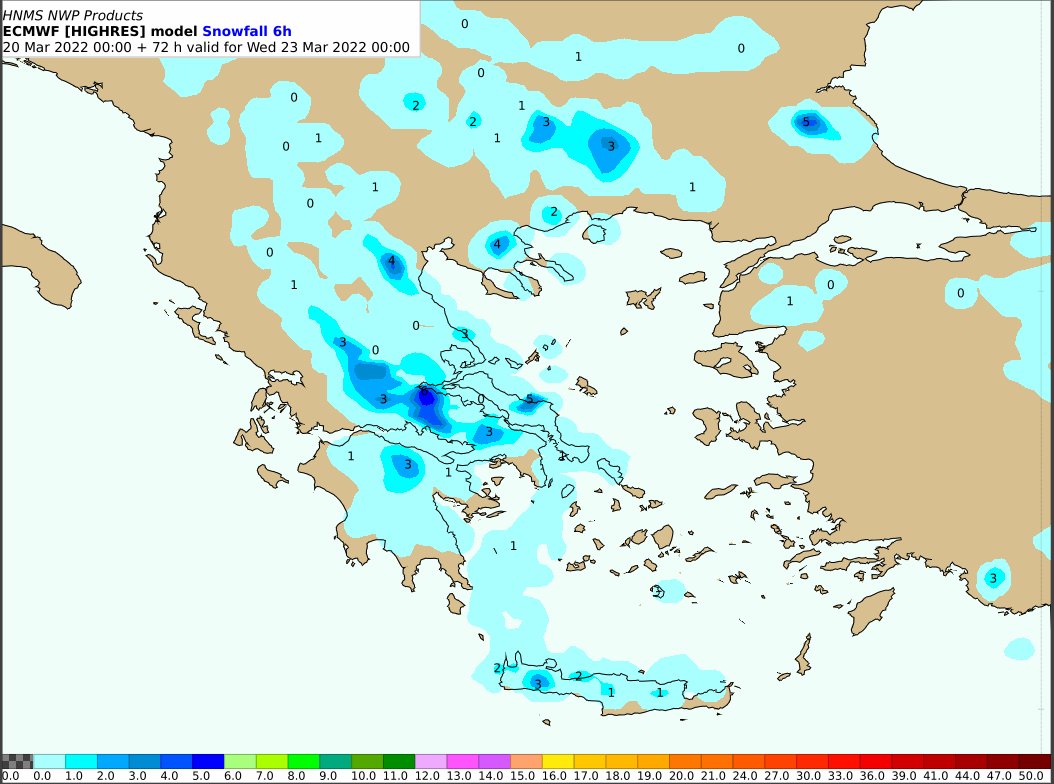 via @ThodorisKolydas, Meteorologist -Director of National Meteorological Center- Hellenic National Meteorological Service (HNMS)
EMY Weather Warning
Sunday-Monday, Mar 20-21
Snowfalls of moderate intensity in Thessaly, Stera, Evia, eastern and central Peloponnese, even in areas with low altitude.
Locally dense snowfalls in the mountains and semi-mountains of Crete.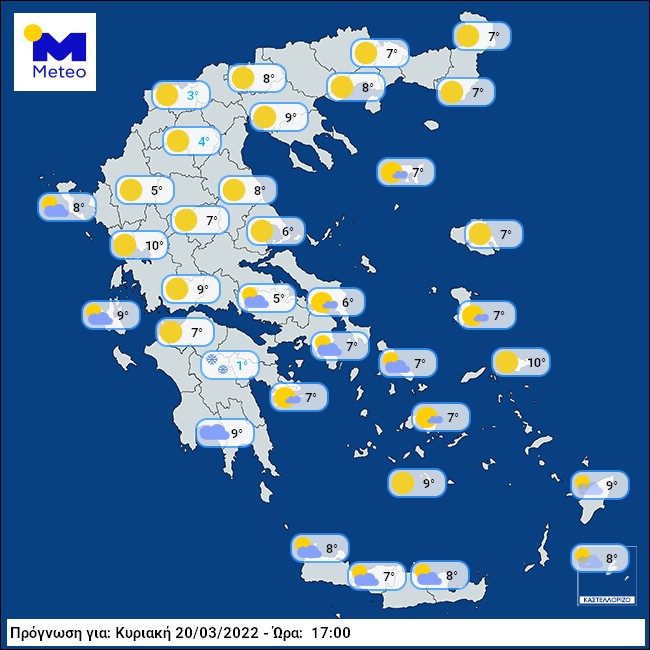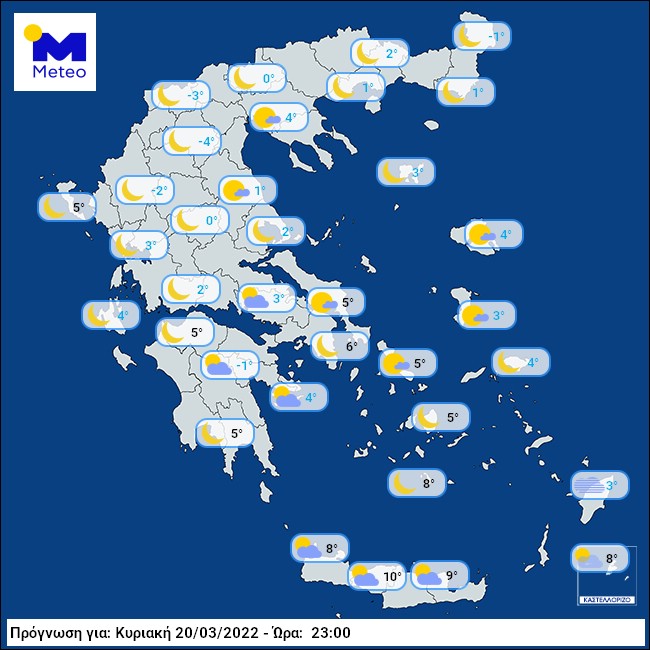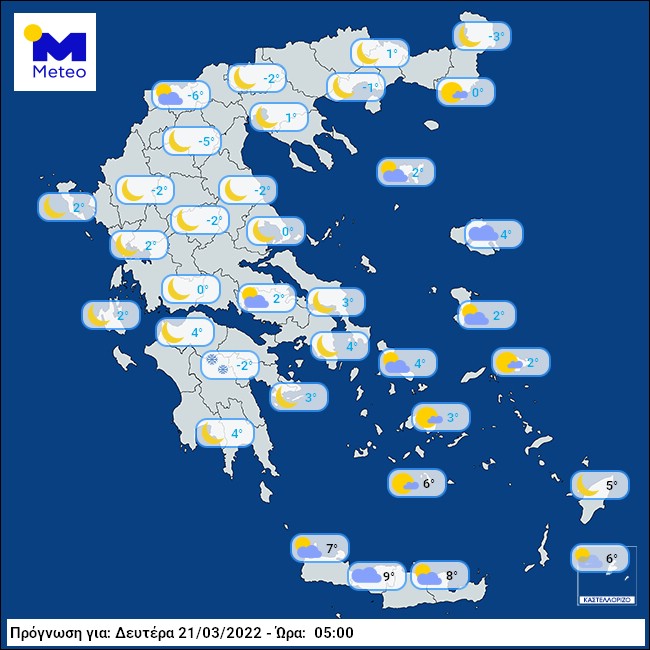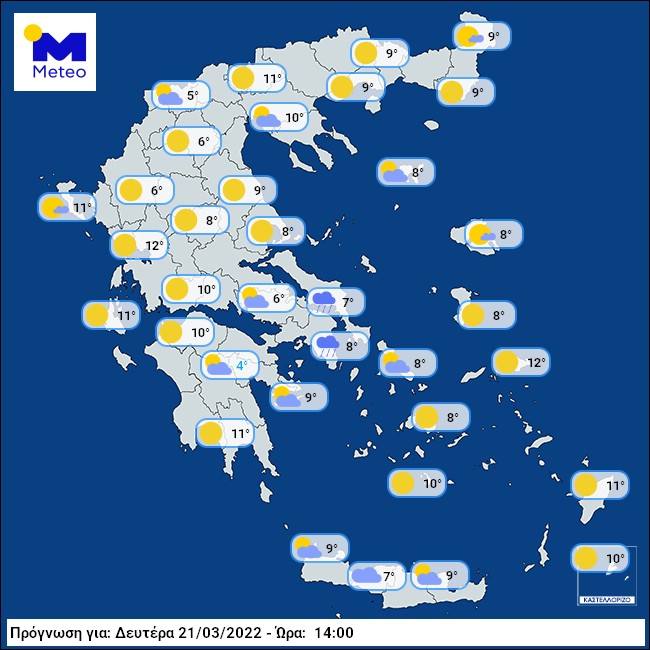 Tuesday, Mar 22
Snowfalls will gradually intensify from in the pre-noon hours in Sterea, Evia, Thessaly, Sporades, central Macedonia – mainly Halkidiki -, eastern Macedonia and Thrace, eastern Peloponnese and Crete, in mountainous – semi – mountainous areas, but probably also in areas with lower altitude.
From noon until the evening hours also locally heavy rainfalls in coastal areas of the above areas, as well as in the Cyclades and the Dodecanese.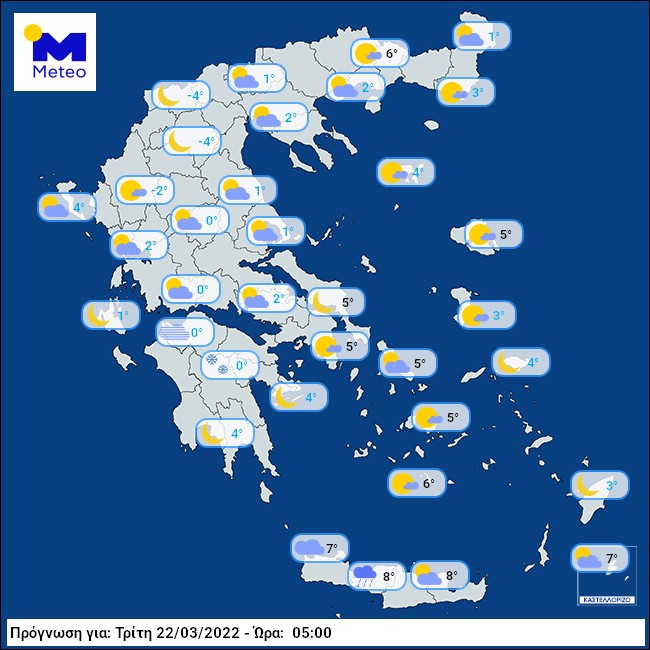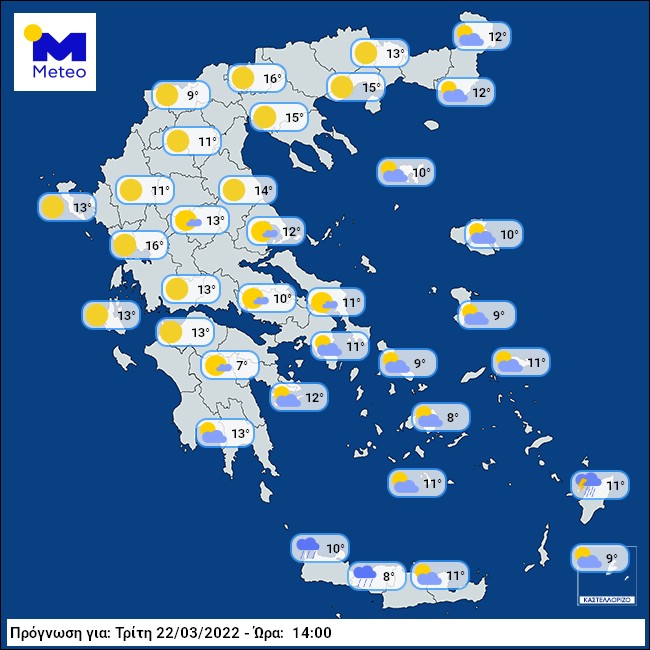 Wednesday, Mar 23
Snowfalls  will be limited to eastern Sterea, Evia and Crete, with gradual weakening from the afternoon.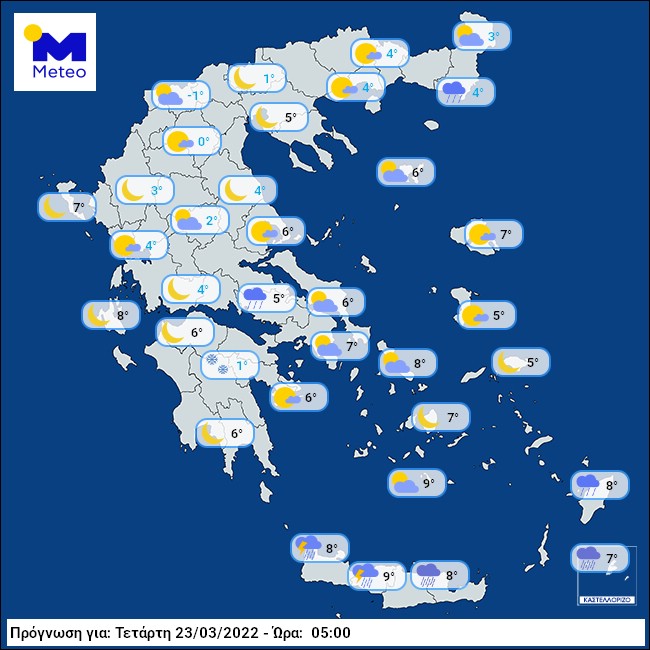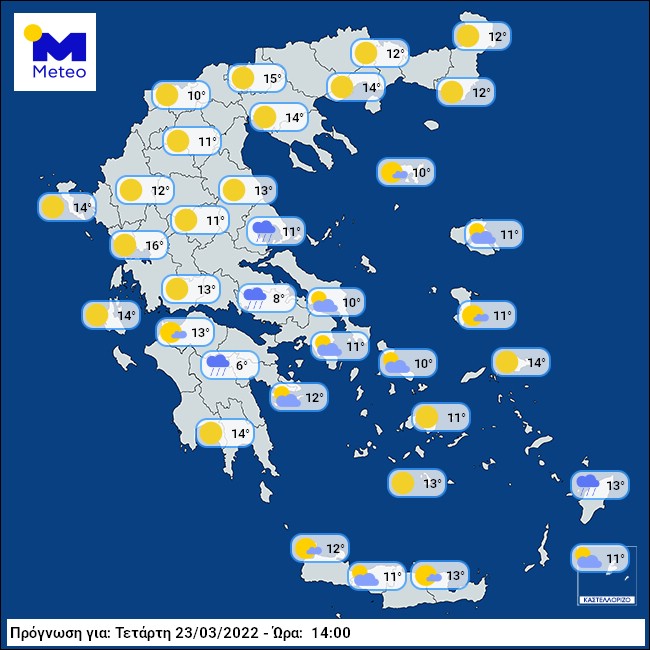 Winds will be blowing from the North with intensity 7 to 8 Beaufort and locally up to 9.
Last week EMY had warned of temperature drop down by 9 degrees Celsius.
Some meteorologists are broadcasting the end of winter cold by the end of the week and rising temperatures to 18/20 degrees Celsius on March 26-27.