An angry mob spent almost the whole night outside the house of the woman who has been charged with the murder of her 9-year-old daughter Georgina, while police investigates the suspicious deaths of the family's two younger girls.
The mob, estimated some 500 mostly young people, kept calling for the death of the 33-year-old woman. "Hung her!", "Give her to the people!" people were heard shouting outside the house in Patras, western Peloponnese, while others were calling for the woman's family to come out, threatening to lynch them.
Η #Ρουλαπισπιριγκου φέρεται να έχει σκοτώσει τα 3 της παιδιά χωρίς όμως μέχρι τώρα να έχει ομολογήσει…
Όλοι αυτοί οι συγκεντρωμένοι έξω από τα σπίτι της στη #Πατρα έχουν δολοφονήσει – χωρίς «φέρεται» – τις ψυχές και τις συνειδήσεις των δικών τους παιδιών… #Ρουλα_πισπιριγκου pic.twitter.com/NIhBJEz8Iw

— prezatv (@prezatv) March 30, 2022
Inside the house were rep[reportedly the woman's mother and sister, an uncle, doors, windows and shutters closed.
This did not hinder protesters to write on a window shutter "Death to child killers" as the mob applauded and pulled out the smart- and iphones to have a shot of the …"historical" moment in a country that has abolish capital punishment since 19
"Smartphones as 21st century pitchforks," wrote on social media a Belgian correspondent based in Greece.
Patras – Greece, Angry mob outside the house of woman who was charged with the death of her 9 year old daughter. Written on the shutter: "death of child killers".
Smartphones as 21st century pitchforks. pic.twitter.com/33QuRuCaLt

— Bruno Tersago (@BrunoTersago) March 30, 2022
The crowd started to gather even short before the woman was detained on Wednesday afternoon. It was initially some elderly who said that the woman should be punished with death.
The crowd outside the house grew bigger and bigger and police forces were deployed much later yet before the situation got out of control.
Ultimately, the people started to disperse around 4 o' clock in the morning, and the family left the home short time later.
Meanwhile in Athens, where the woman was transferred last evening from Patras, another angry crowd gathered outside the Police Headquarters waiting for her to be taken to investigating magistrate at the court house.
The woman was wearing a bullet proof vest and was hiding her face inside the huge hood of a winter anorak.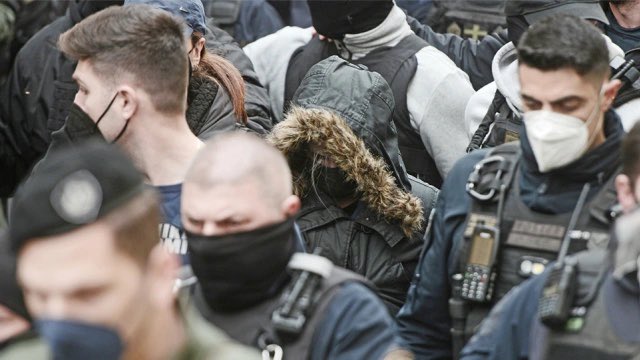 She was handcuffed and under draconian security measures.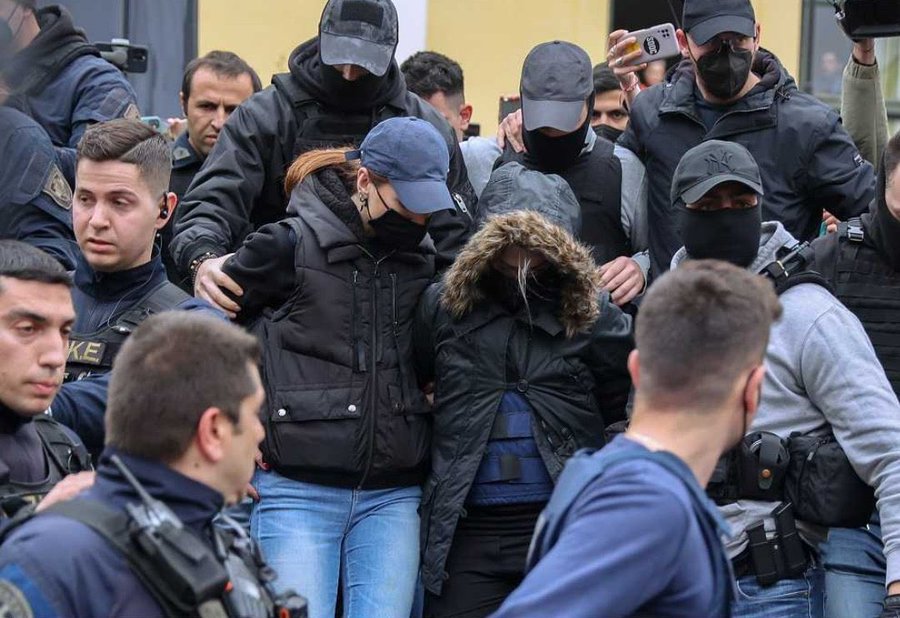 But these measures did not hinder the crowd to shout at her "Bitch", "Murderer", "They will choke you in jail, k@@@@@!!", "Stoning till the end!" and "confess, you bitch!", media report.
33-year-old Roula Pispirigkou (more details on KTG here)has reportedly made no confession whatsoever to police so far and according to media she was asking interrogators why she has been arrested.
She was granted time until Monday for her testimony.
The lawyer the woman had hired once the investigation into the death of Georgina was launched in February withdrew from his client defense on Thursday morning.
Meanwhile, authorities have opened again the files of the deaths of the two other girls of the family.
sources: newsit.gr, cnn.gr, protothema.gr, the best.gr & TV channels