Greece's National Meteorological Service EMY issued an emergency warning of weather deterioration with heavy rainfalls and thunderstorms, powerful winds and noticeable drop of temperature.
The bad weather front is forecast to be of relative short duration and affect the northern, the western and central parts of the country before it will move further to the South. IT will set in from Wednesday noon (May 18) until Thursday morning (May 19).
Σας ενημερώνουμε ότι σε λίγο θα εκδοθεί έκτακτο δελτίο επιδείνωσης του καιρού για την μεταβολή που θα μας επηρεάσει από το μεσημέρι της Τετάρτης @GSCP_GR @EMY_HNMS pic.twitter.com/rhPQa8MYb6

— Theodoros Kolydas (@KolydasT) May 17, 2022
Main features of the bad weather are: locally heavy rainfalls and thunderstorms, possible accompanied by hail, powerful winds up to 9 Beaufort and noticeable drop in temperature by up to 8 degrees Celsius..
Weather Warning Analytically
Wednesday, May 18
a) from the pre-noon hours in eastern Macedonia and Thrace, gradually in central and western Macedonia, the islands of the northern and eastern Aegean Sea.
b) from the afternoon the effects will extend further south and will affect Thessaly, the Sporades islands, central and northern Evia, central mainland, temporarily affecting also Epirus and western mainland.
c) At night, the eastern mainland including Attica will be affected.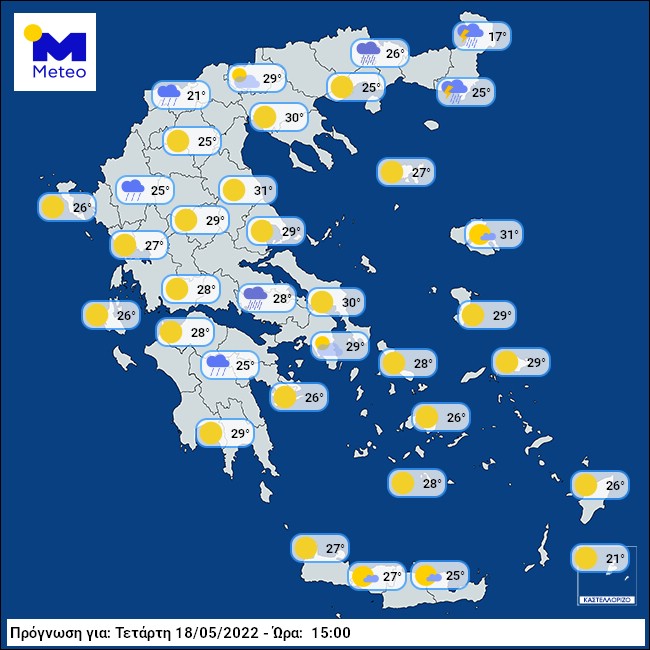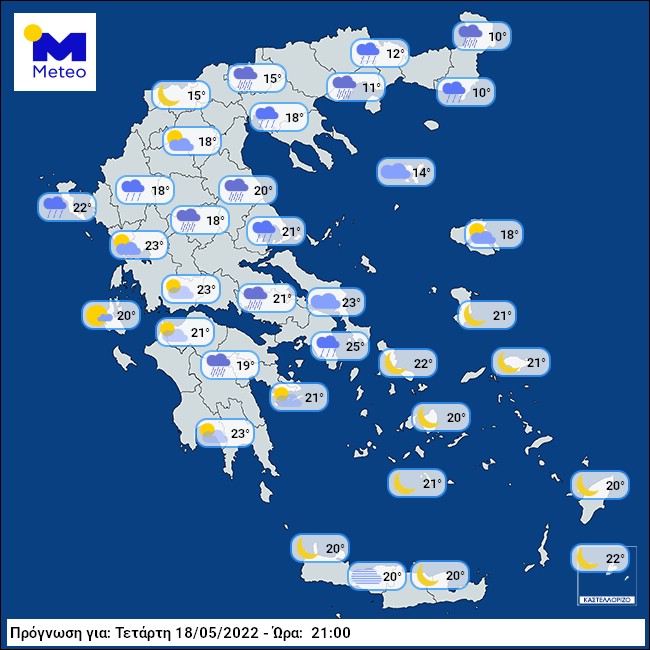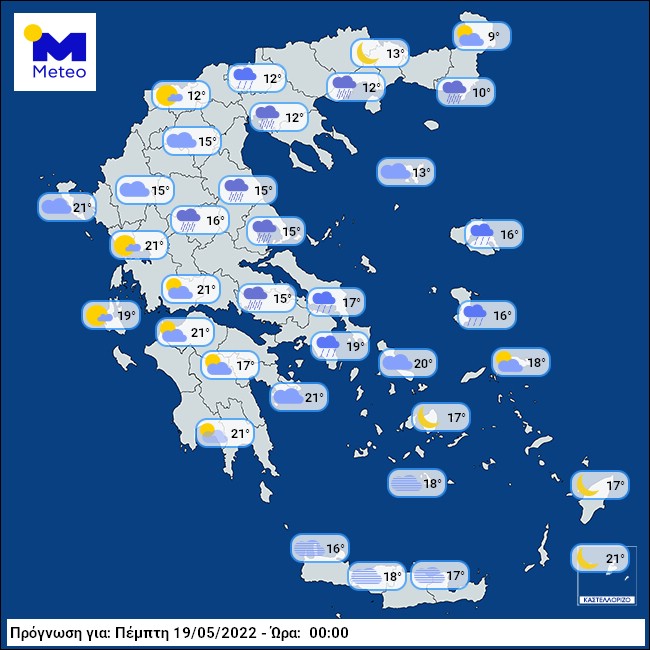 Thursday, May 19
a) until the morning hours, strong rainfalls locally in central Macedonia, Thessaly, the Sporades, the islands of the eastern Aegean Sea, Evia and the eastern mainland. Gradually the effects will weaken.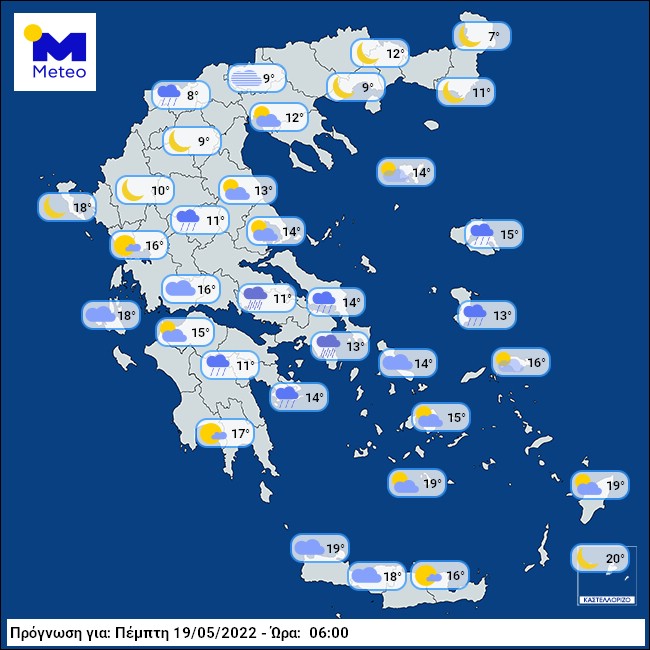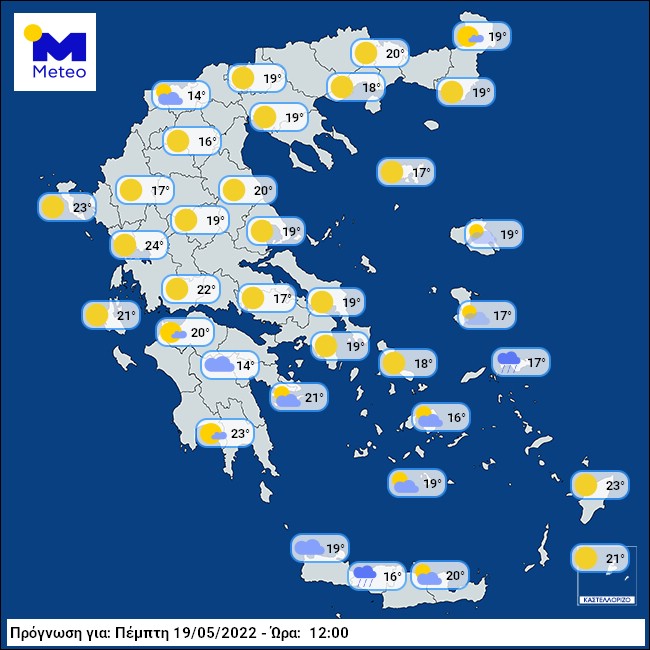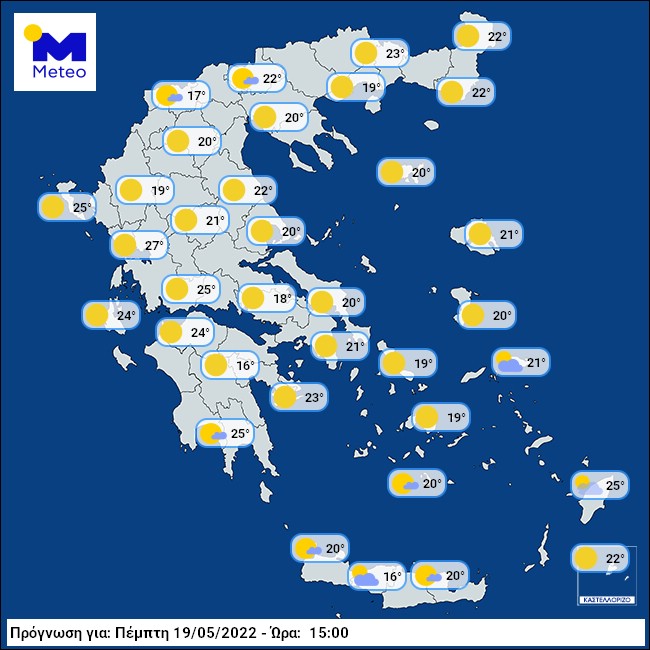 Winds
Winds will be blowing with intensity of 7-8 Beaufort in the Aegean and the Ionian Seas from Wednesday afternoon until Thursday.
Temperature
Temperature will drop significantly in the next two days by 6 to 8 degrees Celsius and from
north to the south.
Weather improvement with sunshine and temperature rise over the weekend.
Forecast May 20-22, 2022 (indicative)