Turkish Defense Minister Hulusi Akar met with his Greek counterpart Nikos Panagiotopoulos at the sidelines of a NATO meeting in Brussels, amid escalating tension between the two neighboring countries, media in both countries report on Thursday afternoon.
According to state broadcaster ERT, meeting was of short duration and Minister Panagiotopoulos told Akar "we cannot move forwards with the same policy" and urged his Turkish counterpart that tension has to be diffused.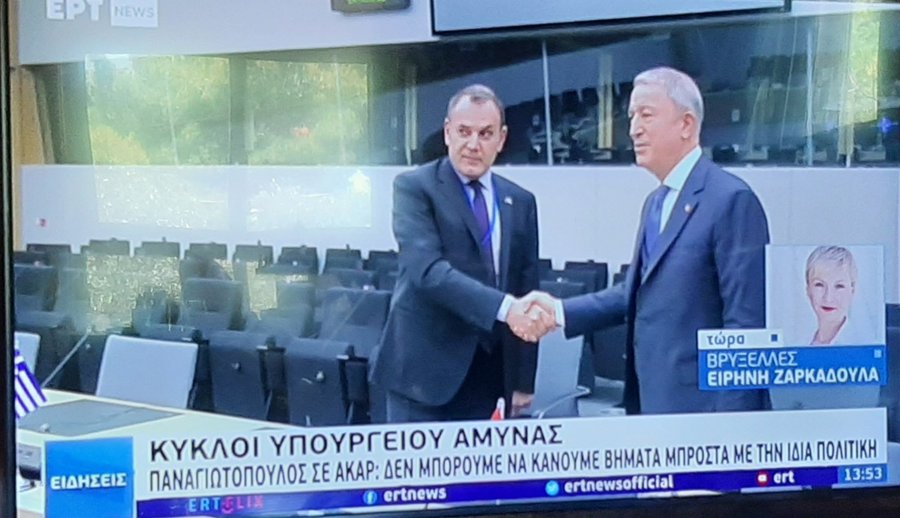 Citing sources, Greek media also note, that the Greek MoD told his Turkish counterpart "We can not go like this." Furthre, he told Akar that tensions must stop, as well as provocations, violations and verbal attacks by Turkey.
According to the same sources, Akar heard the remarks but it has not been revealed what the Turkish MoD told Panagiotopoulos.
A video from the brief meeting of the ministers, Akar talking to Panagiotopoulos and the latter's body language to not seem to accept some the positions of the Turkish side.
The sources added that the "the climate was good. The bottom line is that somehow there is an open channel of communication, which is vital for relations between two neighboring countries."
On their part, Turkish media reported that the two ministers discussed maintaining the dialogue to ease recently heightened tensions.
State broadcaster TRT Haber also said they discussed keeping communication lines open to solve problems and that focusing on positive bilateral agendas contributes to good neighborly relations.