The 5* luxury resort hotel Amanzoe in Kranidi, Peloponnese, issued a statement on Tuesday, a day after a wildfire that broke out in the forest nearby entered the grounds of the property, forcing the evacuation of guests and employees.
Listing the damages, Amanzoe stressed that "all guests and staff were safely and swiftly moved to an alternative accommodation."
The hotel confirmed the suspension of operations "until further assessment is made."
We can confirm that a wildfire started near Amanzoe yesterday (Monday 4 July) and reached the grounds of the property.  All guests and staff were safely and swiftly moved to alternative accommodation.
We are very grateful to the local authorities who worked tirelessly to contain the fire and who remain on site to continue to monitor the situation.
This morning (Tuesday 5 July) we can confirm that the extent of the fire is not as bad as initially feared. We are relieved to report that all main areas of the hotel have been preserved, with exterior damage to just a limited number of pavilions, while all villas remain intact. Sections of the surrounding landscape have been impacted. Amanzoe has suspended operations until further assessment is made.
Thank you for your understanding during this difficult time, please note that we are contacting any guests with imminent reservations. A further update will be provided in due course."
According to media, with a stunning 360° view the Amanzoe is the most expensive hotels in Greece. The hotel is loved by celebrities, showbiz stars and businessmen who love privacy.
All night firefighters were battling against the blaze that was taken under control on Tuesday morning as the mayor of HErmionida Giannis Georgopoulos said in a statement and reiterated his suspicion of an arson.
Already on Monday evening, local media argolida24 and the mayor spoke of arson as the fire initially started at two abandoned houses of a nearby settlement. KTG reported about it here.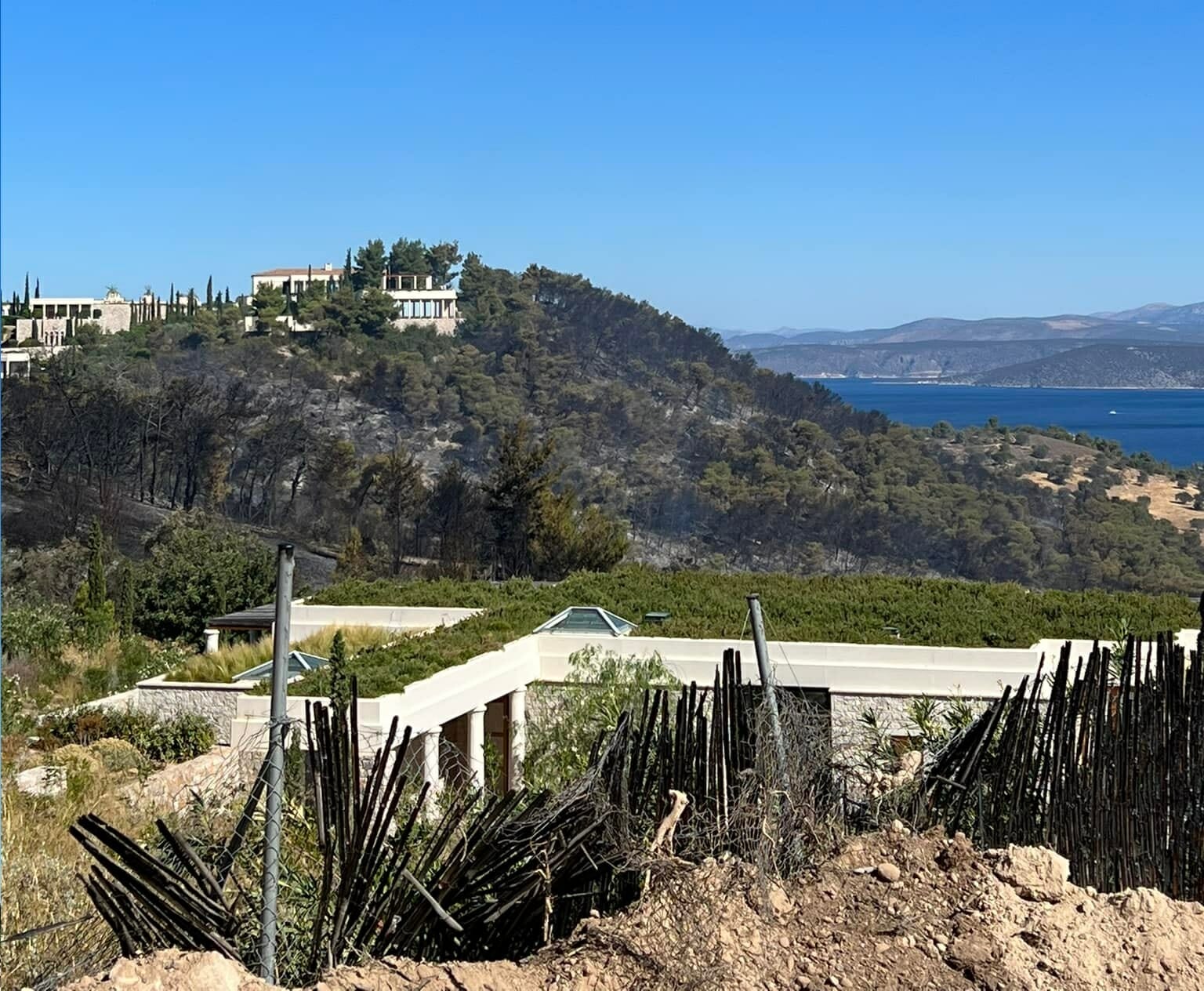 Kranidi on Tuesday after the wildfire was extinguished.