Greece's Civil Protection has warned of "very high risk of fires" for Thursday, July 21, 2022.  Regions at very high risk are mostly in  Central and South Greece, while others are at "high risk."
One factor increasing fires risk – next to human nature, negligence and petty interests –  are the strong northern winds currently blowing in many parts of the country, high temperatures and the dry low vegetation and forest trees.
According to the weather forecast for Thursday, winds will be blowing with intensity 4 to 6 Beaufort and locally up to 8 in the Aegean Sea.
The Fire Service said on Thursday morning that there were no active fronts in the main three wildfires that broke out on Mount Penteli, north of Athens, Megara in west Attica and the island of Salamina.
Fire Risk Thursday, July 21

Regions at "very high risk" of fires (Level 4) are marked Orange, while regions st "high risk" are marked Yellow (Level 3)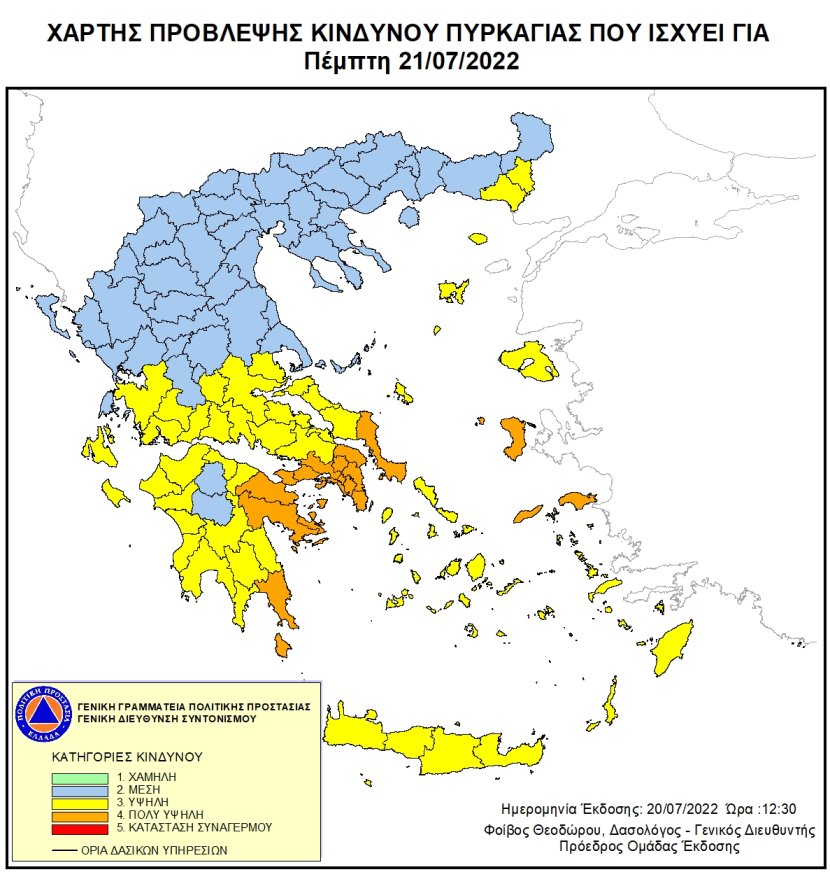 Areas at Very High Risk
Attica
Kythera
south Evia
Argolida
areas in Corinth, Lakonia, Samos, Ikaria, Chios, Psara
⚠️ Χάρτης Πρόβλεψης Κινδύνου🔥για αύριο Πέμπτη 21/7:

🟠 Πολύ υψηλός κίνδυνος 4⃣

📍#Aττική & #Κύθηρα, νότια #Εύβοια, #Αργολίδα
📍Περιοχές #Κορινθία, #Λακωνία
📍#Σάμος, #Ικαρία, #Χίος & #Ψαρά

🟡 Υψηλός κίνδυνος 3⃣ σε αρκετές περιοχές της χώρας

ℹ️ https://t.co/UcUk400yPY pic.twitter.com/Z1OA3303hQ

— Civil Protection GR (@GSCP_GR) July 20, 2022
Civil Protection Advise
The Secretariat of the Civil Protection calls on citizens to avoid any open-air activities that can cause a fire by negligence, such as burning dry grass and branches, using machines that create sparks – such as circular saws, welding devices – using outdoor grills, smoking bees, and throwing lit cigarettes.
GETTING PREPARED
If you are in the countryside
Don't burn litter or dry vegetation and small branches (twigs) during the summer.
Don't use open-air barbecues in forests or places close to dry vegetation during the summer.
Avoid open-air activities that may cause fire (i.e. torch weld, wheel or other instruments that create sparks).
Never throw lit cigarettes in open-air places.
Don't leave rubbish in the forest. There is danger of ignition.
Respect the signs prohibiting access in periods of high risk.
If case, one spots a wild- or forest-fire, citizens should call <199> 24/7/365 free of charge.
If you notice fire
Call IMMEDIATELY the Fire Service call center (199) and give clear information about:
– the location and the exact point where you are,
– the location, the exact point and the direction of  fire,
– the kind of vegetation that is burning.
More details on what to do in case of fires issued by the Civil protection here in English.
Each and every summer, wild- and forest fires in Greece burn down thousands of acres of forest and agricultural land, kill a high number of animals and wildlife and put people's lives at risk.
Tags civil protection fires Greece July 21 map Very High Risk
Check Also
Greece's Energy Minister announced on Friday the electricity subsidy for the month of April, that …