Greece's health authorities announced on Tuesday 122,230 confirmed coronavirus cases in the week of July 25-31, 2022. In the same period of time 355 Covid-patients have died, the National Public Health Organization (EODY) said in its weekly report.
The number of intubated Covid-patients stands at 138.
All confirmed infections since the pandemic began are 4,474,616, of them 521.8 are women.
Compared to the weekly Coronavirus bulletin in the week before:
125,193 cases (daily average: 17,884; weekly change -11%; reinfections at 20%.
378 deaths (54 per day), increase 29%
138 intubated (increase 4.5%)
2558 hospital admissions (daily average 365)
Significant decrease in the PCR/RAPID tests.
Tests: 802,999 PCR/RAPID test with positivity rate at 15.22%.
355 deaths from Covid-19 registered in the July 25-31 week, a ratio of 34 deaths per 1 mln people (weekly change: +21%), bringing the total of pandemic victims since the pandemic began to 31,377. Of the deceased, 95.8% had an underlying condition and/or were aged 70 or over.
Also this week there is an EODY discrepancy between the number of deaths and the total deaths (last week: 30,999), hinting that the number of deaths in the week July 25-31 were 378 and not 355.
A total of 138 Covid-patients were on ventilators in hospitals on July 31. Their median age is 69 years , 65.2% are men and 92.8%t have an underlying condition and/or are aged 70 or over.
2,558 Covid-19 patients were admitted to hospitals during the same week, while 2,219 were discharged at the same time.
Geographic distribution July 25-31
35,948 Attica
14,418 Thessaloniki
Infections cases across Greece: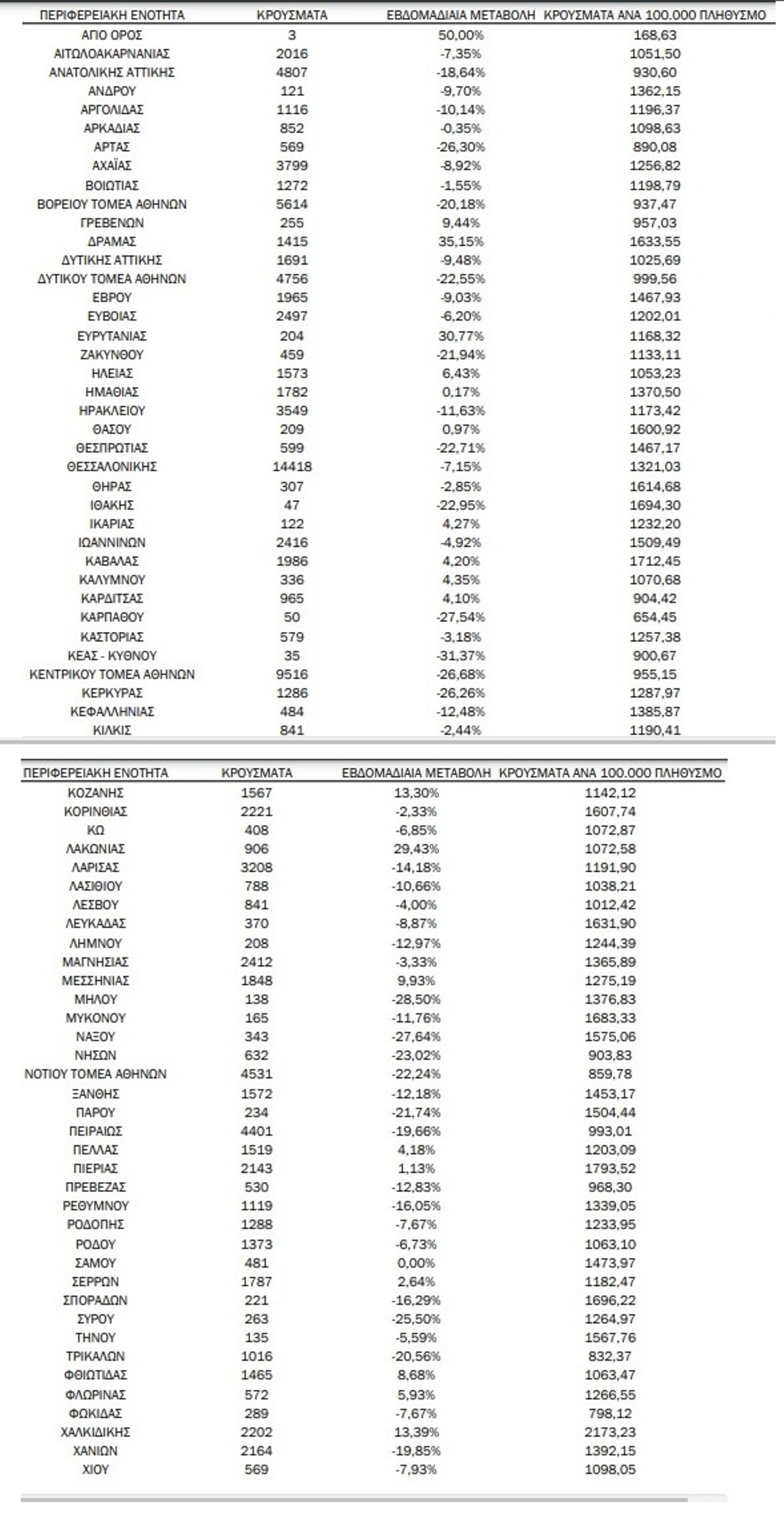 via iatropedia
MAP infections in the last 14 days per 100,000 population
EODY weekly bulletin in Greek here.
More information about coronavirus in Greece here on KTG