The Greek government has cancelled the privatization of the port of Alexandroupolis in Northern Greece, a process that had started already in 2017. The conservative government has now announced that the port is too important to be entrusted to a private investor.
On Thursday, the board of directors of the Hellenic Republic Asset Development Fund (HRADF) announced officially the cancellation of a sale process for a majority (67%) stake in the Alexandroupolis port.
HRADF's board also announced an initiative with the Ministries of Finance and Shipping & Island Policy to develop the port of Alexandroupolis, the HRADF said in a statement.
Prime Minister Kyriakos Mitsotakis had announced during an interview with ANT1 TV on Monday the cancellation saying that the port's high strategic importance justified keeping it under state control.
The war in Ukraine and the use of the port by the US for military purposes has certainly played a role to the decision to cancel the privatization.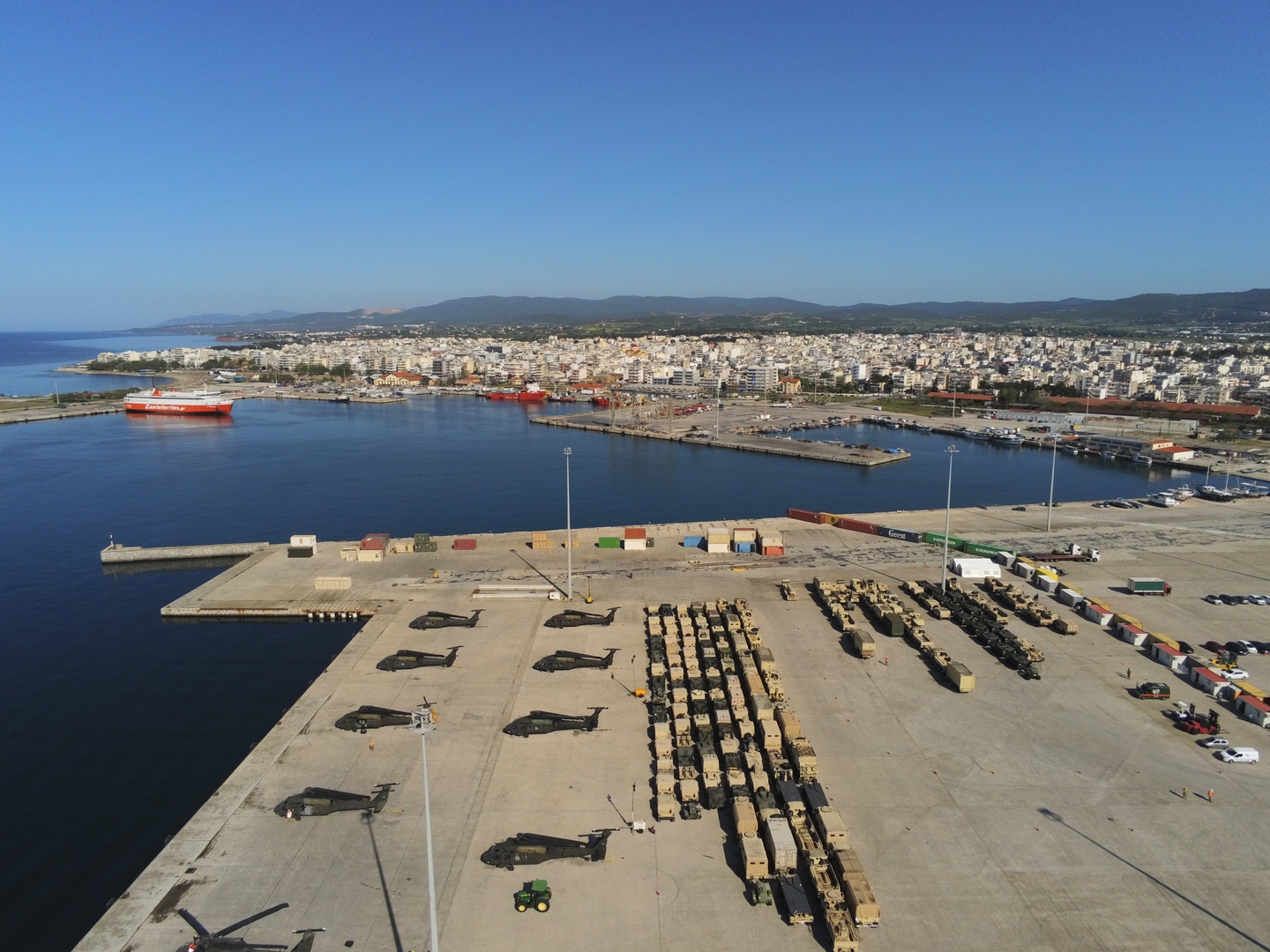 "Alexandroupolis has been the main US and NATO military transport hub in the Black Sea region since the beginning of the Russian invasion of Ukraine. Since Turkey closed the Bosphorus to foreign warships, there is no longer a sea route for these transports," notes German economic daily Handelsblatt.
Picture posted in Greek media, Sept 2022
From Alexandroupolis, road and rail arteries lead to the NATO states of Bulgaria and Romania, the daily notes adding "since the beginning of the war, the US has brought hundreds of main battle tanks, artillery and helicopters to NATO's eastern flank through Alexandroupolis."
"Also many arms shipments from the West to Ukraine pass through the port. Warships such as the amphibious USS Arlington and ferries such as the Liberty Passion are now regular visitors to the once quiet port of Alexandroupoli. (…)," HB adds.
It stresses further that Alexandroupolis will be of great importance also at the level of energy policy.
"The Greek-Bulgarian consortium Gastrade S.A. wants to commission a floating liquefied natural gas terminal 18 kilometers southwest of the port late next year. The EU is financing the project, which is estimated at 394 million euros, with 166.7 million," Handelsblatt adds.
Privatization of Kavala port heads to cancellation, too
A similar fate is reportedly awaits the privatization of the port of Kavala, also in northern Greece.
The government has also decided to proceed with a similar model for the Kavala Port Authority, reports kathimerini on Thursday.
According to the daily, "like Alexandroupoli, Kavala constitutes port infrastructure of critical geopolitical importance, adjacent to important energy facilities and resources, as well as transport routes. Infrastructures include the only active hydrocarbon field in the country (Prinos), the underwater cavity off Kavala that can be used as a strategic gas reserve depot (the tender for which is ongoing), also the prospect of developing sites of undersea carbon dioxide storage and the Trans-Adriatic Natural Gas Pipeline (TAP)."