An earthquake measuring 4.7 on the Richter scales shook the island of Evia on Tuesday morning and was felt over 70 km away due to its shallow focal depth. The tremor caused light material damages in some old building and has been followed by intense seismic activity.

Its epicenter was in the sea area 9 km South-East of Karystos on Evia and 58 km North-East of Greek capital Athens. Its focal depth was 13.2 km.
Residents told local media that the noise was loud and woke them up. "We got scared, items were falling from shelves," they said.
There are no reports about any injuries.
The initial magnitude was given as 4.8R but it was later corrected to 4.7R.
An hour after the 4.7R at 06:32 a.m., two more tremors with 4.1R and 4.2R occurred in the same area.
4.1R in the sea 8km NE of Nea Styra at 7:23
4.2R in the sea 8 km NE of Zarakes at 7:24
the earthquakes were felt in Athens as well as in Corinth over 120 km away.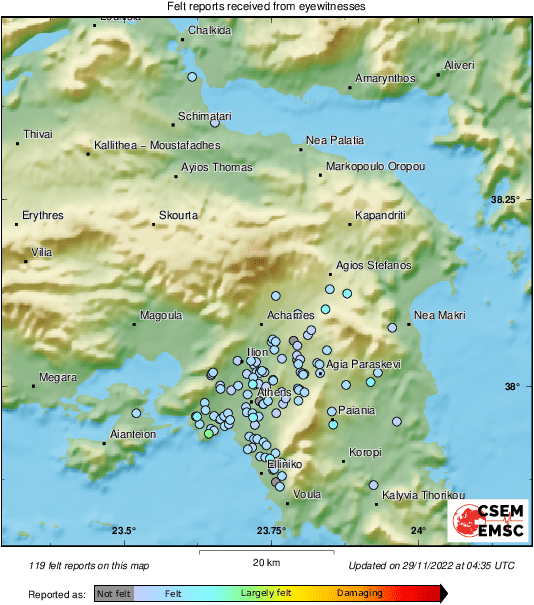 via @LastQuake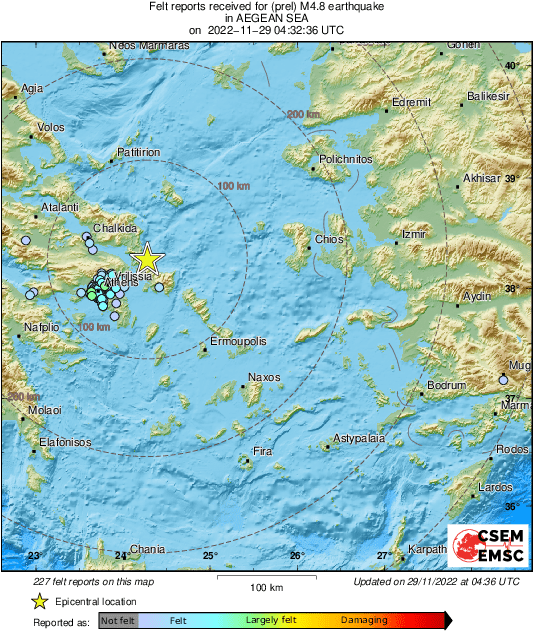 Local authorities in the area told state broadcaster ERT that there were cracks in some old houses and were still waiting for residents to report other damages.
Municipal authorities in Karystos and Kymi-Aliveri decided to have schools closed on Tuesday for preventive reasons.
Seismologist speak of a powerful earthquake in a not known fault line and estimate that this was the main earthquake.
Head of National Earthquake Planning & Protection organization Efthymios Lekkas told cnngree, that there were several small tremor before the 4.8R.
"I don't think we are waiting for another powerful earthquake, however we cannot say with certainty that this was the main earthquake," Lekkas stressed.
Seismologist  Akis Tselentis told ERT that the earthquake occurred in an area of an unknown fault line, stressing that there were no earthquakes with such magnitude in the past.
He added that "55 aftershocks were recorded" until 10:30 a.m.
Seismologists are monitoring the phenomenon.