Greek F-16 fighter jets took off on Sunday afternoon to escort a Ryanair civilian airplane Boeing 738 to International Airport Eleftherios BVenizelos in Athens after a bomb alert.
In the last few moments, a Ryanair flight, FR6385, was escorted into Athens by F-16s following a bomb threat against the flight.

Ryanair flight FR6385 had earlier left Katowice in Poland for Athens, with 192 passengers onboard.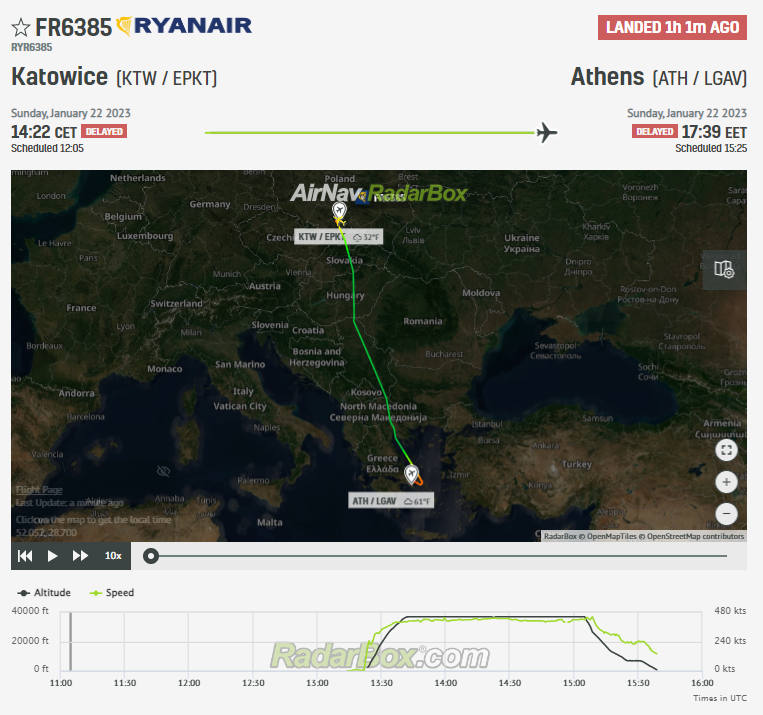 The plane was flying over Balkan countries, when a bomb alert reached via an e-mail reached the Ryanair offices in Spain, ANT1 TV reported. The NATO was immediately informed.
At FIR Skopje the pilot was notified about the bomb threat and then the Boeing was escorted by two F-16s to "El. Venizelos."
The plane landed in Athens at 17:45 and it was immediately evacuated.
Firefighters and special teams of the police and the anti-terror department started to check the plane for explosives.
According to Civil Aviation Authority, the plane parked in a special area at the airport where there was a rapid evacuation of the aircraft from the passengers who will go through a new check.
According to state broadcaster ERT, all ground and air protocols renegade were immediately activated as they did in November 2022 with a flight from Emirates.
This protocol was created after the terrorist attacks of September 11 and is activated in case of high and irreversible risk.
Short before 8 o' clock in the evening, some media reported that no bomb was found on the plane.
It is not clear yet whether passengers are allowed to take their luggage and leave the airport