Greece's National Meteorological Service EMY issued an emergency bulletin warning of weather instability with rainfalls, thunderstorms and even hail.
The warning is valid for the upcoming three days, August 12-14, 2022, while the peak of the bad weather is forecast on Sunday, with a high frequency of lightning and hail.
According to National Observatory of Athens service meteo, , the weather deterioration in forecast to set in from early afternoon Thursday, August 11, with rainfalls locally in Macedonia and East Thessaly. The phenomena will intensify with local storms in a large part of central and northern mainland. At night, the phenomena will continue locally in Macedonia, North Thessaly, Epirus and possibly in North Aegean Sea.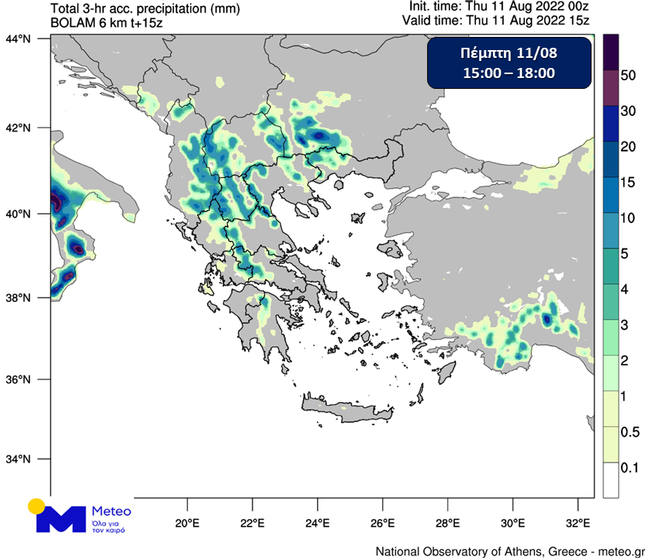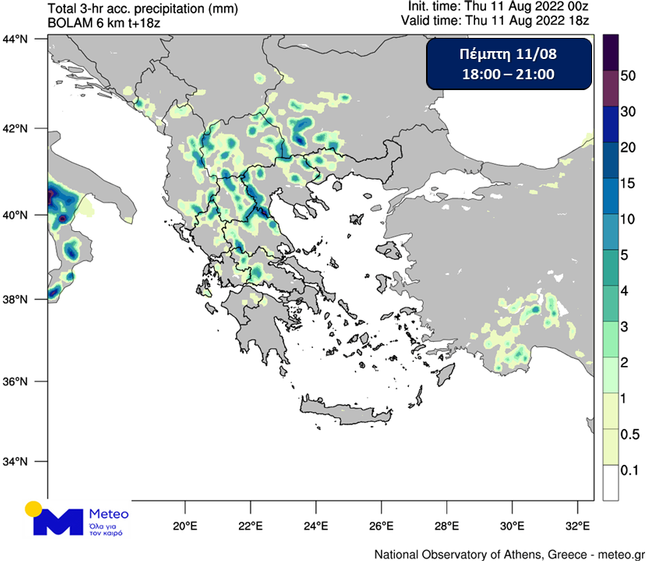 The bad weather front is expected to weaken on Monday, August 15, when the weather will improve and temperature will rise again.
Especially affected are regions in Central, North and Western Greece.
#ΕΚΤΑΚΤΟ_ΔΕΛΤΙΟ
Αστάθεια το επόμενο τριήμερο στα κεντρικά & βόρεια, με κορύφωση την #Κυριακή (μεγάλη συχνότητα κεραυνών & χαλάζι). Η επιδείνωση αναφέρεται κυρίως για μεσημέρι-απόγευμα. Βελτίωση τον 15Αύγουστο.
Το #έκτακτο #δελτίο θα εκδοθεί από την #ΕΜΥ το μεσημέρι. @GSCP_GR pic.twitter.com/m2cvwhlgNg

— Theodoros Kolydas (@KolydasT) August 11, 2022
EMY Weather Forecast Warning
Friday, Aug 8
Strong rainfalls and thunderstorms early Friday in  places in central Macedonia
From moon onward in western Macedonia, Epirus, Thessaly, western and central Sterea (mainly in Atoloakarnania and
Evrytania).
The phenomena will weaken at night.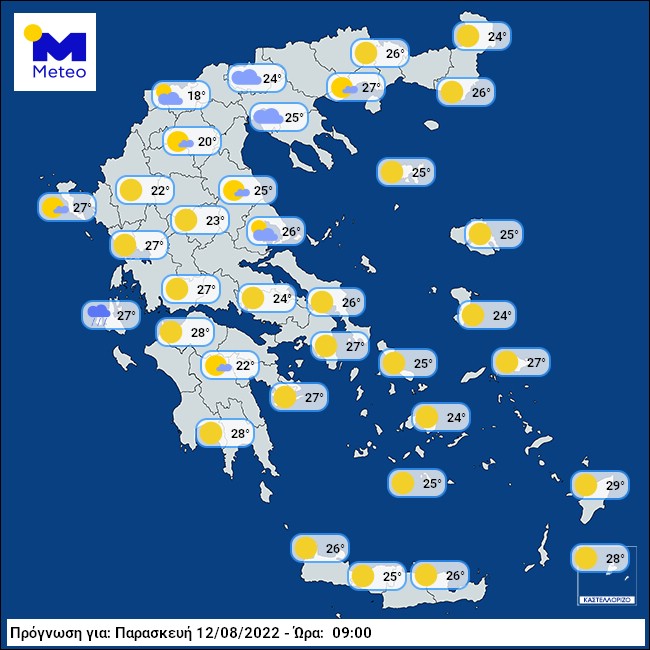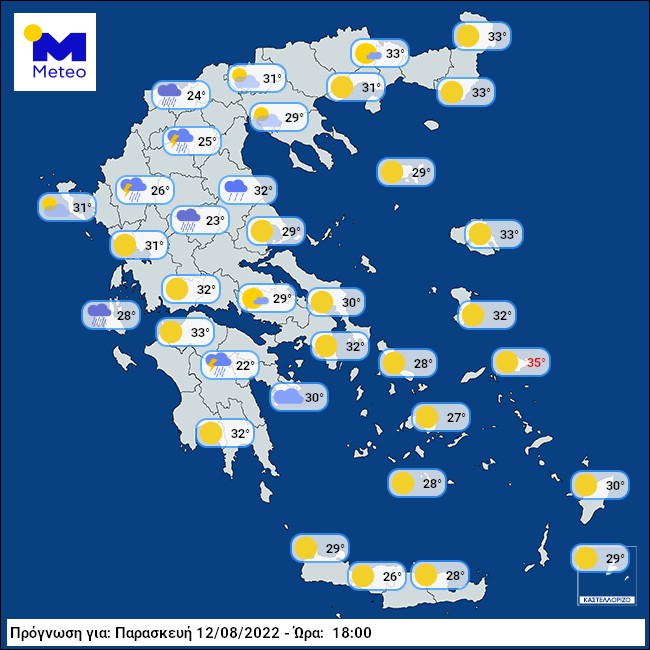 Saturday, Aug 13
Heavy rainfalls and thunderstorms in places in Macedonia, Thessaly and the Ionian islands.
The intense weather phenomena will continue in Macedonia in the night to Sunday.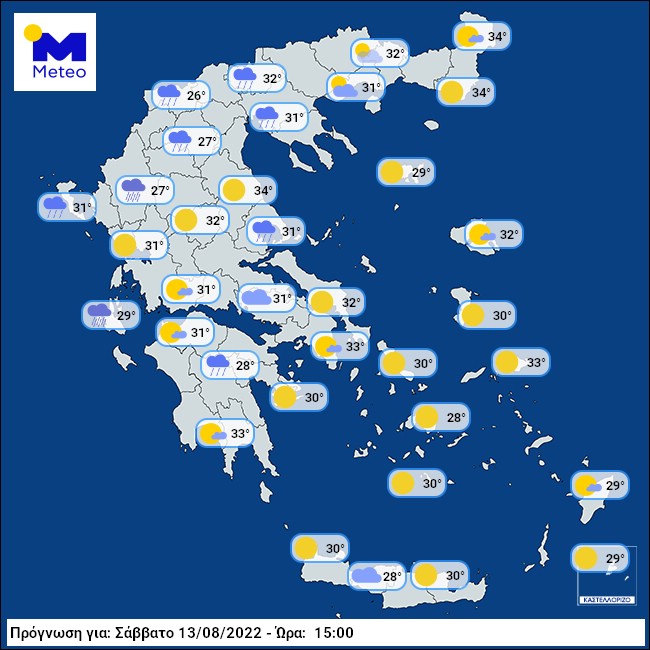 Sunday, Aug 14
Heavy rainfalls and thunderstorms in Thessaly, central and eastern Macedonia, Thrace, the Sporades islands, eastern mainland (including Attica), Evia and the northeastern Aegean Sea islands.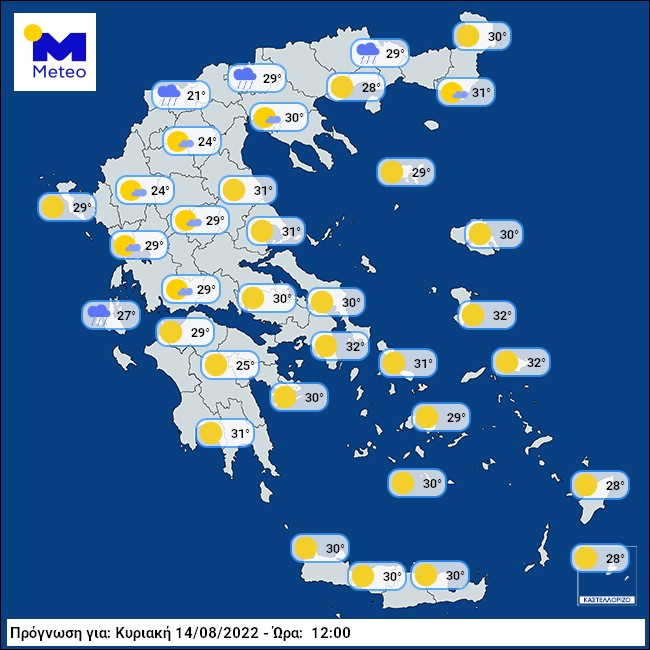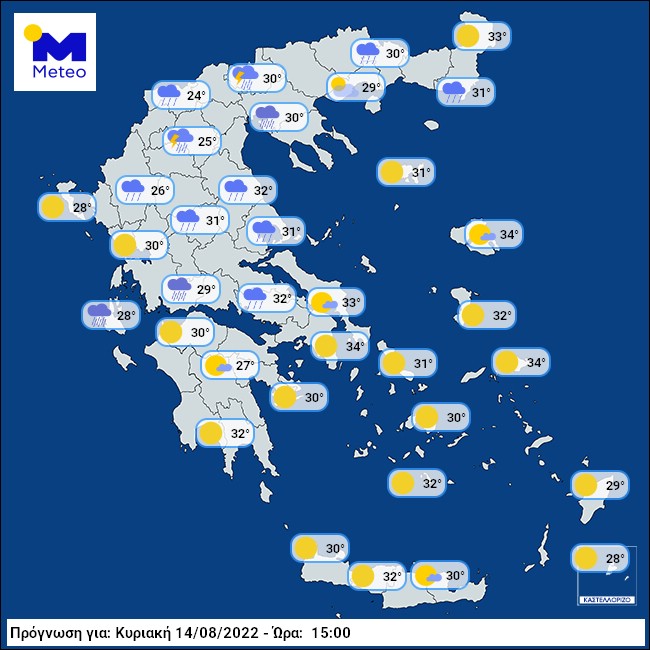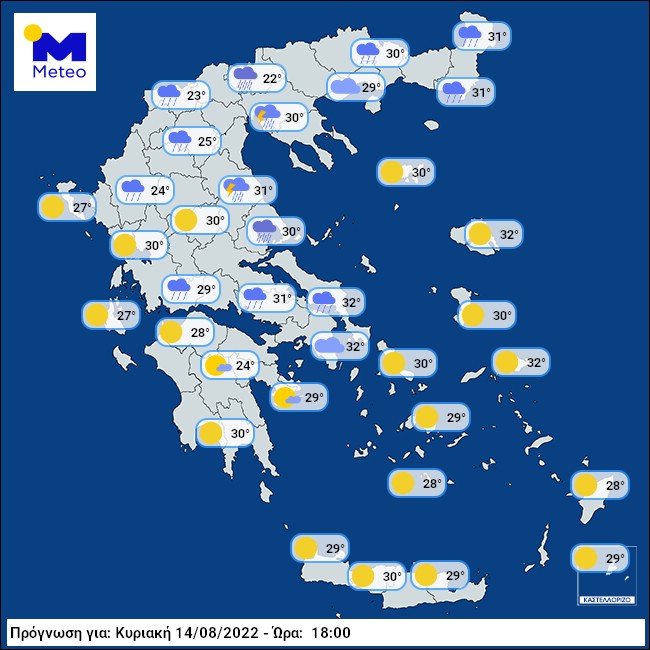 Monday, Aug 15
The intense weather phenomena will be limited to North-East, that is Thrace and islands of the NE Aegean Sea.
In all other areas the weather will improve.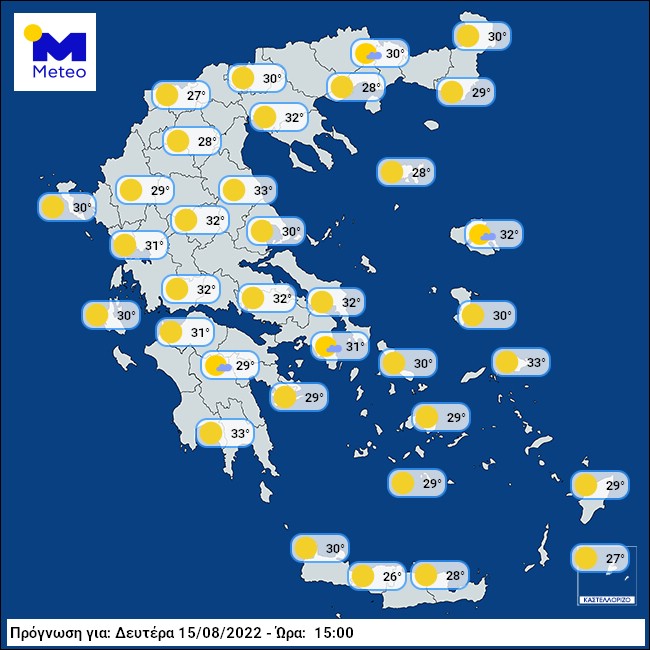 sources: emy, indicative maps via meteo.gr