Teargas, hurled stones,  minor injuries and detentions make the scenery of the protest in Skouries where several hundreds residents gathered and local organisations on Sunday to protest gold mining facilities.
While the incidents are not covered by mainstream television channels, a number of newsportals and tweets ( Twitter #skouries also reporting  in English) report of police violence with batons and even tear gas thrown inside cars and vans carrying protesters.
Protesters are mainly residents of nearby village of Ierissos, as well as anti-gold-mining protesters from Thessaloniki. Skouries is an area on the peninsula of Chalkidiki in Northern Greece.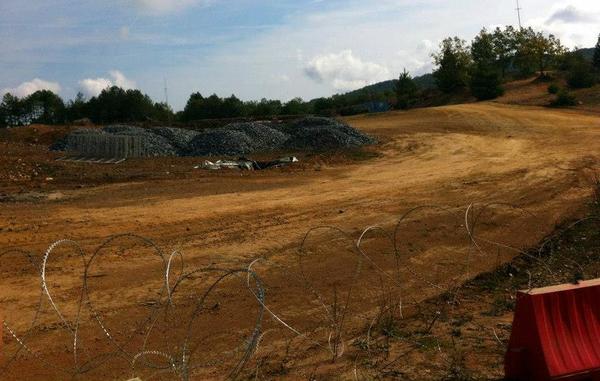 That used to be a forest land via antigoldmining-website
Hellenic Gold, a subsidiary of Canadian firm Eldorado Gold, has begun mining activity with locals appealing against for environmental reasons.
Hellenic Gold has been awarded an area of 26,400 hectares, of which 410 is forest land. Almost all the trees in the forest will be cut down as part of the mining firm's plan to extract gold. The company says it will replant trees when it finishes its work. Opponents of the mine argue it would lead to the destruction of the of the local forest and irreversible damage to the ecosystem. (ekathimerini)
There are reports of at least two injured protesters (one policeman, one civilian) and 21 detentions – among the detainees is one city council member and 7 women.
According to latest tweets from the area, residents have surrounded the Polygyros police station in solidarity with the detainees.
According to To Vima Sunday protests were triggered after the Environment Ministry asked that Hellenic Gold needs to sign a protocol in order to take down trees in the area.
PS does this mean, that forest land is destroyed without previous licence?
 see also Hellas Mining Watch (also in English)