A powerful earthquake hit the Northern Aegean Sea area in Greece on Saturday at 12:27 noon local time. Several geo-dynamic institutes give different magnitudes from 5.7 R up to 7.2 R. According to Geo-dynamic Institute of Athens University, the earthquake measured 6.5 R and had a depth of 6 km. The epicenter was in the sea area between the islands of Limnos and Samothraki.
Citing scientists, Greek media report that the earthquake occurred on the Anatolia Fault Line. The powerful tremor at 12:27 was followed by a second one (5R) a couple of minutes later.
Epicenter lays in North Anatolian Fault Line
The earthquake was felt in Greek areas like Athens,  Corinth but also in Istanbul, Turkey.
Both tremors were felt in Athens, 230km south of the epicenter.
First media information report of no injuries or material damages.

UPDATES
01:37 pm
No reports about injuries.
Media report of  material damages.
01:55 pm
A female UK tourist has been reportedly very slightly injured in the leg when a ceiling felt at the airport of Limnos.
Reports of some damages at the airports of Limnos and Samothraki.
Three old and abandoned houses have collapsed on the island of Limnos.
Damages in 100km away Thrace.
Limnos residents tell media, that they were frightened and rushed to the streets.
Cracks in older building have reportedly occurred also on the island of Mytilene (Lesvos).
02:10 pm
Turkey reports some 100 injured, when people rushed in panic out of their homes (Mega TV).
02:11 pm
Seismologists warn that strong aftershocks 5R-6R will follow in the next 48 hours.
The earthquake was felt also in Bulgaria and FYROM.
02:45 pm
Three people have been injured
Limnos – Kornos village:
A mother and a child were slightly injured when the sought shelter under a table. Τhey reportedly suffered fractures.
Limnos airport: a UK tourist was slightly injured when a piece of the ceiling felt down (see above)
02:55 pm
Old houses collapsed on the island of Imvros (Gökçeada) in Turkey, 40 km east of the epicenter. Some people were injured and taken to the hospital.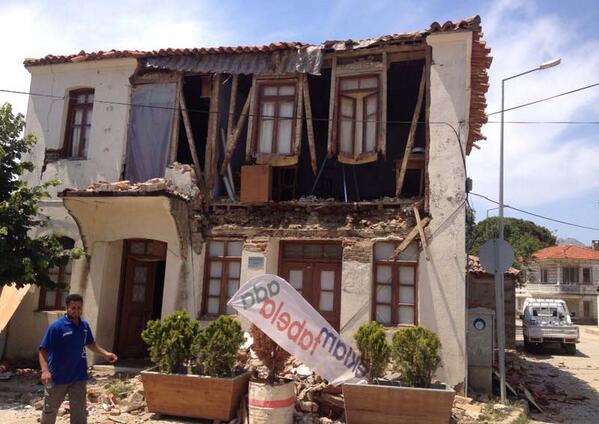 Imvros island, Turkey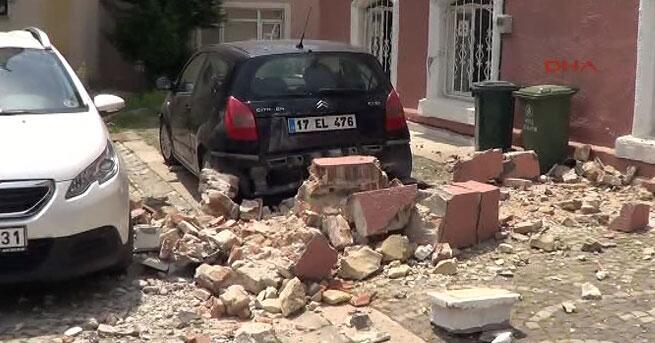 Canakkale, Turkey
 03:05 pm
Greek state TV NERIT reported that the UK tourist was shortly treated in the hospital for a slight injury on the leg and boarded on the plane to her country.
The tourist was injured when a ceiling at Limnos airport felt during the earthquake.
03:30 pm
USGS /EMSC revised magnitude of earthquake in Greece to 6.9R
At the same time, magnitude was also revised in Greece with media speaking of 6.3R
05:30 pm
The earthquake has caused not heavy material damage neither in Greece nor in Turkey.
Limnos olde houses damaged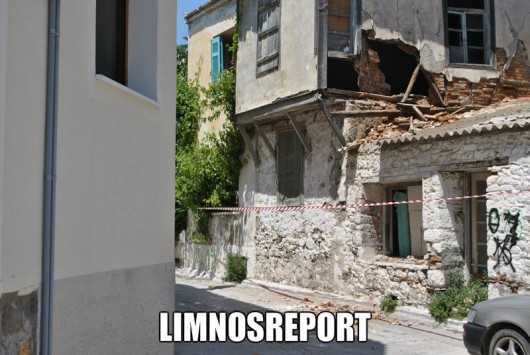 Video: terrified by previous big earthquakes, residents of Canakkale in Turkey rush out of their homes during the earthquake.
embedded by Embedded Video

YouTube Direkt
The earthquake was felt at the west coat of Turkey from Istanbul down to Izmir. Media report of 267 people who got mostly slightly injured when as they were fleeing their homes in panic.
Thank for following KTG