Clashes, tear gas, water cannons, stun grenades, petrol bombs, stones, fires in garbage bins, barricades, damages in shops and some cases of looting, detentions, arrests and injuries… these components set the scenery of the protests on Saturday evening in many Greek cities. Demonstrators gathered to commemorate the 6th anniversary of the killing of Alexis Grigoropoulos, 15 by a policeman in 2008 and to express solidarity with anarchist Nikos Romanos who is on hunger-strike since November 10th.
Video: Athens
embedded by
Embedded Video
YouTube Direkt
In Athens, clashes between protesters and riot police lasted several hours and turned the area around Omonia Square and Exarchia into a "bombed battle field."
For the first time in the long history of  Greece's chapter "protesters vs police",  protesters hurled molotov cocktail bombs to policemen from roof tops and balconies. According to reports they also threw also television antennas.
Video:
embedded by
Embedded Video
YouTube Direkt
Some 8,000 policemen were deployed in downtown Athens but also many policemen in plainclothes. Based on their looks they looked as if they were protesters. There are reports that also policewomen in plainclothes took part in the operation on Saturday.
According to mainstream website enikos.gr, group of 20 people wearing hoodies passed without a problem through a riot police squad that was supposed to cordon the area and moved further to several streets in Exarchia.
A group of middle-aged friends who happened to be in Omonia area reported that riot police was chasing anyone who was young and walking and apparently for no obvious reason. The friends reported of a
"surreal scenery" with many riot police squads deployed on and around the square, also lots of plainclothes policemen, while at the same time normal citizens returning from work, they were walking amid protesters and police in order to catch a metro or a train."

They said, they managed to get in Omonia station very short before the square turned into a "battle field" with water cannons and running protesters and policemen.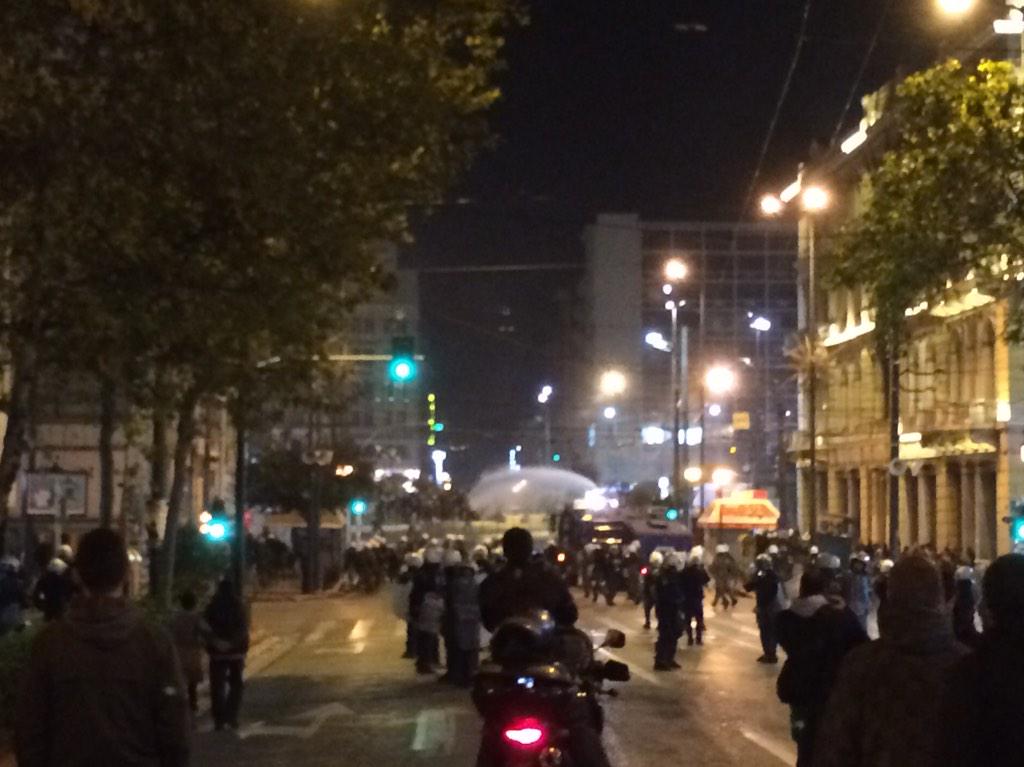 Water cannons against protesters but also passersby.
Reuters camera recorded an incident where a policeman punches and kicks a young man in handcuffs.
embedded by
Embedded Video
YouTube Direkt
Speaking in the Greek Parliament on Sunday, SYRIZA MPs complained about the short detention of one reporter and one photo-reporter of Syriza newspaper Avgi. They also complained about police violence, massive presence of police in plainclothes and the excessive use of tear-gas in Exarchia area that makes it impossible to breath.
Greek police considered the operation on Saturday as "successful"  then "diverting the protest rally to Exarchia averted the riots to be spread across the historic center of Athens," Mega tv reported on Sunday.
296 people were detained, 43 arrested. Injured have been 12 policemen and unknown number of protesters.
Damages at several shops in Exarchia,  More pictures from riots and clashes here.
Today, Sunday, protests are to be launched by public and private sector unions GSEE and ADEDY outside the Greek Parliament as of 5 pm, SYRIZA at 6 pm. Lawmakers are expected to vote for another austerity Budget  at midnight.
For  updates incl videos and pictures, check Twitter hashtag #6dgr . Some Tweeps are also in English.