Rioters wearing hoods started to throw molotov cocktail bombs at riot police during anti-austerity protest in downtown Athens. The cocktail bombs however landed also among the private and public sector protesters who had gathered outside the Parliament on Sunday afternoon. Within minutes, the peaceful protesters were dispersed trying to seek protection from tear gas, sound flares, Molotov cocktails but also chairs the rioters had grabbed from cafeterias on Syntagma Square.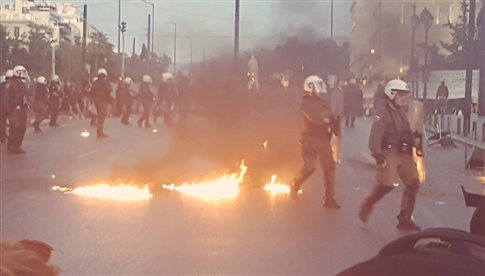 While inside the Parliament government and opposition parties were debating the Pensions Reform and the new taxation bills that will be adopted by the SYRIZA-ANEL coalition later tonight, outside there was quite a havoc.
However, the clashes between police and rioters moved quickly away from the square opposite the Parliament and some protester groups gathered again in front of the Parliament.
Thousands flocked to Syntagma Square on Sunday following the anti-austerity protest call by unions and associations of public and private sector.
Live Stream
At some point, a group of people attacked a man who is reportedly a unionist from the farmers' sector.
There are also reports that some people attacked a reporter of a private television channel.
Clashes between riot police and rioters continued until 2 o' clock in the morning in the Exarchia area. Molotov cocktails, garbage bins on fire turned the night int a day.
Police detained 15 people in Syntagma and Exarchia.
more pictures: here, here