The small island of Despotiko although uninhabited repletes with archaeological treasures of priceless worth and great importance. Recent excavations revealed an ancient restaurant for ritual meals, right next to the temple devoted to ancient Greek god Apollo. The first ancient restaurant of the Aegean is on Depsotiko, southwest from the island of Antiparos in the central Aegean sea.
The restaurant was built next to the temple of Apollo. It had a gallery with Doric columns of up to three meters high, a sloping tiled roof. It consisted of three rooms.
Revealed has been also an altar where animal would be sacrificed in order to honor the god. The sacrifices were taking place in the daylight.  After the sacrifice, the parts of the animals would be offered to people at the ancient restaurant.
The sanctuary has been dated to 6th century BC.
The late Archaic sanctuary with abundant objects indicating links to mainland Greece, the Eastern Mediterranean and even to Northern Africa, as well as the continued use of this area in the Classical, Hellenistic, Roman and Frankish periods.
Already in 2015, excavations discovered an ornate façade of a structure measuring 35 meters by 15 meters, suggesting that the sanctuary was extended and rebuilt several times during the Classical and Hellenistic periods.
A large, four-room building on the site's west section featured a large stone altar in one of the rooms as well as pottery fragments bearing inscriptions with Apollo's name.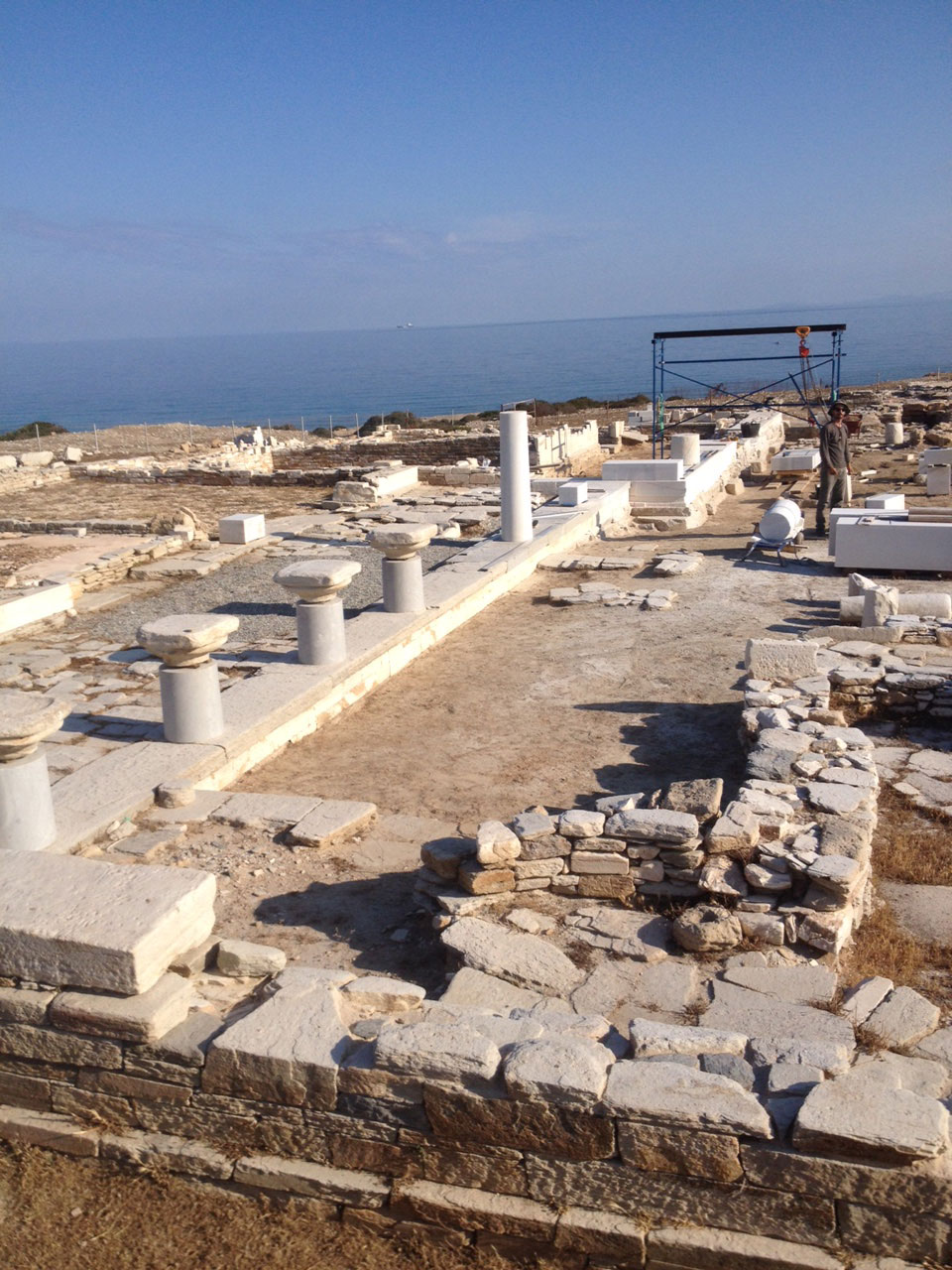 A long wall, stretching from what would have been the islet's ancient port to the site of the sanctuary, was also revealed.
According to archaeologists, because of its location, Despotiko was a major anchorage in the antiquity. This explains the existence of an ancient restaurant there where having lunch islanders sailors and travelers from Asia Minor, Phenicia, Cyprus, Crete and Sicily.
Apart form the sacrificed animals the restaurant would offer local products such as  vegetables, fruits, honey and figs, but also fish, barnacles, clams and sea snails.
In the restaurant were also discovered pots, plates, clay pans, cooking and drinking pots.
The excavations continue, while at the same time restoration work is carried out in order to turn the area into a model archaeological park in Cyclades.
Despotiko can be visited by boat either from the port of Antiparos or from Agios Georgios (southwest Antiparos), just opposite Despotiko.
  Paros- Antiparos – Despotiko
Some of the artifacts from the excavations at the sanctuary site are exhibited in the archaeological museum in Parikia, the capital of the nearby island of Paros, along with other important antiquities from the region.(parianostypos.gr, wikipedia)